Chuck Grassley Thinks Meeting With Jack Lew Is A Waste Of Time
An unwillingness by nominees like Lew to discuss specifics makes the meetings meaningless, spokesman says.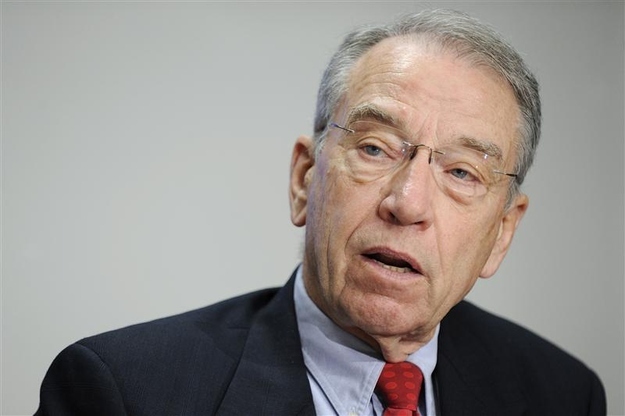 Chuck Grassley is the only member of the Senate Finance Committee who did not meet with the Obama Administration's nominee for Treasury Secretary, White House Chief of Staff Jack Lew, a fact that's unlikely to change.
The Iowa Senator has been one of Lew's toughest critics and has threatened to hold up Lew's nomination until he expands on several "unsatisfactory" answers to questions that Grassley asked of the nominee.
A Grassley spokesman told BuzzFeed that Grassley does not, in fact, make a practice of meeting with every nominee and thinks that meeting with Lew would be of much use, arguing that nominees often provide little in the way of substantive answers and the need for a public record of what few opinions they are willing to give.
Sen. Grassley declined to meet with Mr. Lew prior to the committee's hearing, as he's done with several other nominees. Nominees often can't talk about substantive issues in such meetings because they haven't formed views, they cite unfamiliarity with the specific issue, or they can't discuss pending issues because of the sensitivity of their unconfirmed positions. That's the case in many of Mr. Lew's answers to the written questions posed by senators, and that was the case with a wide variety of his verbal answers at the nomination hearing. Even if Sen. Grassley had met with Mr. Lew and discussed Mr. Lew's background, such as the loan from New York University and money in the Caymans, Sen. Grassley still would have wanted those questions answered in writing so there's a permanent record for other senators and the public to view.
A Nexis search found that Senator Grassley has meet with nominees in the past including a Treasury nominee. He met with Miriam Sapiro, President Obama's nominee for Deputy U.S. Trade Representative, Michael Mukasey, President Bush's nominee for Attorney General. Harriet Miers, President Bush's nominee for the Supreme Court, Paul O'Neill, President Bush's nominee for Treasury Secretary, and Don Evans, a nominee of President Bush for Commerce Secretary among others.
A Grassley spokesperson added there wasn't a firm of policy of not meeting nominees and Grassley would often lead vetting of nominees during his time as Finance Committee chairman.
Finance Committee Chairman Max Baucus is expected to hold a vote on Lew's nomination when Congress returns next week.