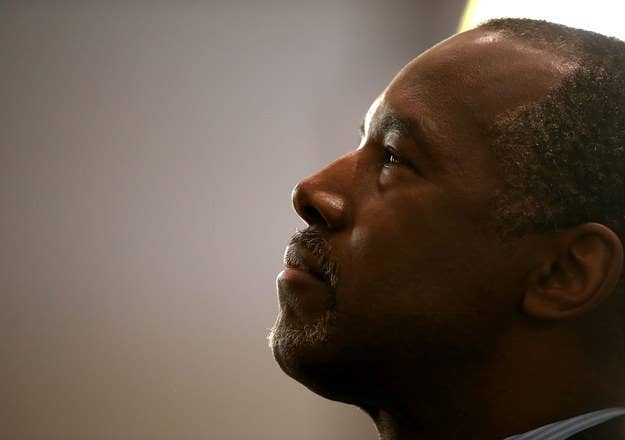 Ben Carson says his role in a 1992 study that used fetal tissues to better understand how the human brain develops is similar to that of an archaeologist who turns over a tablet he discovers for other people to investigate.
The retired John Hopkins neurosurgeon recently has questioned the value of fetal tissue research after a series of undercover videos were released claiming to show Planned Parenthood employees discussing the sale of human fetal tissue. Planned Parenthood has denied the claims.
Carson said on the Heidi Harris Show last week that claims he was doing fetal research are "absolutely absurd."
"Well first of all they claim that I'm doing fetal research, which is absolutely absurd," Carson stated on the Heidi Harris Show last week. "I'm the surgeon, I obtained the tissue, I turn it over to the pathologist, and then they examine it, compare it with other specimens and try to get more information of where it came from."
"It's sort of like if you're doing an archeological dig and you found a tablet with some strange writing on it. I'm sort of the archaeologist who found it," continued Carson. "I turn it over and say 'you guys, see if you can figure out where this came from. And they go back to all their archives, and all the things that they've had before, and they compare it and say, 'oh you know, it's sort of like it came from this are over here or Mesopotamia or something.'"
Carson said criticism of him and the study is similar to someone criticizing archaeologists for having an archive to compare their findings to.
"And are you gonna criticize them for having that archive," said Carson. "Well someone's gonna say, 'where did you get that stuff from? You must have stole it from a museum. Aha! You're a thief' Come on, give me a break. Basically, that's what we're talking about."
Carson said his study did not justify Planned Parenthoods activities and if Planned Parenthood wanted to continue in their actions they should lose taxpayer's funding. Carson added that no medical breakthroughs have occurred from fetal tissue research that "could not have been done with other types of tissue."
"You know, basically what they want do is say since some research that you were involved with somehow used fetal tissue as a comparison, that this justifies all the things that we're doing," he continued. "Which is a crazy statement. But you know, then again I question the ability of people who actually think that it's okay to take baby organs and to sell them for profit no matter what they are saying because you can tell that from listening to these videos. "
"What I kind should be done, if they want to engage in these things, as found to be legal, then they certainly are entitled to that but they shouldn't be using public funding for that purpose."