As Romney Ran The Olympics, He Invested In A Company That Made Performance-Enhancing Drugs
The investment caused a mini-outrage in 2002.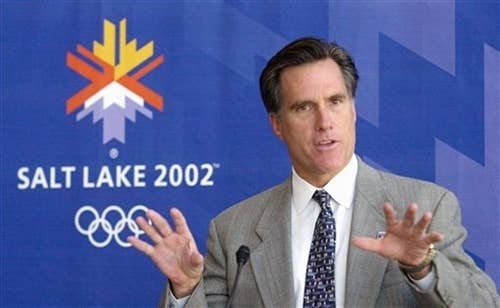 Mitt Romney returned to Massachusetts in 2002, running for governor on the strength of that year's successful 2002 Olympic games in Salt Lake City. Romney touted his record taking out of terrible deficit and plague of mismanagement, and turning the games into by most accounts a rousing success.
Democrats attempted to use one particular issue to tarnish Romney's image: While Romney was running the Olympic games he had been investing in a company that was making performance-enhancing drugs banned by them, and he had been for almost a decade.
Bain Capital helped turn Nutraceutical International of Park City, Utah into one of the nutritional supplement industry's leading companies. When Bain took the company public under Romney's helm in 1998, it was a huge success.
Romney left Bain in 1999 to run the Olympics, but was still harvesting the rewards of the drug company from the retirement package he negotiated which paid him a share of Bain's profits.
Nutraceutical, at the time Romney was running the Olympics, was making at least 16 products under the brand names Kal, NaturalMax, Solaray and Ultimate Nutrition that include either ephedrine or dehydroepiandrosterone (DHEA), both of which are performance-enhancing drugs banned by the Olympic games, according to a 2002 report in the Boston Herald.
"I think it's unfair to judge Mitt Romney on companies that he is merely invested in, as opposed to the companies he has run," Romney's spokesman Eric Fehrnstrom said in 2002.
Massachusetts Democrats saw the issue differently. Using the past investments as part of a call for Romney to release ten years of tax returns to show his other investments.
"It speaks to the question of character when a person who is running the Olympics is also benefiting financially from a company which manufacturers products that are banned by that organization," Massachusetts Democratic Party Chairman Phil Johnston said.
"According to today's Herald report, Romney continues to hold investments in a pharmaceutical company whose dietary supplement products are prohibited from use by our Olympic athletes. The contradiction in what Romney preaches and what he does is alarming," he said.
The issue didn't have much traction with voters, and Massachusetts Democrats soon moved on to their next attack on the recently returned Romney: Arguing that Romney's several years in Utah running the Olympics made him ineligible to meet residential requirements to be governor.