Anthony Weiner's First Campaign Began With An Apology For "Race-Baiting"
"It was a screw up that I'm not proud of."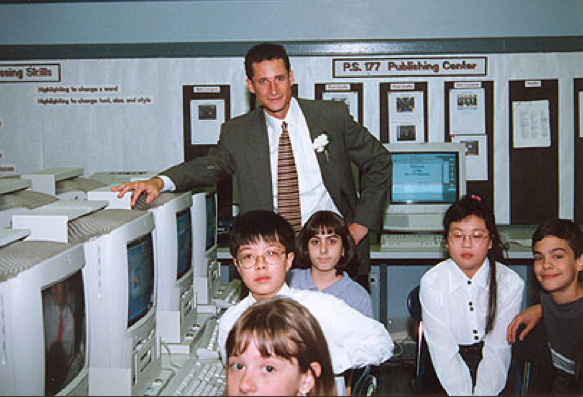 Disgraced former Congressman Anthony Weiner launched his campaign for New York City mayor Tuesday night with a video in which he asked voters for a "second chance" two years after revelations emerged that he sent lewd texts to numerous women. "I've made some big mistakes, and I know I let a lot of people down, but I've also learned some tough lessons."
This isn't the first time Weiner has begun a campaign with an apology. In 1991, after securing the Democratic nomination for city council, the 27-year-old Weiner was forced to apologize for a bit of dirty politics — which some news organizations at the time described as "race baiting" — by his campaign.
Racial tensions ran high in 1991 in the heart of the district that Weiner wanted to serve. Just weeks before the September 1991 Democratic primary, the Crown Heights riots broke out bringing tensions between the district's African-American community and Orthodox Jewish community to a head. Weiner, in the weeks following, attempted to use the tensions for political gain.
In the week before the primary, Weiner's campaign sent out a mailer to some 10,000 households — anonymously — tying one of his opponents, Adele Cohen, to then-New York City Mayor David Dinkins and Jesse Jackson. Dinkins was extremely unpopular with voters in the district due to what they perceived as his purposefully delayed law enforcement response to the riots.
"Obviously, she agrees with the Dinkins/Jackson agenda," the flyer read.
Another opponent of Weiner's, Mike Garson, his campaign called "one of Brooklyn's dirtiest campaigners."
The New York Times hammered Weiner for the tactics in an editorial entitled "Smears and Fears" after the election.
"Mr. Weiner's hit-and-run tactics tarnish his come-from-behind campaign, and point to a gap in the state election law," the editorial read. "Federal campaign rules require that campaign literature disclose its source. New York voters deserve the same sound rule"
"Race bating," New York Magazine called it in a profile of Weiner.
Weiner narrowly won the race, besting Cohen by 195 votes and Garson by 125 votes and Weiner would apologize for his tactics, after his victory.
"It was a screw up that I'm not proud of," Weiner admitted to New York Magazine in his profile. "I've got to take my lumps for it."