6 Things You Won't Believe The "Duck Dynasty" Congressional Candidate Said
Zach Dasher is challenging incumbent Rep. Vance McAllister.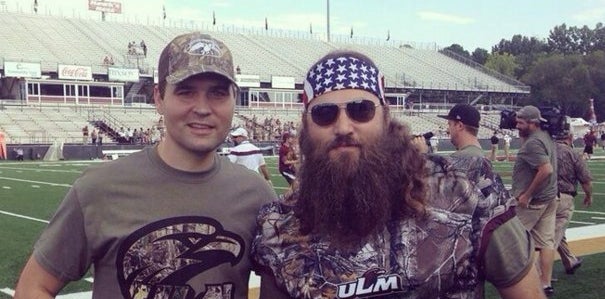 Zach Dasher is a cousin to the Duck Dynasty family — and he's challenging incumbent Republican Rep. Vance McAllister, best known as the "kissing congressman," in Louisiana.
Before running for Congress, Dasher was the proprietor of the website Willingtothink.org, which bills itself as "a website and podcast dedicated to encouraging folks to be willing to think about the deeper questions in life."
Dasher led the latest fundraising haul of candidates vying to oust McAllister, with $326,000. In the same time period, McAllister raised less than $16,000, The Hill reported.
On Dasher's personal podcast, all recorded before he ran for office, he made some controversial comments.
1.
Dasher says he thinks "it's very likely that" a "Mussolini-Hitler-Stalin-type regime" could "happen in America."
2.
Discussing abortion, a desire for infanticide, "harvesting humans for their organs," and using humans for research, Dasher argued "the eugenics movement in this country is alive and well."
3.
In one podcast Dasher says "true freedom can only be achieved when the government is based on God."
Dasher says when government moves away from God "it ends in death and tyranny."
"When the state, when the government, when the central planners, they decide the value of human life, rather than God, you know what happens," Dasher says. "Every time, death. Massive amounts of humans being killed. When God is the anchor, there is always life. When man is the anchor, there is always death."
4.
Dasher says we "are vulnerable to a Stalin-like tyranny" because "we have Marxists, Communist if you will in the highest form of our government."
5.
Dasher says MSNBC is "a major piece of the propaganda machine of the central planners or of the Marxists..."
6.
In a podcast discussing Melissa Harris-Perry, Dasher says kids in school are "being pumped full of atheistic doctrines."
"We definitely don't have the amount of control over the information thats being pumped into their little skulls full of mush," Dasher says "And these kids are being pumped full of atheistic doctrines, and ideas, and Darwinian-type world-views. A Darwinian world-view that is completely contrary to what I want my kids to learn. But it's being pumped into their minds, and we've got to do something different here."
Mother Jones also reported Dasher said godlessness will cause "mass carnage" and "mass death."
BuzzFeed also reported Dasher blamed atheism and post-modernism as reasons for the Sandy Hook school shooting.
In a Facebook post Dasher said YOLO was a "clearly atheistic message that has brainwashed a generation."
Dasher also once argued entitlements were a form of slavery, saying if you take government assistance, "you essentially become property of the state."