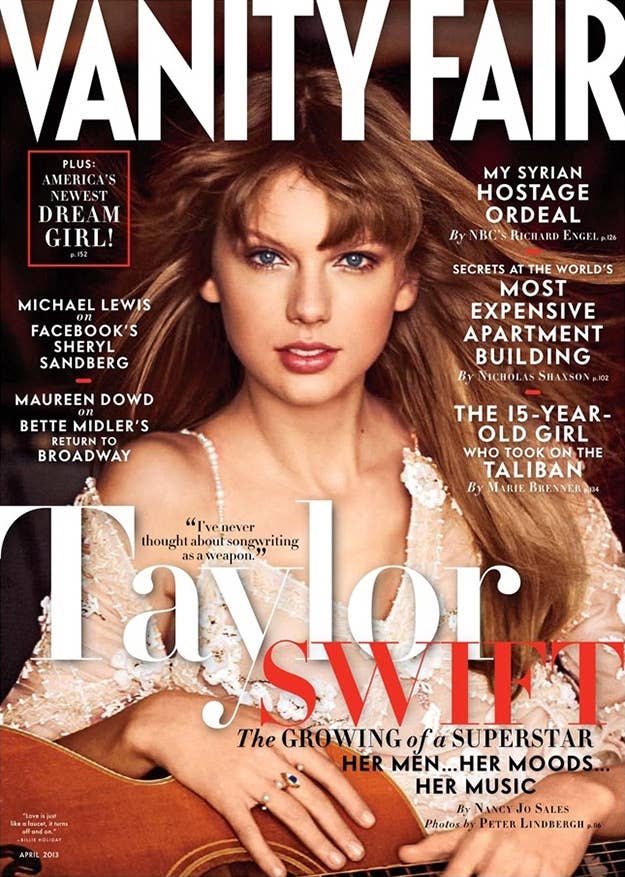 The general, magazine-buying public would rather read about these people than Taylor Swift: Lauren Conrad, Zooey Deschanel, and Scarlett Johansson. All three celebrities proved better-selling cover models than Swift, who continues her reign as one of the worst-selling cover stars at newsstands. And according to exclusive BuzzFeed data, she doesn't fare much better in terms of garnering page views online.
While Taylor Swift was one of the worst-selling cover models of the six-month period that ended in June 2012, Kate Moss, Kate Middleton, and Scarlett Johansson were among the best. So BuzzFeed's data team took a look at all articles about Swift, Moss, Middleton, and Johansson in BuzzFeed's network of more than 2,100 partner sites from January 2012 through March 2013. Taylor Swift was certainly written about the most, but she garnered the second-fewest page views per article on average.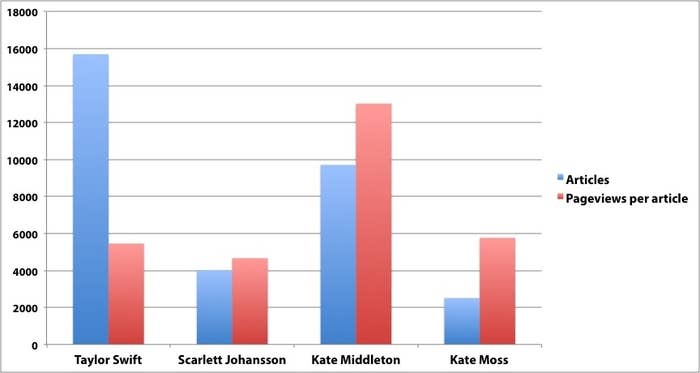 BuzzFeed's partner network includes sites like TMZ, Time.com, UsMagazine.com, NYmag.com, the Superficial, and Just Jared, among many other pop culture outlets. Despite dominating the number of stories written, Swift consistently failed to draw the most page views throughout the 15-month period analyzed, but she was occasionally second to Middleton in page views per post.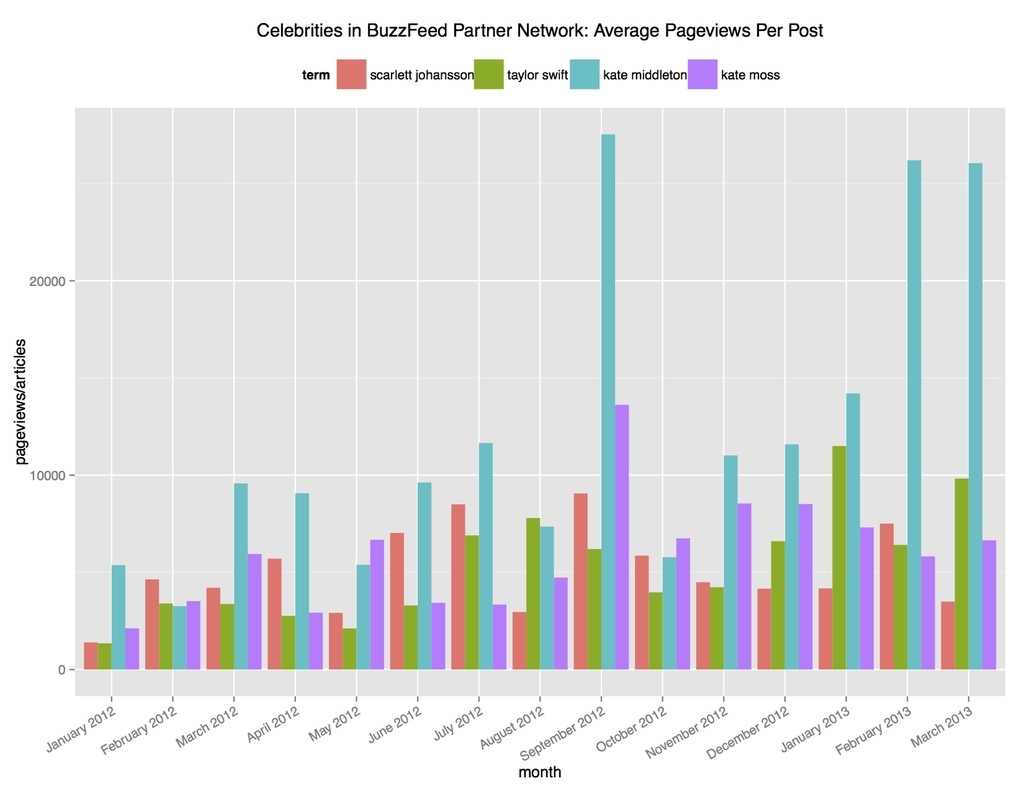 Going back to the data from the Alliance for Audited Media, reported earlier this week by WWD, Swift was the worst-selling cover of Cosmopolitan at a little over 1 million copies — 20% below the six-month average and half a million behind the period's best-selling cover girl, Scarlett Johansson. (Zooey Deschanel was the magazine's second-worst-selling cover model for the period.)
Swift also proved lackluster for Glamour (she sold 443,000 copies, behind Lauren Conrad's 500,000) and Harper's Bazaar (138,412 vs. Gwen Stefani's 166,365). And she flopped on Elle, Marie Claire, and Glamour in 2010.
One big difference between Swift and Middleton, Johansson, and Moss, is her availability to the press. "I don't know if overexposed is the right word," said Justin Ravitz, deputy editor of UsMagazine.com. "But she's completely available. Even though you could argue that in her interviews she is sometimes vague and obtuse and hint-y and winky winky when they're announcing who this song's about — is it about Jake Gyllenhaal? Is it about Joe Jonas?" But Swift is still willing to stir up speculative press, tweet about her life, and sit down with as many magazine writers as will pen cover pieces about her, nonetheless.
Contrast this press tactic with that of Kate Middleton, the most interesting person in print and online according to page views and magazine newsstand sales figures. The duchess doesn't tweet or give interviews or even appear before cameras terribly often. "We freak out that there's a photo of her, especially now that she's pregnant," noted Ravitz. "She's not [doing interviews] with every Tom, Dick, and Harry."
Though not quite as famous as Middleton, Moss and Johansson have also maintained intriguing public personas by eschewing press, especially about their personal lives.
And then there's the matter of Swift's confusing image, expertly analyzed by Willa Paskin for Vulture at the end of 2011. "Swift doesn't have to go full Kanye and write a whole record about the weirdness of being famous," Paskin wrote, "but in not so long, songs about her having a profound crush on a guy she saw for 10 seconds at a party — one who probably would have loved to have met her — may start to seem as bogus and immature as her surprise face."
Despite all the press Swift gets, she straddles a weird line between adulthood and childlike innocence. "She doesn't really talk about sex as much as she talks about love and romance and relationships, and I think we're more used to the Britney Spears model of 'here's my boobs, here's my butt, this is my crazy, sexed-up image,'" added Ravitz.
Nonetheless, Swift is still a top performer on UsMagazine.com, where news is driven by daily gossip rather than in-depth profiles in women's magazines that readers cozy up with at home. Ravitz says she gets "tons" of traffic there — "definitely" more than Lena Dunham. "She doesn't get as much traffic as Kate Middleton or Kim Kardashian or Jessica Simpson, but she's up there."