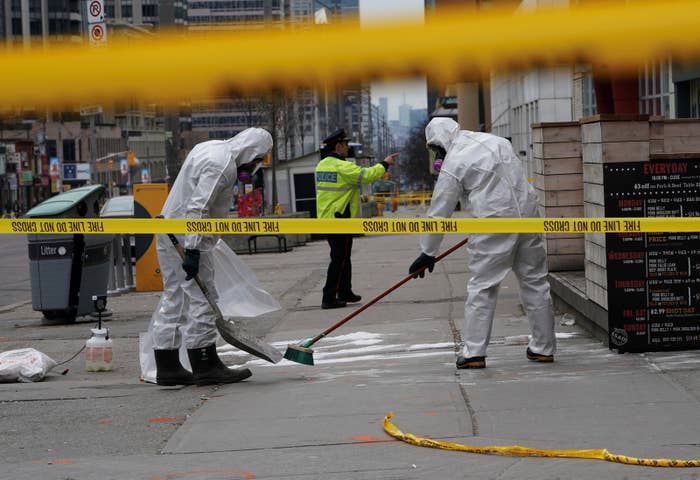 The victims in the Toronto van attack were "predominantly female," officials said Tuesday, adding that the suspect had posted a "cryptic" Facebook message supporting violence against women just before he drove into the crowded sidewalk.
Detective Sgt. Graham Gibson of Toronto police's homicide division said Tuesday that the victims also ranged from mid-twenties to early eighties.

Ten people were killed and 14 people were injured in the attack. The suspect, identified by police as 25-year-old Alek Minassian, has been charged with 10 counts of murder. Gibson said he could not discuss a possible motive citing the ongoing investigation.
Gibson referenced the "cryptic" Facebook post that went up shortly before the rented van veered into crowds of pedestrians near Yonge Street and Finch Avenue at 1:30 p.m. on Monday:
Private (Recruit) Minassian Infantry 00010, wishing to speak to Sgt. 4chan please. C23249161. The Incel Rebellion has already begun! We will overthrow all the Chads and Stacys! All hail the Supreme Gentleman Elliot Rodger!
The post references the "Incel Rebellion," with "incel" meaning "involuntary celibate," or slang from an online community who hate women and advocate for sexual violence against them as revenge for them not wanting to have sex. The post also mentioned Elliot Rodger, who killed six people in 2014 near the University of California, Santa Barbara, out of a hatred of women and those who had rejected him.
Gibson did not go into the meaning of the message, but noted it had received a lot of media attention since yesterday and "it's something we will take into account in this investigation in the coming weeks."
The names of the victims also will not be released until the coroner's office has been able to identify them through dental, DNA, or fingerprint records, officials added, although at least one identity had been confirmed publicly.
Families of those believed to have died have been contacted and are helping authorities with the identification process.
"It's a horrible tragedy and hopefully one we'll never have to repeat," said Dr. Dirk Huyer, the chief coroner for Ontario.