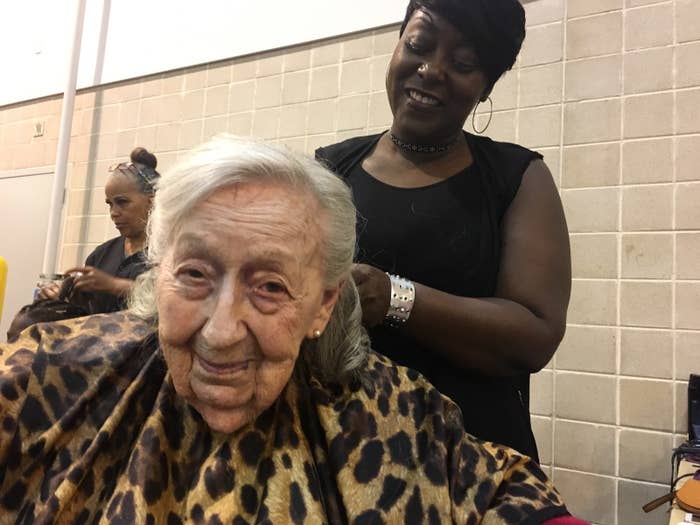 HOUSTON — A group of hair stylists braided, buzzed, and curled the hair of dozens of women and men Saturday at a Houston evacuation shelter where residents were trying to put their lives back together in the wake of Hurricane Harvey.
"You might have gone through the storm but you don't have to look like you went through the storm," said hairstylist Christal Mercier, 59.
Mercier is an organizer of Gallery of Salons, a volunteer network of black women who shut down their own salons or took time off from work to descend on the NRG Center to clean and style the hair of evacuees inside one of Houston's largest evacuation shelters.
It was nearly impossible to tell by looking at 94-year-old Hazel Hibbs that she had escaped the city's historic flooding by boat, essentially alone.

"I got in a rowboat with a bunch of firemen because they were so tall and handsome," said Hibbs, who spoke to BuzzFeed News while she got her hair cut, curled, and styled.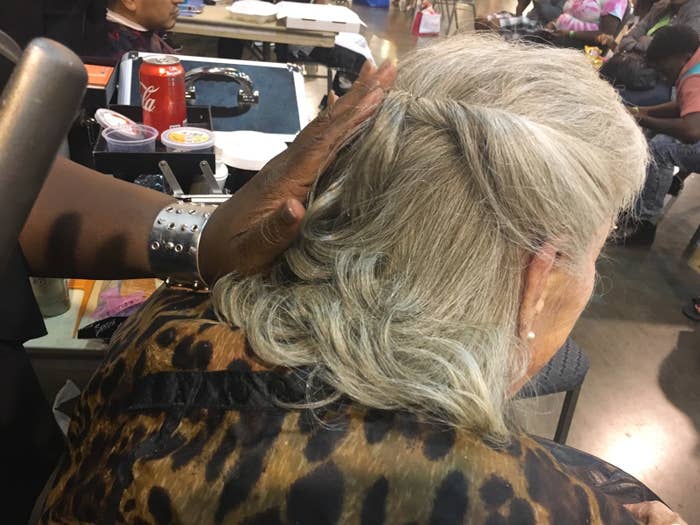 Hibbs described the moment she fled her lakefront apartment in a quiet neighborhood on the city's west side.
It "rained like heck," she said, but still wasn't expecting a flood.
"The water finally got to the top of the lake. I said 'oh, here we go,'" recounted Hibbs.
The water crept higher and higher. "Up the bank it came. It came up to my patio. Up my patio to my doors. There was no use waiting around," she said.
Luckily, firefighters in the area came upon Hibbs, who lives alone.
"All of a sudden they were there. I grabbed whatever and headed out with them," she said.

Hibbs took only her purse, and a small cosmetics bag with a toothbrush and hairbrush. The clothes she now owns are the ones she was wearing when she fled. Firefighters took her to a bus, which drove her to a nearby shelter. After a few nights there, she moved in to the massive NRG Center, which opened after the city's other shelters were overwhelmed with evacuees.
A friend and former neighbor of Hibbs is flying in from Tennessee to pick her up on Sunday. And now she's leaving with a new haircut.
"If you make people look good on the outside, they feel good on the inside," said Mercier, who runs a hair salon in Missouri City, Texas, and a not-for-profit called Hair Dreams by Christal, helping those who've lost hair due to chemotherapy or other issues.

The NRG Center is better equipped than most evacuation shelters – a sprawling toy-packed day care (including a section for kids with special needs), a free bookstore and board games section hosted by the public library, computer labs, mobile phone charging stations, a TV set up to show sporting events – but on Saturday it was also the temporary home for 2,440 people, who mostly didn't choose to be there.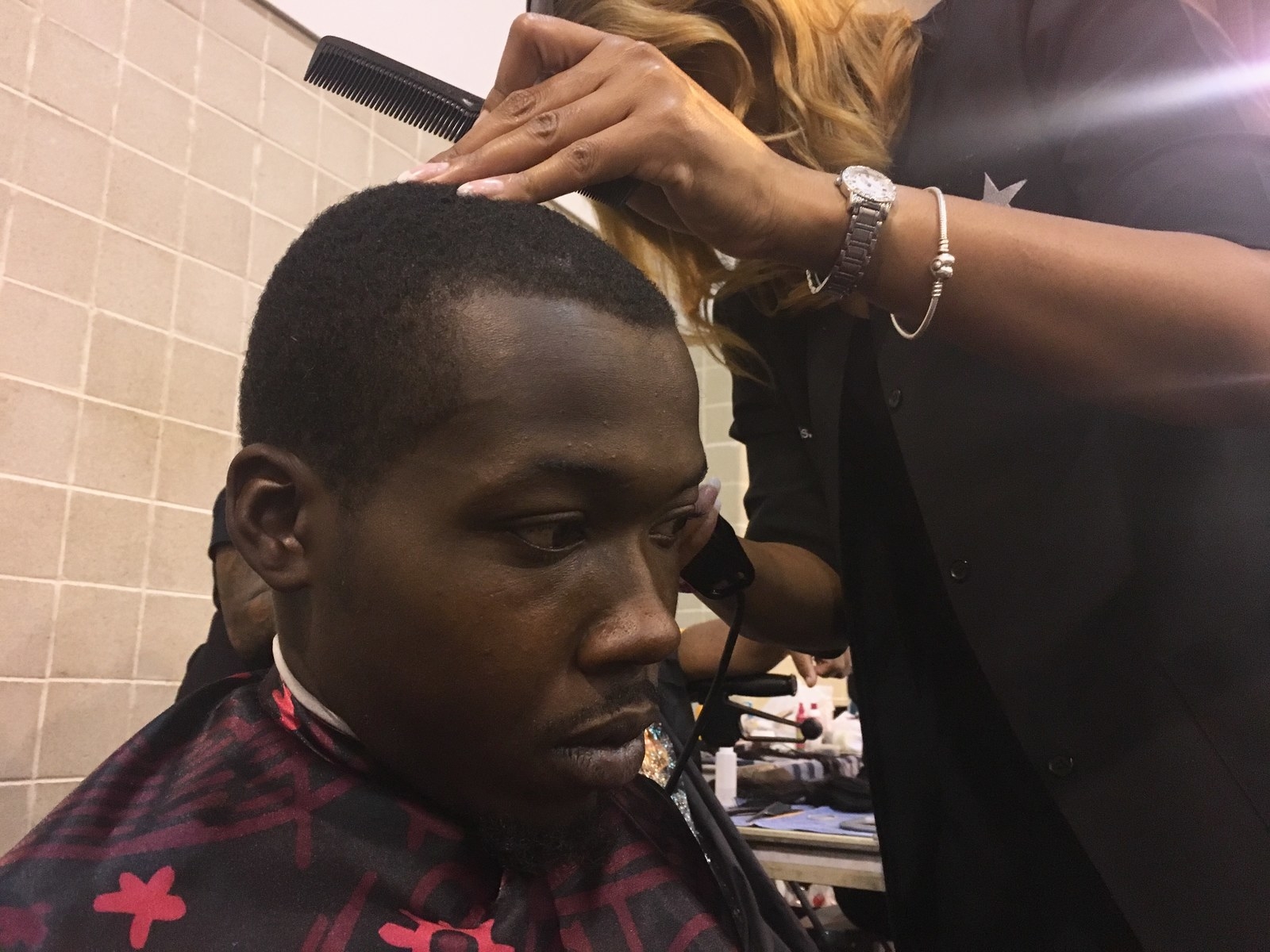 Keshun Renfroe, 23, had his entire apartment in Greenspoint, a neighborhood in north Houston, flood. Now he's living at NRG with his wife and 10-month old baby girl, who is struggling with sinus issues since moving into the heavily air-conditioned shelter.
He compared the evacuation shelter to a jail – lights out early, three meals at set times, and little freedom.
"I feel like I'm still a kid," said Renfroe, who was getting his head shaved.
With sinks not available for washing hair, stylists had dry shampoo and conditioning spray on hand to clean hair as best they could. Some evacuees were coming in with hair matted from the storm.

The most popular request at the pop-up salon was braids, though box braids (a great protective style for relaxed and natural black hair but can take hours to create) and sew-ins (a weave sewn in to braided hair, another process that takes a couple of hours) were no longer allowed due to limited time.

But cornrows and feed-in braids were encouraged, specifically because they are relatively quick and can protect relaxed and natural black hair for eight or more weeks, said Mercier.
"We're trying to give styles that last," she said.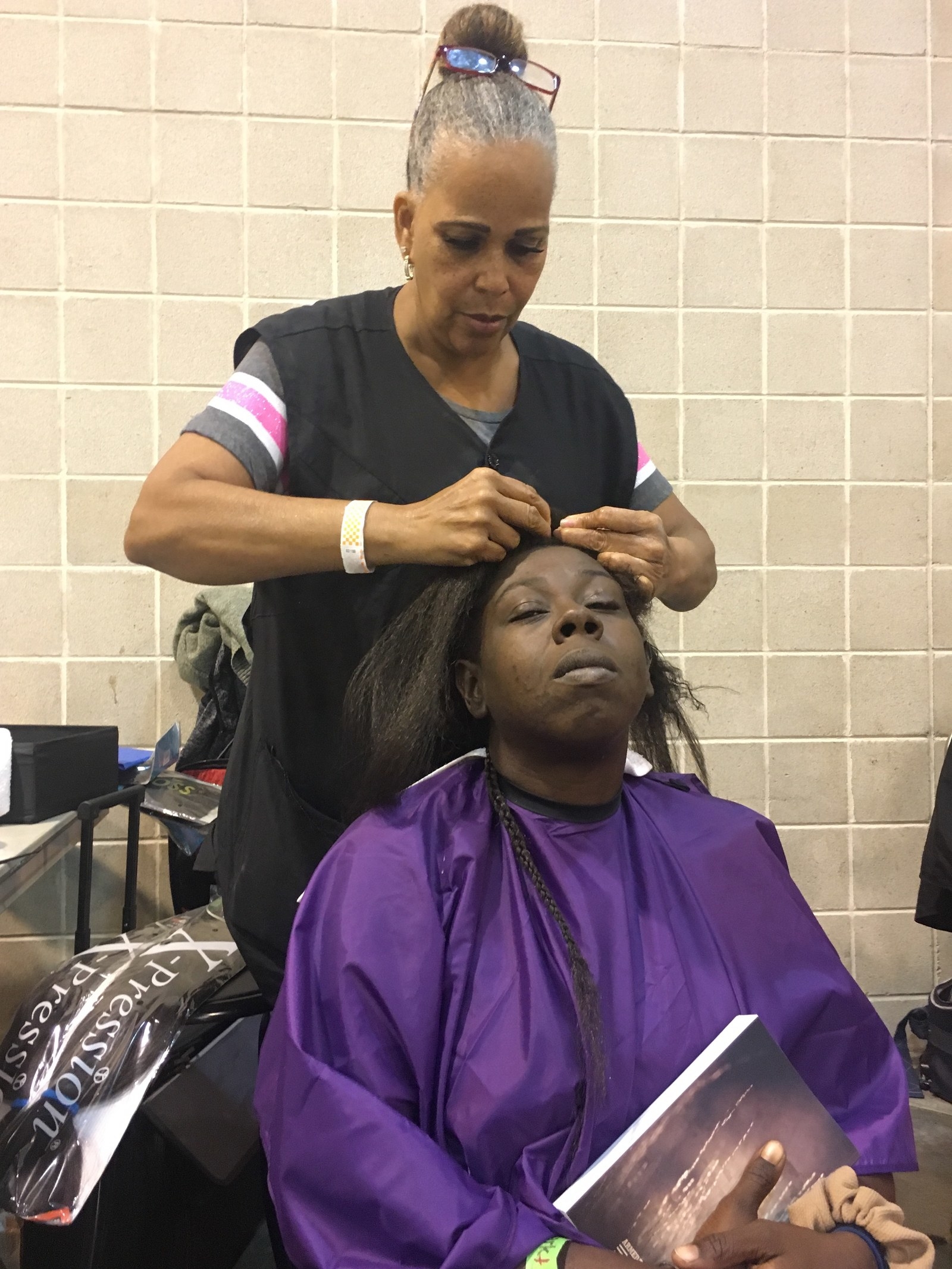 A barber had previously been available for men, but the Gallery of Salons was the first time long and women's hair were being cared for at the shelter.

"I've been asking for five days, can we get somebody to do our hair? Instead of the men getting their hair cut, can we look good too?", said Shelia Mosley, 34, who was getting her hair braided into cornrows on Saturday afternoon.
She was thrilled to see the stylists at the shelter. "I ran over here, literally ran over here. Loving it," she said.

Mosley left her home in Crosby, Texas, after a tree came crashing down into the house during the storm. She's been unable to return because of explosions at a nearby chemical plant.
"But it's all God. God is just doing his job to bring us closer together," said Mosley, who was looking for work before the storm hit.
"You can't be depressed, you can't let this situation bring you down," she said, smiling. "Somebody gotta find joy somewhere, somehow."