A remote tribe in India's Andaman Islands shot arrows at an American man, killing him, after he tried to illegally approach and befriend them.
Andaman Police identified the man as John Allen Chau, a US citizen who was reported missing after traveling to North Sentinel Island as a Christian missionary.
The Sentinelese tribe are the only occupants of North Sentinel Island and remain completely disconnected from the outside world. It is illegal to visit there.
The police report says that Chau had been staying in the Andaman Islands since Oct. 16. Chau's Instagram shows him as an adventure traveler — hiking and kayaking through the Pacific Northwest, trekking in South Africa, and diving in the Andamans.
On Nov. 14, Chau met a local fisherman through his friend Alexander and "arranged for a trip to North Sentinel Islands for missionary activities."
His Instagram bio describes him as "Following the Way," a reference to following the way of Jesus, although the photos focus more on outdoor tourism rather than missionary work.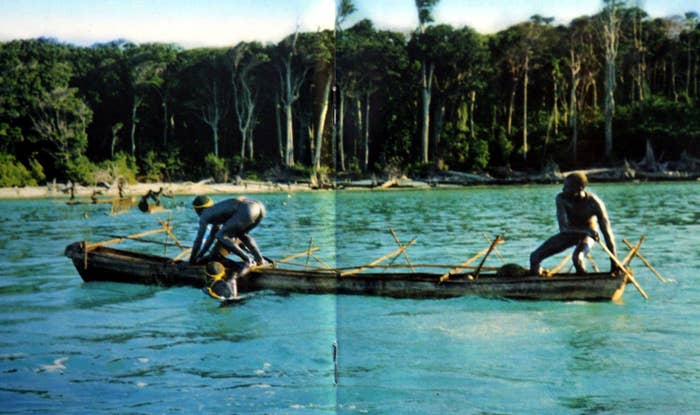 A group of fishermen took him close to North Sentinel Island around midnight of Nov. 14. The next morning, at around 4:30 a.m., Chau landed on the island, after making the last part of the journey alone in a kayak.
Chau attempted to contact the local Sentinelese tribe members by offering gifts including a small football, a fishing line, scissors, and a medical kit.
"During his attempts to befriend the tribals, he was shot with an arrow by an unknown person," reads the police report.
It is unknown what happened next, but according to the report, Chau was last seen alive by the fishermen on Nov. 16. The following day, at around 6:30 a.m., the fishermen "saw a dead body being dragged and getting buried by the unknown persons near the shore. From the silhouette of the body, clothing and circumstances, it appeared to be the body of John Allen Chau to them."

The fishermen contacted Alexander and the news reached Chau's mother, who filed a report with the US Consulate General in Chennai.
On Wednesday afternoon, a tribute was posted on Chau's Instagram account from his family, noting that due to an "unconfirmed report" they believe Chau was killed.
"Words cannot express the sadness we have experienced about this report. He was a beloved son, brother, uncle, and best friend to us. To others, he was a Christian missionary, a wilderness EMT, an international soccer coach, and a mountaineer. He loved God, life, helping those in need, and had nothing but love for the Sentinelese people. We forgive those reportedly responsible for his death," wrote his family.
A State Department spokesperson told BuzzFeed News that they were aware of reports concerning a US citizen in the Andaman & Nicobar Islands but that due to privacy considerations, had no further comment.
The fishermen — Saw Jampo, Saw Taray, Saw Watson, Saw Molian, M. Bhumi, and Saw Remmis — and Alexander have all been arrested and charged by the Andaman Police for violating the Protection of Aboriginal Tribes law (which protects the Sentinelese from outside visitors) and for causing Chau's death.

"We also ask for the release of those friends he had in the Andaman Islands. He ventured out on his own free will and his local contacts need not be persecuted for his own actions," wrote Chau's family in their statement on Instagram.
Very little is known about the Sentinelese tribe, said Sophie Grig, a senior research and advocacy officer at Survival International, a group that advocates for remote tribes, but she believes Chau was killed in "effectively self-defense."
The population is believed to be around 100 people. Because of the remote nature of the community, they also have no immunity to disease or illnesses.

"If they'd welcomed him with open arms, he could have decimated the entire tribe," said Grig, who has spent more than 20 years researching the Andaman Islands.
"This in itself could be the thing that decimates them, if he got close enough to them. This could be a devastating moment," said Grig.

The language they speak is unknown. They are a hunter-gatherer community and also have very small boats for fishing in local creeks.

The few recorded instances of contact have all included the Sentinelese attacking anyone approaching with arrows and spears.
Four members of the tribe — two elderly people and two children — were removed by a British colonial group in the 1880s. The two elderly people quickly died, and the children were returned to the tribe.
The Indian government had made attempts to contact the tribe but in the last decade had adopted a "hands off, eyes on" policy where every six months the tribe is viewed from a boat with binoculars to see if they are OK, explained Grig.
Two fisherman who were illegally fishing in their waters in 2006 were also killed by the tribe.

"They fire arrows at anyone who goes there," said Grig.
It's highly unlikely that the Sentinelse will be charged for Chau's death.

"These are people who have no idea that the state of India exists, let alone that there are laws they are expected to abide by," said Grig. "What is absolutely essential is that their land is protected."
But the police report says authorities are trying to recover Chau's body.
Tributes to Chau began appearing on social media on Wednesday, referencing his mission work. "Our dear friend John was martyred on the Andaman Islands, killed by bow and arrow," wrote one.