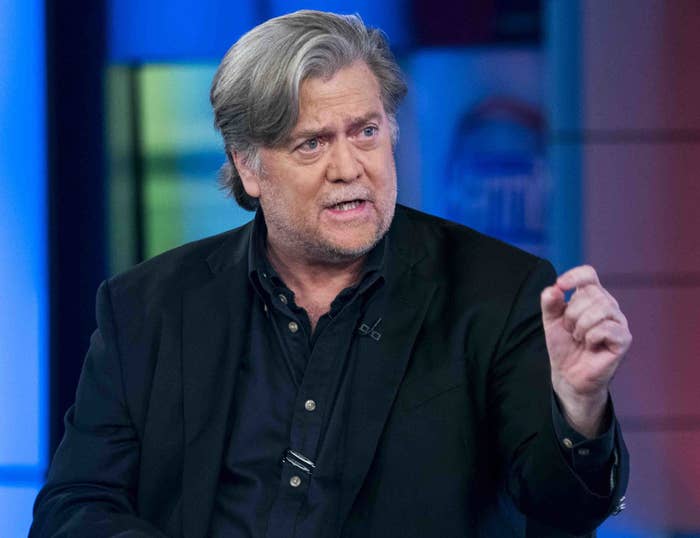 Former White House chief strategist Steve Bannon slammed Republican Senator Bob Corker for his public sledging of the Trump White House as "an adult daycare center," declaring him a "real piece of work" in a speech at a conservative summit on Saturday.
"Bob Corker has trashed the Commander-in-chief of our Armed Forces, while we have young men and women in harm's way," said Bannon at the Values Voter summit, a highly conservative political convention in Washington, DC.

Bannon, who returned to his role as executive chairman at Breitbart News after leaving the White House in August, declared it a "season of war" in the GOP.
He argued repeatedly that it was particularly bad for someone to insult the president while the country has troops fighting in wars.
"Some US senator in a position of that authority, for the first time in the history of our Republic, has mocked and ridiculed a commander-in-chief, and we have kids in the field," he said.
Meghan McCain, daughter of Republican Sen. John McCain, tweeted "give me a break" after reading Bannon's comments.

Trump has previously said of McCain, who spent more than five years as a prisoner of war in Vietnam: "He's not a war hero...I like people that weren't captured."
Jake Tapper from CNN noted that it was definitely not the first time a US president had been mocked by a senator during wartime, noting that previous stories about senators mocking President Barack Obama ran on Bannon's own Breitbart.
Bannon's most recent comments came after a week of tit-for-tat between the president and the Republican senator from Tennessee.

Trump tweeted last Sunday that he refused to give Corker his endorsement for re-election (a claim Corker's camp denies) and that Corker "didn't have the guts to run!"

Bannon added on Saturday that he thought Corker was scared because he knew voters wouldn't re-elect him.
Last Sunday, Corker told the New York Times his concerns that Trump is leading the country "on the path to World War III."

He added: "I know for a fact that every single day at the White House, it's a situation of trying to contain him."
Earlier on Sunday, Corker tweeted that "the White House has become an adult day care center"

On Friday he told the Washington Post that Trump's comments about Rex Tillerson effectively "castrate" the Secretary of State.

Bannon's speech on Saturday railed against the GOP establishment, calling it a "civil war inside the Republican party," and slammed those who didn't defend the president from Corker's comments, naming John Barrosso of Wyoming, Dean Heller of Nevada, and Deb Fischer of Nebraska.

"Have I seen [John] Barrosso come to a stick and condemn that?" he asked.

"Let me give a warning to you: no one can run and hide on this one. The days of taking a few nice conservative votes and hiding is over," declared Bannon.
Bannon referenced an Associated Press story about his speech headlined "In war on GOP establishment, Bannon enlists his troops."
"This is not my war. This is our war," he declared.
"You didn't start it. The establishment started it. But I'll tell you one thing: you all are going to finish it."
Bannon's speech focused heavily on his favored topics of populism and anti-globalism. But he also confidently declared Trump will win the next election comfortably.
"President Trump is going to win with 400 electoral votes in 2020," predicted Bannon.
He also referenced Trump's apparent personal wealth, but appeared to not know how much the president is worth.

"Worth billions of dollars. I don't know if it's four, five, seven, eight, ten. At some point you've got to quit counting, right?" asked Bannon.

Forbes estimates that as of February 2017, Trump, who has not released his tax returns, is worth $3.5 billion.