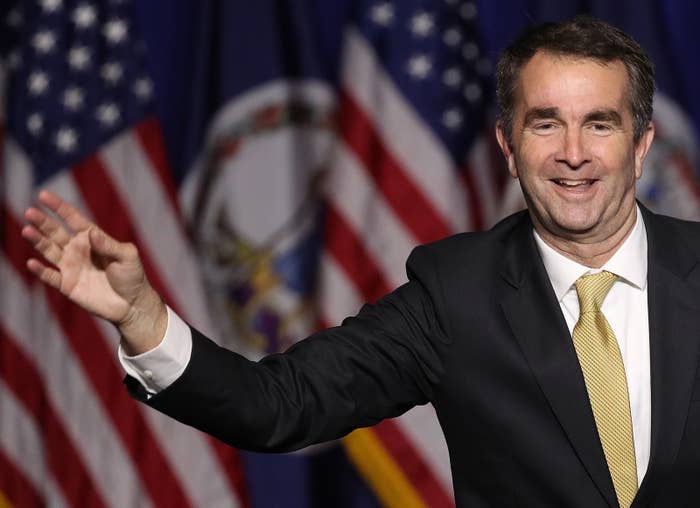 Virginia Gov. Ralph Northam said he does not believe he is pictured in the racist yearbook photo he apologized for on Friday, and he will not resign over it.
A page from Northam's 1984 Eastern Virginia Medical School yearbook with a photo showing two men, one in blackface and another wearing a Ku Klux Klan robe and hood, became public on Friday.

"It is definitely not me. I can tell by looking at it," said Northam, in a press conference on Saturday.
"When I was confronted with the images yesterday, I was appalled that they appeared on my page but I believed then, and now, that I am not either of the people in that photo," said Northam.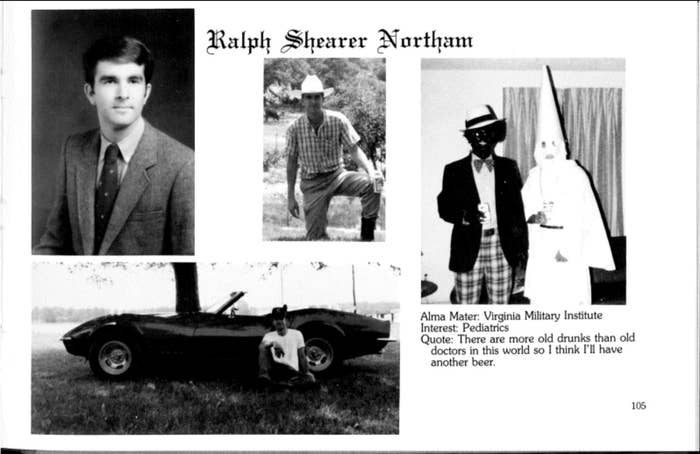 Northam said he had never seen the yearbook page or the photo until Friday, as he never purchased a copy of the book and joined the military immediately after graduating.

"I believe this moment can be the first small step to open a discussion about these difficult issues and how they contribute to the greater racism and discrimination that defines so much of our history," said Northam, explaining that he wouldn't be stepping aside as governor.
"Today I am not ready to ask Virginians to grant me their forgiveness for my past actions," said Northam. "I also do not fully expect that they will immediately believe my account of these events. Right now I am simply asking for the opportunity to demonstrate beyond a shadow of a doubt that the person I was is not the man I am today. I am asking for the opportunity to earn your forgiveness."
On Friday night Northam confirmed he was in the photo, releasing a statement that read:
Earlier today, a website published a photograph of me from my 1984 medical school yearbook in a costume that is clearly racist and offensive.

I am deeply sorry for the decision I made to appear as I did in this photo and for the hurt that decision caused then and now.
But by Saturday morning, Northam began questioning if it was even him in the photo, contacting friends from medical school and telling Democratic colleagues he couldn't remember it, according to multiple media reports.
"In the hours since I made my statement yesterday, I reflected with my family and classmates from the time and affirmed my conclusion that I am not the person in that photo," said Northam on Saturday.
But he admitted that he had been involved in harmful racist behavior in his past, including darkening his face with shoe polish as part of a Michael Jackson costume for a dance contest in San Antonio in the same year the yearbook photo appeared.
"In some ways, my personal history mirrors that of this commonwealth. There are actions and behaviors in my past that were hurtful, but, like Virginia, I have also made significant progress in how I approach these issues," said Northam.
State Sen. Louise Lucas, a Democrat, told the Washington Post she'd received a call from Northam Saturday morning saying he wasn't planning to resign because he didn't believe he was in the photo.
"He should have said that yesterday then," said Lucas in the Post. "He just told me he didn't think it's him. And I said, 'Ralph, this is a day late and a dollar short. It's too late.'"
The Democratic Party of Virginia said on Saturday morning that Northam "no longer has our confidence or our support," and called for Lt. Gov. Justin Fairfax to take over as governor immediately.

Fairfax released a carefully worded statement on Saturday afternoon in which he did not explicitly say that he supported Northam remaining as governor.
"While his career has been marked by service to children, soldiers and constituents, I cannot condone the actions from his past that, at the very least, suggest a comfort with Virginia's darker history of white supremacy, racial stereotyping, and intimidation," said Fairfax, who is black.
"At this critical and defining moment in the history of Virginia and this nation, we need leaders with the ability to unite and help us rise to the better angels of our nature," continued Fairfax.
On Friday, Northam also released a video statement where he apologized "for behavior in my past that falls far short of the standard you set for me when you elected me to be your governor."

"That photo and the offensive and racist attitudes it represents does not reflect that person I am today or the way that I have conducted myself as a soldier, a doctor, and a public servant. I am deeply sorry," said Northam.
On Saturday, House Speaker Nancy Pelosi, the most senior Democrat, tweeted that Northam's yearbook photo was "racist and contrary to fundamental American values" and that she supported calls for him to step down.
Former vice president Joe Biden said that Northam "has lost all moral authority" and needed to resign.

Democratic 2020 presidential hopefuls including Sens. Kirsten Gillibrand and Kamala Harris also called on Northam to leave.
"There aren't two sets of rules for our friends and our foes: Right is right and wrong is wrong," Gillibrand tweeted.
"Leaders are called to a higher standard, and the stain of racism should have no place in the halls of government," Harris tweeted on Friday evening.
Other Democratic leaders, including the former governor of Virginia, Terry McAuliffe, agreed.
An editorial from Virginia newspaper Richmond Times-Dispatch called for Northam to step aside:

We all act foolishly in our youth. But a college graduate, studying to be a physician, in a state with Virginia's troubled racial history, should know better than to reduce that history to a callous joke
"If I were to listen to the voices calling on me to resign my office today, I could spare myself from the difficult path that lies ahead," said Northam on Saturday. "I could avoid an honest conversation about harmful actions from my past. I cannot in good conscience choose the path that would be easier for me, in an effort to duck my responsibility to reconcile."