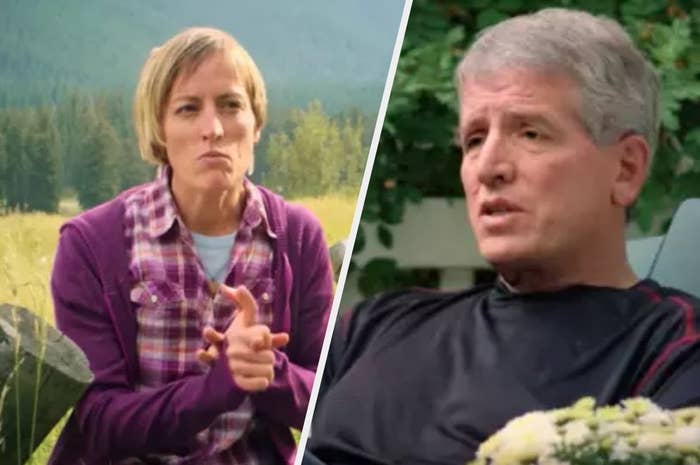 In some of the most scathing political advertisements the internet has ever seen, six siblings of Arizona Rep. Paul Gosar endorsed their brother's opponent.
"I don't believe I have any impact on Paul except through some means like this, which is why I agreed to do it," said his youngest sister, Jennifer Gosar.
She's one of two Gosar siblings who explained to BuzzFeed News how the viral videos recorded in support of their brother's opponent, Democrat David Brill, came about.
Like many families in the Trump era, the Gosar siblings are sharply divided in their politics. But most families don't include a member of Congress. Gosar, a Republican, has represented Arizona's 4th Congressional District since 2011.
Siblings David and Jennifer Gosar told BuzzFeed News that they and their other brothers and sisters in the videos felt they needed to take a public stand against their brother's policies and ideas, such as his positions on health care and immigration, and his past alignment with white nationalists.

Jennifer, the youngest of the Gosar siblings, told BuzzFeed News it felt like an "intervention" against her brother.

"His rhetoric has gotten to a place of hate, and I don't know how to get him back from there. I don't know how to affect his consciousness except in this way," she said.
In one video, it does not reveal until the end that the people speaking are the congressman's siblings. "Paul Gosar, the congressman, isn't doing anything to help rural America," said his sister Grace Gosar.
In another political advertisement for Brill, Gosar's brother, David Gosar, declared: "We've got to stand up for our good name. This is not who we are."
Back in mid-June, Jay Ruby, a theater director who works as special operations director on Brill's campaign, saw David tweeting angry replies to his brother Paul, whom David refers to on Twitter as "Wease," short for "Weasel."

David said he primarily uses Twitter to respond to his brother. "Once he's no longer a politician, I'll close it down and have nothing to do with it," he said.

Ruby called David, and they spoke for hours about their political beliefs. David then passed along the number of his sister Jennifer, a medical Spanish-language interpreter, who also spoke at length at her frustrations with her brother's policies, particularly his views toward immigration.
Other siblings — there are 10 Gosar siblings and Paul is the eldest — also began to speak to Ruby about the Brill campaign and their brother.
"As a theater artist, I could see there was a story that wanted to be told," said Ruby, who is the director of the Carpetbag Brigade physical theater company, and a resident in Gosar's district.

After weeks of conversations, the Brill campaign called on Ruby to ask if the siblings would shoot a political advertisement about their views on their brother.
"This is not about what we want to say as a campaign," Ruby said. "It's about the genuine questions the siblings have towards their behavior of their brother, who happens to sit in Congress."

In the end, eight siblings supported the ads, and six agreed to appear — a seventh initially said yes, but later declined to be filmed.
"We were forced into this," David told BuzzFeed News. "He [Gosar] cheered Sessions' policy of stripping babies away from parents at the border. How horrible. What kind of monster supports that? We're just supposed to — in the face of all this, dragging our good name through the mud — we're supposed to do nothing?"
David, a lawyer who lives in Jackson, Wyoming, said he usually prefers to keep a low profile. "But people have a responsibility to speak out. We're in the era of right versus wrong," he said.

In 2017, seven of Gosar's siblings — organized by David — wrote a letter calling for their brother to apologize after he said that the Charlottesville protests were backed by Jewish billionaire George Soros, whom he accused of being a Nazi sympathizer.

David, 47, said he hasn't spoken to his brother since 2010. "He told me he was a birther and that was it," David said. "In my opinion that's just hardcore racism."
The Brill endorsement videos were shot late August in Jackson and Laramie, Wyoming, close to where most of the siblings live, and not far away from the town where the siblings grew up together in rural Wyoming. Jennifer traveled from her home in Washington to take part.

One of the video production staffers involved in the project had worked on Ronald Reagan's famous "Morning in America" ad, said Ruby, who added: "I told him, OK, you're undoing your karma."
So far, four videos of the siblings have been released, including one in which Grace Gosar talks about being a rural physician and how her views of health care have changed over her career and during her own cancer treatment.
More advertisements based on interviews with the siblings are coming, Ruby confirmed.
Jennifer, 47, said she'd been looking for ways to protest her brother— whom she last saw recently at a niece's wedding a few summers ago — and the policies he supports. She had previously tried writing an op-ed about his policies but said it hadn't been published by local newspapers.
She told BuzzFeed News she wasn't concerned about attacking her brother, because he is a public figure, but did worry about the impact it would have on their parents.
"I did feel really deeply conflicted," Jennifer said. "This is not a pleasant thing. It's hard for them."

On Saturday, the New York Times, contacted Gosar's 85-year-old mother Bernadette to ask her thoughts on the endorsement videos, which she was not previously aware of. She told the Times she was "shocked" and "crushed" at them.

"I share the same philosophy and policies that Paul does," she said. "He's done a hell of a job for Arizona, and they love him."
"I guess I really am Mom's favorite!" Paul Gosar tweeted in response.
The Gosar campaign has not yet responded to BuzzFeed News' request for comment.

On Saturday afternoon, Gosar tweeted from his campaign Twitter account about the advertisements, calling his siblings "disgruntled Hillary supporters [who] put political ideology before family. Stalin would be proud."
When BuzzFeed News read those tweets to Jennifer, who was hearing them for the first time, she went silent for several seconds.

"This could degrade to a yelling screaming match, couldn't it?" she said. "This could become so personal that it embodies the worst of our dialogue right now. And I don't want to do that."
Asked if she had a message for her brother, Jennifer kept it simple.
"Resign," she said.

CORRECTION
David Brill, US Rep. Paul Gosar's opponent, was misidentified in an earlier version of this post.