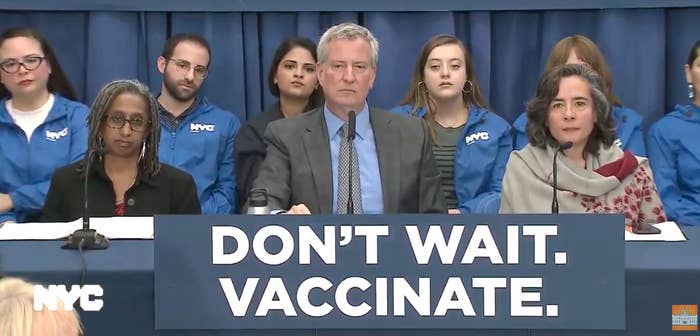 New York City officials declared a public health emergency on Tuesday after almost 300 cases of measles in the city, announcing fines of up to $1,000 if people disobey the mandatory vaccination order.
"This is the epicenter of a measles outbreak that is very, very troubling and must be dealt with immediately," said Mayor Bill de Blasio, during a press conference in Williamsburg, where the outbreak is occurring in Orthodox Jewish communities.

De Blasio decried anti-vaxxer misinformation campaigns targeting parents, and the health commissioner warned parents were having "measles parties" to infect their children with measles and to naturally immunize them — and avoid the vaccination.

The order says that anyone who lives, works, or studies in Williamsburg, Brooklyn — zip codes 11205, 11206, 11211, and 11249 — must be vaccinated for measles or have proof of immunity, meaning they've had measles before and developed antibodies. If not, they could face fines of up to $1,000.

"The problem is, there's nothing more difficult to contain than a measles epidemic," Peter Hotez, professor of pediatrics and dean of the National School of Tropical Medicine at Texas's Baylor College of Medicine, told BuzzFeed News. "The measles virus is the most highly transmissible virus we know about."
The city saw only two cases of measles in 2017. In 2018, that jumped to 56, with an outbreak beginning in October. So far in 2019, 229 people have been sick.

Authorities are asking parents covered by the order to vaccinate babies from 6 months of age. Traditionally babies are not given the measles vaccination until they're 12 months old.
That means babies given the vaccine at 6 months will have to be revaccinated at 12 months as they could still have had many maternal antibodies that would affect the vaccine's effectiveness, said Hotez.
Nearly 250 people affected in the Brooklyn measles outbreak are children, most of whom had been unvaccinated or incompletely vaccinated (after an initial vaccine, a booster is needed a few years later). So far, 21 people have been hospitalized and five admitted to intensive care.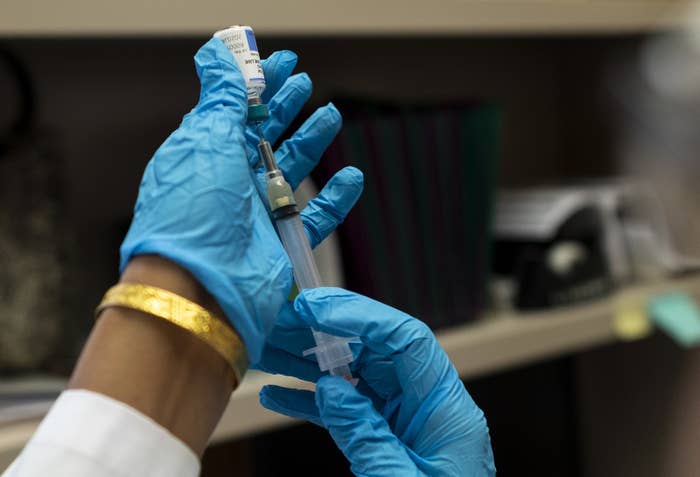 NYC Health Commissioner Dr. Oxiris Barbot warned against parents having "measles parties" to infect their children with the disease as a way to build antibodies.
"Back in the day people were having parties to expose their kids to chicken pox," said Barbot. "We live in a different world now... there are serious consequences to that."
"That's no party," said Paul Offit, professor of pediatrics and director of the Vaccine Education Center at the Children's Hospital of Philadelphia.
He pointed out that before vaccines were available, measles killed five times more people than chicken pox, and that he knew one woman who'd taken her child to a chicken pox party years ago whose child died.

"Measles make you sick — why would you let someone suffer that knowing there's a potential you could die?" he said.
Currently the outbreak has been concentrated in Orthodox Jewish communities. New York City's deputy mayor for Health and Human Services, Herminia Palacio, said they'd seen an increase in measles cases after the recent Jewish holiday of Purim, and that with Passover coming, with people traveling and gathering together for the holiday, the need for the emergency order was clear.
And although some may chose not to vaccinate for religious reasons, Hotez said the Orthodox Jewish community has been targeted by anti-vaxxers.
Hotez said he's aware of anti-vaxxers holding phone calls with members of the Orthodox community "and giving them phony information, about measles causing autism."

Multiple scientific studies have shown that there is no link between vaccinations and autism.
"This is predatory behavior on behalf of the anti-vaccine lobby," Hotez said.

The mayor echoed his concerns about vaccination conspiracies.
"There's a lot of misinformation out there, so people are spreading different view points but some of them are clearly false and not backed up by science," de Blasio said. "The science consistently proves that this vaccine is safe and necessary."
As well as protecting babies who are too young for vaccines, a vaccinated public protects pregnant women and people on chemotherapy or other immune-suppressant drugs who may not be vaccinated.
So far no one has died in this latest outbreak, but with the numbers on the increase despite easily available vaccinations, medical experts say it's only a matter of time.
"I feel like we're falling off a cliff in slow motion here," said Offit. "It's always the children, and the weakest among us, who have to suffer our ignorance."
CORRECTION
This article has been updated with a correct affected zip code, 11211. An earlier version of this article, citing information released by the Mayor's Office and the NYC Department of Health, listed an incorrect affected zip code.