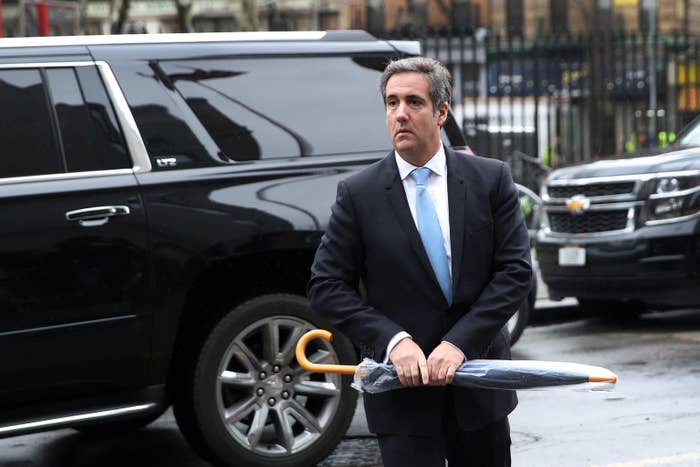 President Donald Trump's longtime personal lawyer, Michael Cohen, arrived at the federal court in Manhattan on Monday afternoon for a hearing relating to materials seized from his home, office, and hotel room.

By the time he left, Cohen's previously unnamed client was revealed as being Fox News host Sean Hannity and US District Judge Kimba Wood made clear that Cohen would soon get to see copies of the materials seized from his properties on April 9.
The hearing quickly veered into a dramatic courtroom showdown over the identity of the third legal client Cohen claimed to have had over the past 15 months, in addition to Trump and a former top official at the Republican National Committee. Cohen's lawyers initially fought to keep the client's identity secret, then asked to tell only the judge, claiming the client wanted privacy.
But US District Judge Kimba Wood ordered them to name the client "now." When Hannity's name was read out, the public gallery gasped and laughed at the news. Several journalists immediately ran out of the courtroom.
Hannity, one of Trump's most vocal defenders who also has private audiences with the president, responded to the announcement shortly thereafter.
"We have been friends a long time. I have sought legal advice from Michael," the Fox News host told the Wall Street Journal.

On his radio show, which was on air as the news came out, Hannity said that Cohen never represented him in any actual matter.
"I never used Michael in any case that involved me and a third party," he said, but added that "we definitely had attorney-client privilege because I asked him for that."
"I've never retained him in the traditional sense," Hannity said, explaining the nature of their relationship. "I've never received an invoice from Michael — never paid legal fees. We occasionally had discussions about legal matters where I wanted his input and perspective. ... I like to have people I can run questions by."
Hannity soon tweeted similar points:
He went on to repeat much of his statement during the final minutes of his Fox show Monday night, adding that his conversations with Cohen "focused almost exclusively on real estate."
Fox News has not responded to questions from BuzzFeed News regarding the disclosure, or whether Hannity's relationship to Cohen posed any conflict of interest. Hannity's show has repeatedly covered the FBI's raid of Cohen's office, and his role Trump's personal attorney.
"My discussions with Michael Cohen never rose to any level that I needed to tell anyone that I was asking him questions," Hannity said during his show.
The revelation of Hannity's previously undisclosed relationship with Cohen came amid a chaotic second day of hearings in the dispute over records seized by the FBI last week. The federal judge ordered Cohen last week to appear in court Monday, creating a media frenzy outside the courthouse in lower Manhattan as the hearings reconvened.
Michael Avenatti, the lawyer for Stormy Daniels, the adult film star who is suing Cohen in a separate case, was also in court, telling reporters "it's a Stormy day," before going inside. Daniels, whose real name is Stephanie Clifford, was also in attendance.
In a Monday morning filing, Cohen claimed to have had only three legal clients since leaving his job at the Trump Organization last January, including Trump, Elliott Broidy, a major GOP fundraiser, and a third client who went unnamed. Cohen lawyer Todd Harrison argued that "thousands" of documents seized by the government would be protected by attorney-client privilege.
Wood, the judge, pushed back on that claim, and ordered Cohen's lawyers to reveal the identity of the third client, noting its direct relevance to their privilege claims. seized should be protected under attorney-client privilege.
Cohen's lawyers were asking Wood for an order allowing them to get a first crack at the materials seized to determine whether any of it is privileged, or to appoint a special master to review the documents before they are viewed by anyone from the US Attorney's Office in the Southern District of New York (SDNY).
The US Attorney's Office, which executed the warrant on Cohen's properties, has instead proposed using so-called "taint team" to conduct the initial review, allowing government lawyers not involved in the Cohen investigation to determine what, if any material, is protected by attorney-client privilege and therefore off-limits to prosecutors.
Cohen's lawyers, from the law firm McDermott Will and Emery, argued that a taint team would be biased in favor of the government, and that appointing a special master would "avoid even a hint of impropriety here in the review of Mr. Cohen's data and documents."
Trump has also brought in his own lawyers from Spears and Imes to protect his interests as one of Cohen's clients. In a filing on Sunday night, the president's attorneys made clear they believe Cohen and Trump should receive copies of the seized materials first so they can make their own assessment as to what is privileged, before the government begins its review.

In Monday afternoon's hearing, federal prosectors argued that it was, essentially, a "run of the mill case," and that appointing a taint team was standard protocol in these circumstances.
"The only thing that marks this case as unusual, in any respect, is that one of Mr. Cohen's clients is the president," said Thomas McKay, of the SDNY US Attorney's Office.
Cohen's lawyer, Todd Harrison, disagreed. "That's just not correct. We're talking about an unprecedented raid on the office and home of the sitting president's personal attorney."
Harrison added that while he wasn't accusing the government of any misconduct, the heightened scrutiny on the case made "the appearance of fairness" even more important.
Wood postponed making a decision Monday, denying Cohen and Trump's request for a temporary restraining order to block prosecutors from seeing the evidence, but left open the possibility of a preliminary injunction at a later date.
Laying out the next steps in the case, Wood said the government will put all the documents seized from Cohen in an electronic database, and that Cohen will be given copies.
Once its clear just how many documents there are, and the nature of their content — the FBI raids yielded 10 boxes of documents, as well as hard drives, cellphones, and other electronics — the judge said she would be able to "make a more more intelligent choice whether a taint team handles it or a special master is part of it."
Salvador Hernandez contributed to this report.