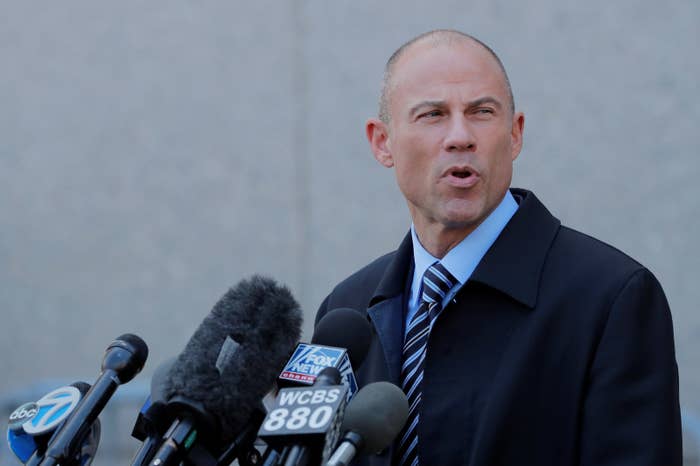 Wednesday's federal court hearing into seized documents that are part of a criminal investigation into the business dealings of Michael Cohen, President Trump's longtime personal lawyer, became — for the most part — a fight about Michael Avenatti, the colorful lawyer representing Stormy Daniels.
"This proceeding is about the keeping of confidential privileged information but it's been turned on its head by Avenatti," Cohen's lawyer, Steve Ryan, argued to US District Judge Kimba Wood.

Ultimately, though, Wood didn't rule on Avenatti's request to appear in the matter on Wednesday, and, shortly after the hearing, he withdrew the motion — putting off any ruling for the time being — but promised to keep up his very public fight.
The parties also detailed the difficulties they are having reviewing materials and, in some cases, accessing the material seized in the April 9 raids on Cohen's properties. Most notably, government lawyers explained that they are still working to piece back together materials seized from a paper shredder and access two remaining Blackberrys.
Avenatti represents Daniels, the adult film star whose legal name is Stephanie Clifford, and had sought to be involved in the challenge, as he says some of the seized documents may involve privileged information between his client and her former lawyer. Cohen had arranged the $130,000 payment to Daniels to stop her from speaking publicly about her alleged relationship with Trump.

Avenatti had filed a pro hac vice application, which allows lawyers to practice in jurisdictions they are not licensed in, as he is not licensed to practice in federal court in New York — but Cohen and Trump's lawyers vehemently fought against the application.
"I've practiced law for 37 years and never risen to oppose a pro hac vice application," Steve Ryan, Cohen's lawyer, said, claiming that having to oppose Avenatti's involvement "shakes me to my boots."
Ryan called Avenatti's recent release of Cohen's financial information "a premeditated drive-by shooting" of Cohen's rights.
"Releasing those records was entirely reckless and improper," declared Ryan. "He intended to cause harm to my client and he did."
Ryan, in a point later picked up on by the judge, also pointed out that Avenatti had made over 170 appearances on television discussing Cohen.
Trump's lawyer, Joanna Hendon, also argued that Avenatti was trying to just get media attention, noting there was a podium set up outside the courtroom with eight microphones (after every Cohen hearing so far, Avenatti has spoken to the press).

"I don't think that podium is there for Michael Cohen or Steve Ryan or for me," Hendon said.
One of Ryan's arguments for why Avenatti should not be permitted to appear in the matter is that his law firm, Eagan Avenatti, is currently part of a bankruptcy proceeding.

"That firm has never represented my client," said Avenatti, instead arguing it was Avenatti & Associates who represents Daniels.
Hendon, though, offered up evidence to the court of emails sent to Trump on behalf of Daniels from attorneys — including Avenatti — that used the email address of Eagan Avenatti as recently as last week. Hendon argued that the court should be concerned "when someone, especially a lawyer, is prepared to not be straight-forward ... misleading on the tiniest of matters."
Wood told Avenatti that unless he continued with his motion to intervene in proceedings, he would be unable to speak in court again.

Wood also noted that Avenatti would need to "stop doing some things you're doing" if he was to be involved, particularly in relation to speaking publicly about the case.

"You'd have to change your conduct," said the judge. She noted that Cohen and Trump's lawyers were trying to "stop in its tracks your publicity tour on TV and elsewhere. ... I either want you to participate or not be in the matter at all."
Shortly after the hearing finished, Avenatti withdrew the pro hac vice application — noting in the filing that he would refile, if needed, should the court schedule a hearing on Daniels' underlying motion to intervene in the Cohen matter.
Avenatti had also wanted the court to address his claim that Cohen or his team had leaked recordings between Cohen and Daniels' former lawyer.

Avenatti told the Manhattan federal courtroom that a journalist had called him and asked him for comment on tapes where Cohen and Keith Davidson, Daniels' lawyer at the time, were discussing supposedly privileged information. Avenatti said he doesn't "believe for one moment" that the tape had been leaked by the FBI or the US Attorney's office, and therefore it had to come from Cohen or someone on his team.
Ryan denied they'd leaked any such recording and said all seized information they had possession of was kept under "lock and key."
Wood said that Avenatti would have no standing to make his argument unless and until such time as his client is allowed to intervene in the matter.
After the hearing, Avenatti said the alleged tape-recorded conversations should be released "so they can be heard by all" — in an appearance he posted to Twitter.
He also made it clear that he would not be backing down from that "publicity tour."
On Wednesday afternoon, he appeared on both MSNBC and CNN — in part to call for the tapes to be released publicly.

The review of the seized files taking place currently — the actual purpose of Cohen bringing the matter to court in the first place — is a big production, lawyers detailed in their arguments on Wednesday.
A total of 3.7 million seized files — from documents to emails, to recordings and phone data — have been handed over by the government to Cohen's team to review for claims of privilege.

Data from 13 mobile devices have been handed over, as well as 19 other devices such as hard drives. But information from three devices — two Blackberrys, and a paper shredder — had not yet been able to be accessed by the government and passed over to Cohen's team yet.

Of that 3.7 million files handed over thus far, Cohen's team has gone through 1.3 million files so far.
Cohen's team have also passed relevant documents over to President Trump's lawyers and Trump Organization lawyers, to evaluate attorney-client privilege.

Barbara Jones, a former federal court judge, who was appointed as a special master (a neutral party to evaluate which seized items have attorney-client privilege), is also working through the relevant documents. She eventually will present a report to Wood giving her recommendations on what documents should be privileged from government review.

Todd Harrison, a lawyer for Cohen, was pushing hard to delay the date they needed to have combed through all of the documents to make their privilege determinations, saying they had 15 lawyers and two data specialists working full time but that they needed more time.
Harrison said he'd had to send a colleague home on Tuesday because they'd developed a hand tremor from working so hard, and the colleague had been back at work at 7:30 a.m. this morning to work through the documents. He said staff were sleeping on couches in the office and had worked all Memorial Day weekend.
Cohen's team said they wanted until mid-July to evaluate all the documents.
Judge Wood held fast, though, saying they had until mid-June. If the June 15 deadline is not met, she said, a government taint team will evaluate the rest of the seized documents for client-attorney privilege.