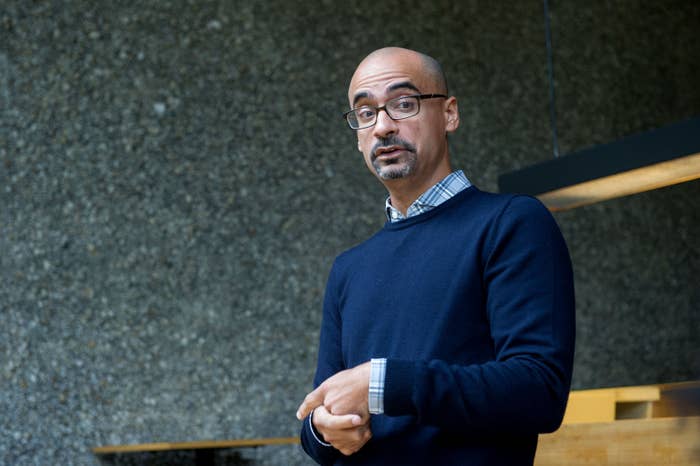 Acclaimed author Junot Díaz withdrew from a writers' festival in Australia on Saturday after he was publicly accused of forcibly kissing author Zinzi Clemmons, who confronted him on Friday in front of a stunned crowd, several attendees told BuzzFeed News.
Díaz, who won a Pulitzer Prize in 2008 for his novel The Brief Wondrous Life of Oscar Wao, was speaking at the "Why We Read" panel at the Sydney Writers' Festival, when Clemmons made the allegations.
She later detailed the alleged incident on her Twitter account.

"As a grad student, I invited Junot Díaz to speak to a workshop on issues of representation in literature. I was an unknown wide-eyed 26 yo, and he used it as an opportunity to corner and forcibly kiss me. I'm far from the only one he's done this 2, I refuse to be silent anymore," she wrote.
On Saturday, Diaz withdrew from the festival.
"Following the allegations of inappropriate and aggressive behavior towards Zinzi Clemmons and other young women, Mr Diaz has withdrawn from his remaining sessions at Sydney Writers' Festival," the festival said in a statement. "In his recent New Yorker essay, Mr Diaz wrote, 'Eventually the past finds you.' As for so many in positions of power, the moment to reckon with the consequences of past behaviour has arrived."
Representatives for Díaz did not respond to several requests for comment. In a statement provided to the New York Times through his literary agent Nicole Aragi, Díaz did not address the specific claims.

"I take responsibility for my past," he said. "That is the reason I made the decision to tell the truth of my rape and its damaging aftermath. This conversation is important and must continue. I am listening to and learning from women's stories in this essential and overdue cultural movement. We must continue to teach all men about consent and boundaries."

BuzzFeed News spoke with four people who attended the event.

In the question-and-answer segment, Clemmons, who was not part of that specific panel but is a featured speaker at other festival events, stood up and said Díaz had "harmed" her, one attendee, who wished to remain anonymous, told BuzzFeed News.
Abby Callard, 31, a communication consultant in Sydney, was in the audience with her husband, Alexander Luft, 31, a PhD candidate at Macquarie University. Callard said that when Clemmons said her question was specifically for Díaz, he joked, "Oh shit," and Clemmons replied, "You're right, 'oh shit'."
Clemmons, who teaches writing at Occidental College, framed her comments around Díaz's recent New Yorker piece, The Silence: The Legacy of Childhood Trauma, in which he revealed he was sexually assaulted as a child.

Clemmons told Díaz that people were saying that his New Yorker article was meant to preempt any accusations of misconduct against him, said Callard. Clemmons then said Díaz had been invited to speak at Columbia University six years ago and wanted to know "why you treated me that way," said Callard.
Callard noted that it was unclear exactly what Clemmons was accusing Díaz of at the time.
According to her LinkedIn, Clemmons completed a Master of Fine Arts in creative writing at Columbia University in 2013.

Another attendee said Clemmons asked why he didn't examine more in his writing about how he had hurt others in that manner.

"She spoke with much emotion and what seemed like anger; she literally dropped the mic when she finished her initial intervention," said a fourth attendee.

The writers festival moderator apologized to Díaz while Clemmons was still asking her question, clearly frustrated that "it was not about the tame topic panel of why people like reading books," said Luft.

Clemmons began to leave, but Díaz called for her to stay and hear his answer.

He said he'd been unaware of any chatter about his essay being protection for accusations, and discussed why he wrote it.

The pair continued to have an exchange even after Clemmons left the microphone and was exiting the venue, with Clemmons calling his comments "bullshit," said Luft.
Callard said it was not clear if Díaz recognized Clemmons, and that he didn't do or say anything acknowledging their interaction at Columbia. Clemmons did not introduce herself to the audience, who initially seemed unaware she was also an author at the festival.

"The disappointing part for me was after Zinzi exited and Junot finished his explanation, there was applause around the auditorium, as if to applaud him for answering the question," said Luft.

He described the audience as mainly older and white. "The sort of vibe was the audience wanted the show to go on and they wanted to have Junot's image restored in that moment," added Luft.
Another attendee posted on Instagram alluding to the confrontation: "a female decided to take question time to an uncomfortable place and was quite rude and I would like to commend Junot Díaz for the way he handle it."

After the panel, Clemmons, author of the novel What We Lose, posted on Twitter about her experience with Díaz, and said she had avoided literary events because of it. (BuzzFeed News previously published an excerpt from What We Lose.)
After Clemmons' tweets, writer Carmen Maria Machado tweeted about an alleged experience she had with Díaz in which she said he unfairly bullied and targeted her during a reading. Writer Monica Byrne also outlined an alleged verbal incident from Díaz she called "bizarre" and "violent."
CORRECTION
The name of Díaz's literary agent, Nicole Aragi, was misspelled in an earlier version of this post.