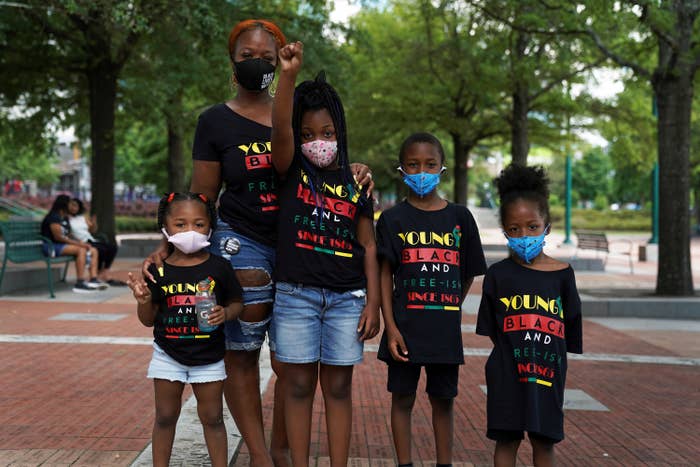 Thousands across the country celebrated, prayed, danced, and marched on Friday in honor of Juneteenth, a Black holiday to recognize the end of slavery in the United States.
After weeks of Black Lives Matter demonstrations against anti-Black racism and police brutality, this year's Juneteenth celebrations have been the country's biggest ever. Many major companies — including BuzzFeed — are honoring it as a public holiday for the first time ever.
Juneteenth honors June 19, 1865, the day that enslaved people in Galveston, Texas, learned of their freedom. It came more than two years after the Emancipation Proclamation had been signed.
And to celebrate, thousands of events — from cookouts to vigils, bike rides to concerts — were held across the country on Friday.
In Houston, the hometown of George Floyd, whose killing by police sparked protests globally, people celebrated by a mural of him. They wore red clothes and drank red drinks, the traditional color of Juneteenth, to symbolize the blood of those who died.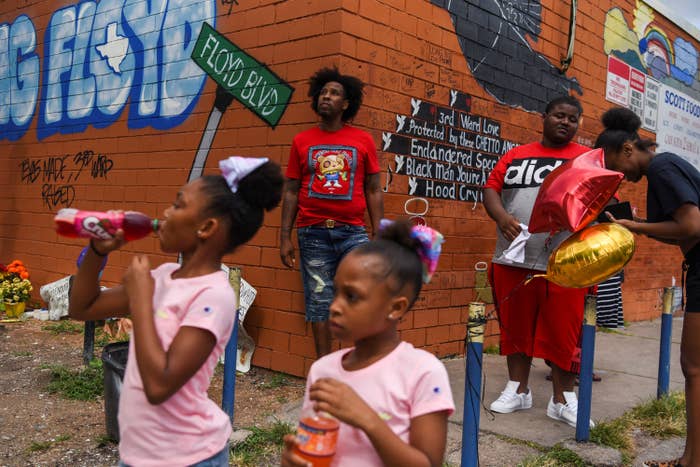 In California, civil rights activist Angela Davis addressed the crowd who shut down the Port of Oakland. She raised her fist in the air from a car covered in posters, including one that read "no prisons, no police."
She called on the crowd for help in "abolishing the police as we know them," according to the San Francisco Chronicle.
In Philadelphia, a Brotherly Love Juneteenth March involved men roaring in pain as a healing exercise.
Outside the Federal Detention Center in Philadelphia, protesters set off fireworks and prisoners banged on their windows in solidarity with the Juneteenth demonstration.
Much focus this week had been on Tulsa, Oklahoma, because the president had planned to hold a rally there on Friday. The city was the site of the 1921 Tulsa massacre, when Black people and Black-owned businesses were targeted, leaving hundreds killed, injured, and run out of town.
Instead, the Trump rally was pushed to Saturday, and the city planned for its biggest Juneteenth celebration ever. Bobby Eaton, an 85-year-old Tulsa resident whose father survived the massacre in 1921, wore a button that read "I am Black History."
He told ABC News: "If you learn nothing else about Black history, know that it's a burden."
In Nashville, one rally attendee posted that she "had to let all my Blackness be shared."
Juneteenth events were held across New York City, including a march over the Brooklyn Bridge.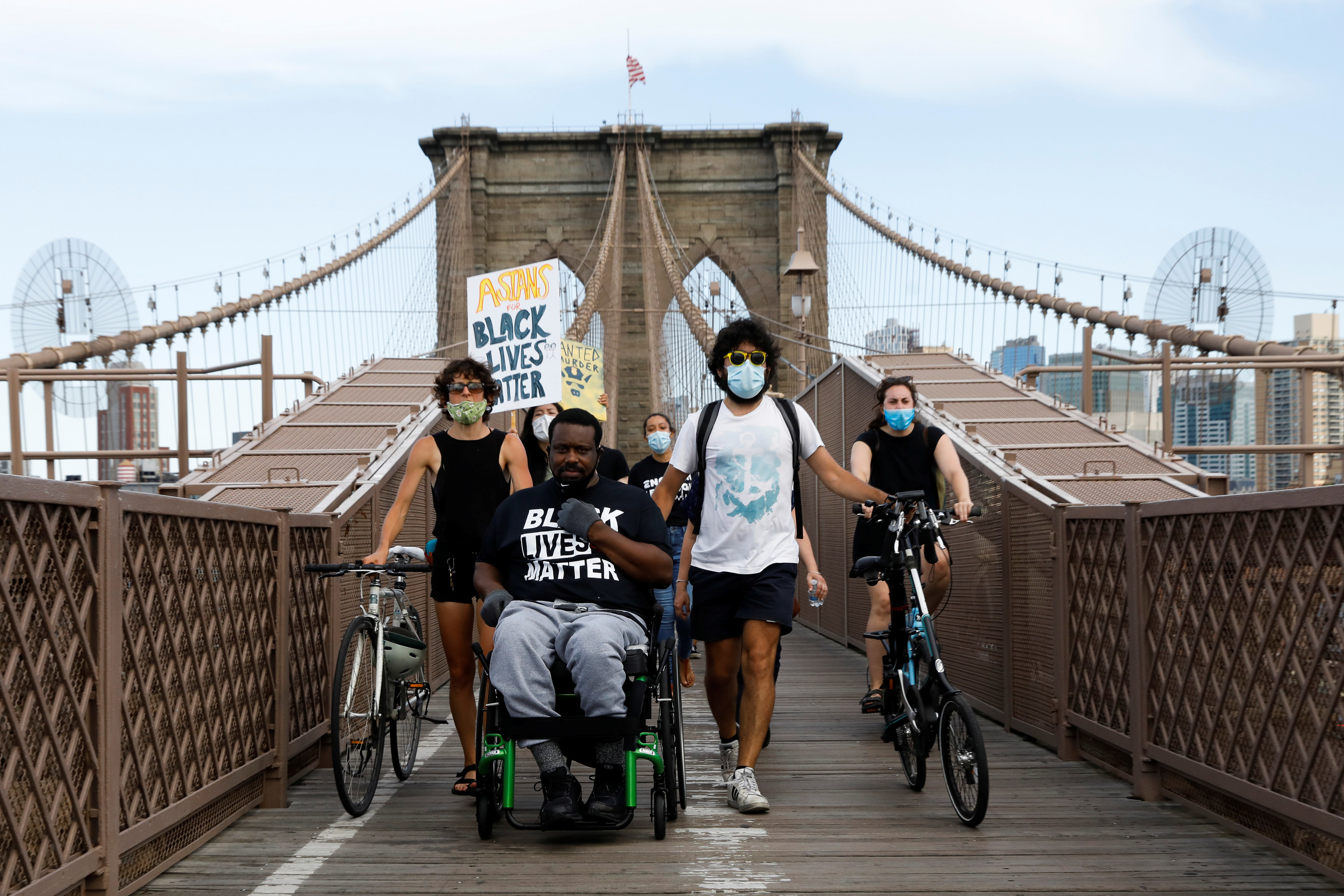 One silent march walked from Harlem, a traditionally Black neighborhood, to the site of Seneca Village, a thriving and predominantly Black community in the 1800s that was displaced in order to build Central Park.
And other protests in the city saw dancing.

During one Manhattan demonstration, protesters chanted "I believe that we will win" as hundreds marched down the street.
One girl in Atlanta attending a Juneteenth rally told an NBC correspondent that she could feel her ancestors. "I feel the African spirit and the slaves," she said. "They're all coming to me and saying: You are the example. You are the living testimony."
In Chicago, members of the Chicago Bulls joined in a march through Grant Park.

Barack Obama, a former Chicago resident and the country's first Black president, wrote that Juneteenth "has never been a celebration of victory, or an acceptance of the ways things are. It's a celebration of progress."