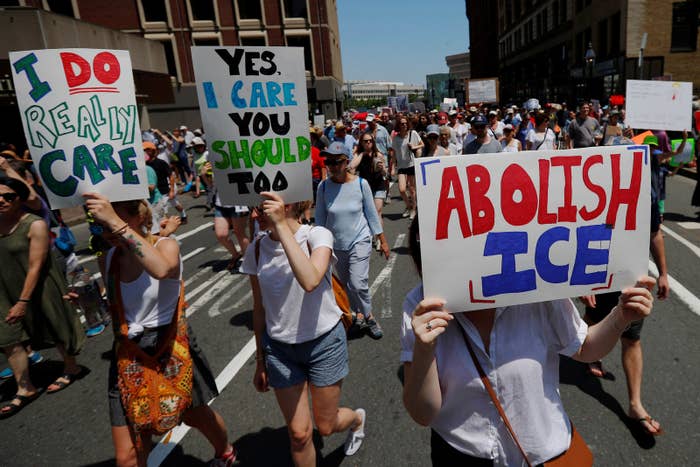 Tens of thousands of people across the country took to the streets Saturday to protest the Trump administration's immigration policies, including the "zero tolerance" policy that led to the separation of immigrant parents and children.
"It's horrible what they are doing to these families," Gary Lasley of Pasadena told BuzzFeed News at a protest at Los Angeles City Hall. "It's terrorism. It's the worst thing to happen since the Japanese internment."
The Families Belong Together March was organized by dozens of activist organizations, led by MoveOn, the Leadership Conference on Civil and Human Rights, the American Civil Liberties Union, and National Domestic Workers Alliance.
Despite the extreme heat in much of the country Saturday — with temperatures hovering around or over 90 degrees in DC, New York, Chicago, and Boston — tens of thousands turned up to demonstrations. Smaller protests were also being held in many major cities and smaller towns.
"I'm hot, but I can deal with it," said one woman dressed as a character from The Handmaid's Tale at the main protest in DC.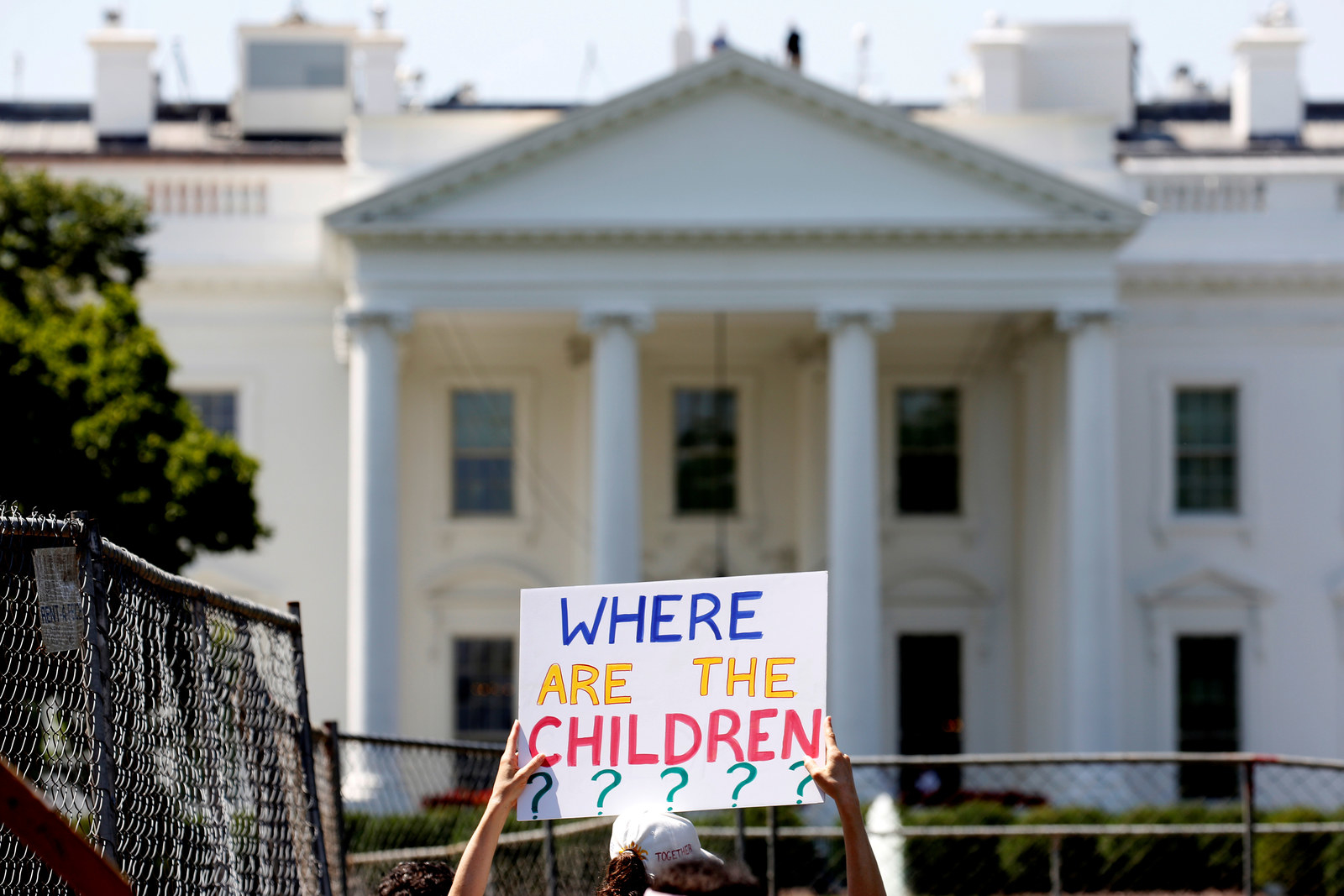 "My father is an illegal immigrant, so today is very important," said Brittany Velazquez Peters, a West Virginia resident, at the protest in the nation's capital. She held a sign that read in Spanish "Are you serious?"

Others in DC donned foil sheets, similar to those that immigrant children in detention have been photographed sleeping in, emblazoned with the words, "We care. Y don't u?" — a jab at the jacket worn by first lady Melania Trump when she went to visit the detained children.
Also in the nation's capital, Lin-Manuel Miranda sang "Dear Theodosia," a lullaby from his musical Hamilton, a song he said he chose because "there are parents right now who can't sing lullabies to their kids."

Speakers in DC included children who read letters they had written to immigrant children who had been separated from their parents.
"I would miss my family, too," said a 7-year-old named Lucy. "I would miss their hugs and playing with my sister. I wish I could give you a big hug. I know that children should be with families. My family will keep fighting to make sure that happens."
Chants of "Hey, ICE, what's the deal? How many children did you steal?" echoed through San Francisco as thousands made their way to City Hall.

In Georgia, protesters gathered outside the Atlanta Detention Center, with one demonstrator holding a cage filled with dolls to represent children and parents in detention.

Hundreds also turned out in Missoula, Montana, some accompanied by their dogs, with signs that read "The world is watching."
In New York, protesters danced over the Brooklyn Bridge in view of the Statue of Liberty. Demonstrators held a placard that read "Would you put a white child in a cage?" and "When they separate one, they divide us all."
There were also protests in Nogales, Arizona, which is one of the main ports of entry between the US and Mexico. Some who attended were clergy members, while others had come from a local retirement community.
"Our very soul is at stake," John Fife, a human rights activist who helped give rise to the Sanctuary Movement, told the crowd.
"We are going to stay and march and walk and resist until the soul of this nation is restored."
In Boston, at the protest at the Boston Common, Sen. Elizabeth Warren and Rep. Joe Kennedy addressed the crowds.
"This is about children held in cages, this is about babies scattered all across this country, this is about mamas who want their children back," said Warren, as she added her name to the growing list of liberals calling for the Immigration and Customs Enforcement agency to be abolished.

At the Los Angeles protest, Renata Grossi said she had driven 120 miles to attend the demonstration. "Who knows what's happening to these children?" she said. "It's just amazing how we've let it go so far."
She held a sign by with a quote from J.R.R. Tolkien's The Lord of the Rings books: "There is some good in this world and it's worth fighting for."
Amber Jamieson reported from New York City. Additional reporting from Kyle Cardine in Washington, DC; Andrew Kimmel in Los Angeles; Anne Helen Petersen in Missoula, Montana; Blake Montgomery in San Francisco; and John Stanton in Nogales, Arizona.