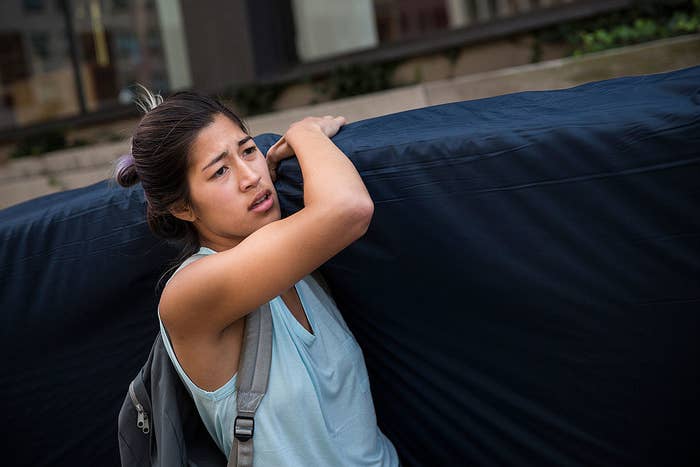 Columbia University has settled the lawsuit brought by a male student accused of rape by Emma Sulkowicz, who gained international attention for her art project in which she carried the dorm room mattress she alleged she was assaulted on.
"We are very pleased with this settlement," said Andrew Miltenberg, student Paul Nungesser's lawyer and a specialist in Title IX cases.
It's unknown how much Columbia paid to settle the case with Nungesser, who was cleared of any wrongdoing.

Sulkowicz accused Nungesser of raping her in her dorm room in August 2012. She alleged that what began as a consensual sexual encounter turned violent, as Nungesser choked her and raped her anally. Nungesser denied it was nonconsensual. Two other female students also accused him of sexual assault.
A university investigation in December 2013 found him not responsible for any sexual misconduct.

"Columbia recognizes that after the conclusion of the investigation, Paul's remaining time at Columbia became very difficult for him and not what Columbia would want any of its students to experience," the college said in a statement published on a Columbia student website.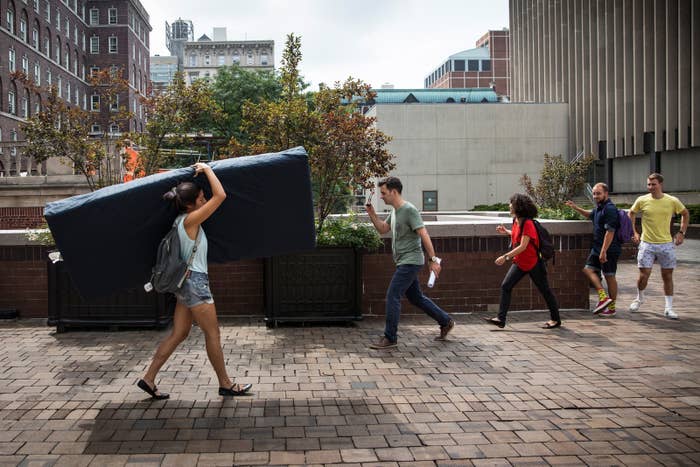 Sulkowicz earned worldwide acclaim for "Mattress Performance (Carry That Weight)", an art project in which she carried her mattress around the New York campus as a visual reminder of the lack of punishment Columbia gave Nungesser.

New York Senator Kirsten Gillibrand invited Sulkowicz as her guest at the 2015 State of the Union address. New York magazine put her and the mattress on its cover, and she won multiple feminist awards.
Her art project served as her senior thesis for her visual arts degree, and she even lugged the mattress on stage with her when she graduated in 2015. Sulkowicz is now pursuing a career as a performance artist. She did not immediately respond to a BuzzFeed News request for comment.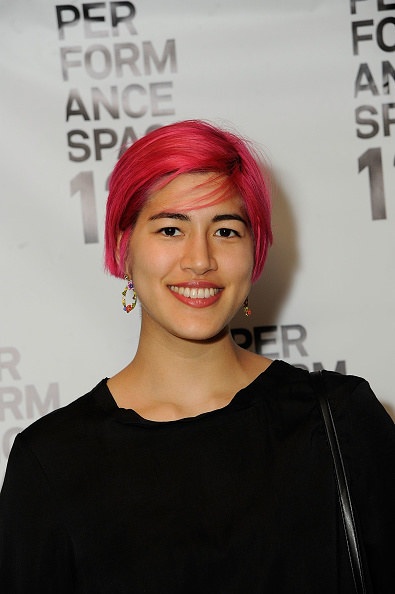 Nungesser's lawsuit contended the university had failed in its duty of care to protect him after the college investigation cleared him of the rape allegation.
He stated that he faced discrimination because of Sulkowicz's art project, and argued the university violated Title IX by allowing her to receive academic credit for a project that encouraged protest against a fellow student.
The case was first filed as a federal discrimination lawsuit in 2015. It was thrown out by a court in March 2016, refiled and then dismissed again in March 2017. Another appeal was being planned when the settlement was reached on July 10.

"Together with Paul and his parents, we have fought for three long years for a statement like the one Columbia released today," said Miltenberg in an emailed statement.
"It gives Paul a chance to go on with his life and recover from the false accusation against him," he said. "We hope that the resolution of the case also ensures that no student will ever have to endure what Paul went through after he was exonerated."

The statement from Columbia said that the university stood by its "diligent and thorough" 2013 assault investigation of Nungesser. It noted that he graduated as a John Jay Scholar, meaning a student of high acclaim.
"Columbia will continue to review and update its policies toward ensuring that every student – accuser and accused, including those like Paul who are found not responsible – is treated respectfully and as a full member of the Columbia
community," it read.
Nungesser is now pursuing a career as a filmmaker and is enrolled in a film school.