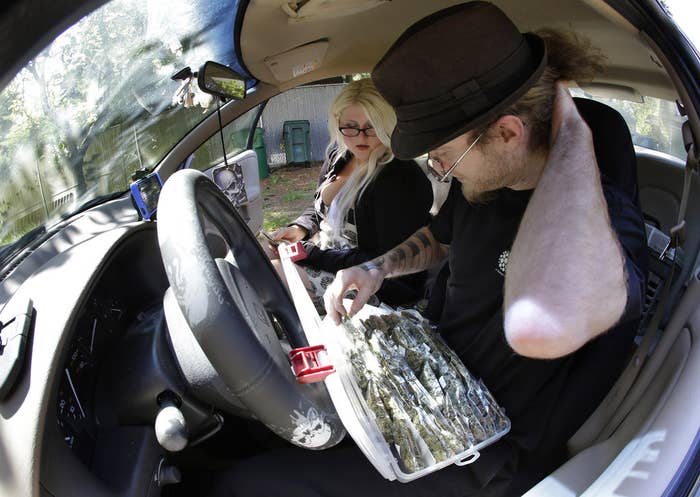 No one wants to furtively shove cash into a stranger's hands on a park bench. If a city has no commercial space for buying weed, getting it delivered at home seems like the next safest choice. Too bad weed delivery is still illegal — even in most places where marijuana is commercially available.
That hasn't stopped investors from pouring their money into "Uber for weed" delivery apps. About five years ago, when marijuana legalization first started to feel like a real possibility, investors began to make conservative bets on pot, sticking to startups that stayed on the safe side of the law by not touching the drug but that generated buzz and money from their association with weed. In 2014, investing in things like grow lamp manufacturers and online dating for stoners was all the rage among ambitious young white guys, finance industry veterans, and stock market risk takers.
This year represents a new, second phase in cannabis investment: businesses dependent on something mostly illegal but that investors hope will become more legal soon. In the past six months, we've seen PayPal co-founder Peter Thiel invest in a Bob Marley–branded strain of cannabis that has not yet been smoked by consumers, and celebrities from Willie Nelson to Bethenny Frankel say they plan to soon offer strains of their own.
But delivery apps are among the hottest investments in this new phase. In February, the startup incubator Y Combinator announced its investment in the delivery app Meadow. And on April 14, the San Francisco–based app Eaze announced that it had raised $10 million in Series A funding, with some of that money coming from Snoop Dogg's cannabis-oriented Casa Verde Capital fund.
However, marijuana delivery remains illegal in all four of the states that have passed laws legalizing recreational weed — Colorado, Oregon, Washington, and Alaska — as well as in Los Angeles, the nation's largest cannabis market.
So how is it possible that these apps still exist, and why would anyone want to fund them?
The truth is marijuana delivery services in the U.S. are thriving — just not the ones that have slick interfaces and venture capital. Most apps, including Eaze, Nestdrop, Meadow, Nugg, and Canary, try to avoid liability by subcontracting the acquisition of marijuana and the actual delivering out to dispensaries or unlicensed services, whose names and information they typically keep private. The consumer gets pot on demand, the app facilitates but does not consider itself responsible for a potentially illegal transaction, and the guy taking weed out of his car to sell it to you in your kitchen remains under the radar. Sounds foolproof, right?
Maybe not. Several lawyers have pointed out that apps connecting dealers with consumers in areas where delivery is illegal may be aiding and abetting a crime. And on Dec. 2, L.A. City Attorney Mike Feuer announced the city was seeking an injunction against an L.A.-based delivery app called Nestdrop for so flagrantly facilitating delivery of marijuana.
Still, these apps soldier on, and the investors supporting them feel confident that the law will eventually be on their side.
"I think that over time regulations will change," said Kyle Lui, a principal at DCM Ventures, which led the funding of Eaze. "It makes sense to have deliveries because people don't want dispensaries in their neighborhoods."
Marijuana is still federally illegal, and therefore all marijuana delivery is technically illegal. Even when following local laws, legal marijuana delivery only exists in scattered places across California. But it's unclear whether delivery will still be allowed in the Golden State once the drug is legalized for recreational use, which many believe will happen in 2016. The Drug Policy Alliance, which has the best chance at gathering the consensus and funding necessary to pass a ballot initiative next year, has yet to decide how delivery will fit into their proposed law.
"We understand the importance of delivery for many patients," said the DPA's California state director, Lynne Lyman. "This is one of many regulatory issues that the DPA is still considering."
For now, pot delivery is most popular in densely populated areas where the drug is still illegal, like Manhattan, or in cities that are attempting to crack down on medical dispensaries, like Los Angeles and San Jose.
Just three years ago, Los Angeles had nearly 1,000 brick-and-mortar marijuana collectives, only a handful of which delivered. Then, in May 2013, voters passed Proposition D, banning delivery and deeming only 135 of those dispensaries legal.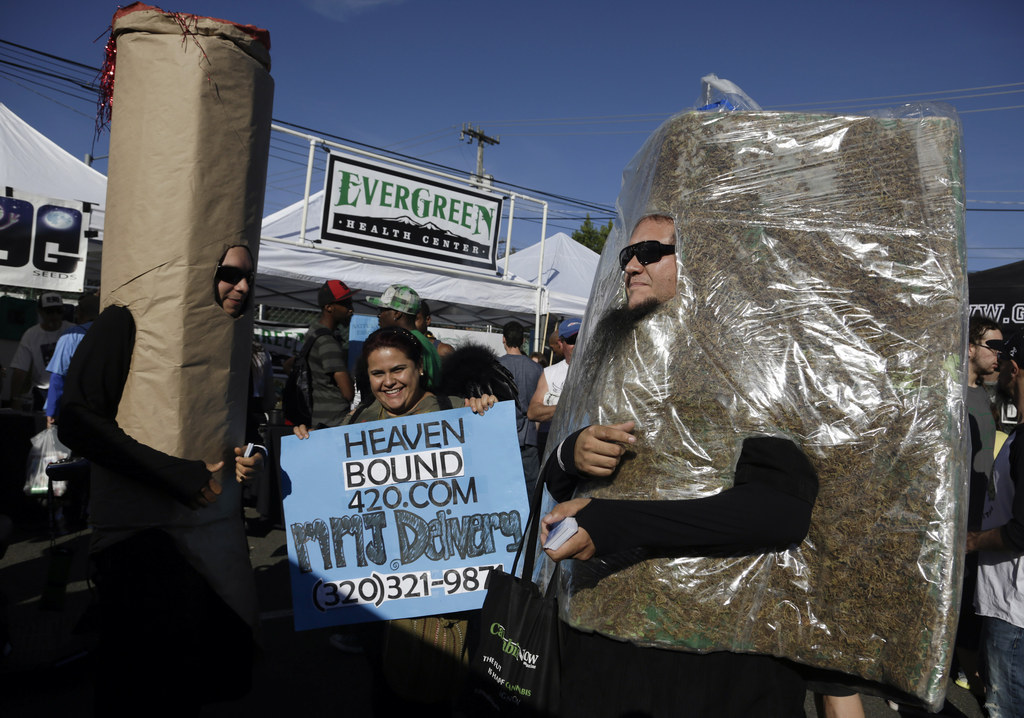 In response to the closure of nearly 500 storefronts, hundreds of illegal delivery services popped up. Drivers typically have their own pot prescriptions, and tend to never have more than an ounce of cannabis in the car, which carries only a $100 fine in California even for people who are not patients. (Patients can possess up to eight ounces.) This makes it difficult for law enforcement to distinguish someone operating an illegal delivery service from someone simply carrying around his own pot.
Advocates for delivery point out that these services aren't only for recreational smokers who don't feel like leaving the couch.
"The patients that medical marijuana is meant to help at its core are the ones that have trouble getting on the road and getting out to a dispensary. The ones that need it the most are not mobile," said Nestdrop CEO Michael Pycher.
Pycher, along with his many, many competitors in the weed delivery app space, believes that local and state governments will eventually come around and consider his business legal.
"Similarly to how Lyft and Uber had to work with regulators to get accepted, we'll take a similar approach with policymakers," said Eaze CEO Keith McCarty, recalling how Lyft surrounded municipalities that resisted, like Manhattan, to build pressure on officials. Of course, Lyft and Uber also invested heavily in lobbyists and aggressive public relations campaigns to persuade the public and bend politicians to their will.
"A lot of times it's not that [regulators] don't want [delivery]. It's that they don't understand it," McCarty said.
UCLA professor of public policy Mark A.R. Kleiman, who served as a top adviser to the state of Washington when they were creating regulations for recreational cannabis, said he thinks delivery services actually make a lot more sense than brick-and-mortar dispensaries. He was unable to convince the Washington State Liquor Control Board to forgo storefront pot shops, but he still thinks delivery is a better way to get legal pot to consumers and patients.
Delivery, he said, is safer, more secure, easier to regulate, and less likely to entice minors or trigger relapse in addicts.
"If you can order a pizza, why can't you order an eighth?" he said.
This post has been updated to correct the name of Eaze's CEO. He is Keith McCarty, not Kyle McCarty.