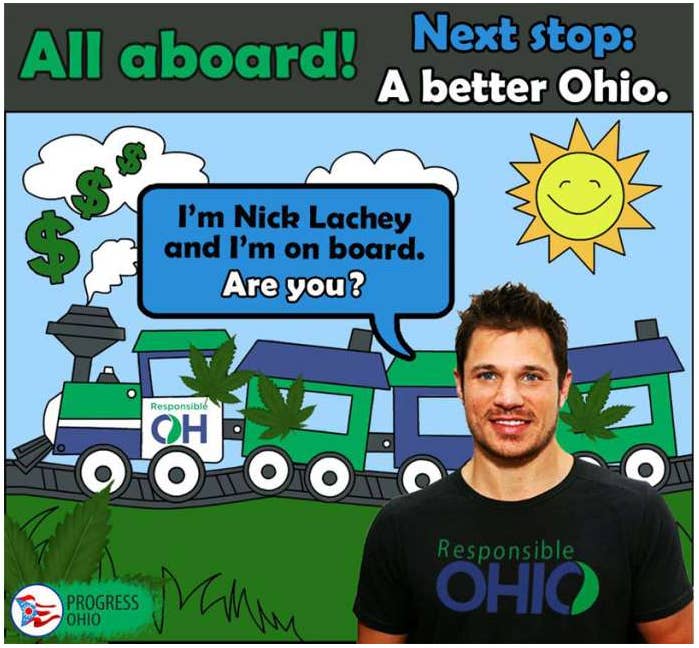 One thing rich people excel at is being friends with other rich people. It's a talent that can come in handy, especially when the investment of a lifetime comes along. For Nick Lachey, the former B-list boy-bander turned perpetual reality show hunk, the chance to corner Ohio's legal marijuana industry came through his friendship with Arizona Cardinals defensive end Frostee Rucker, who used to play for Lachey's beloved Cincinnati Bengals.
About a year ago, Rucker's agent, James Gould, began gathering a small group of friends and friends of friends, with the goal of raising enough money to draft and pass a recreational marijuana legalization ballot initiative in the state — meaning they could bypass the state legislature and put the issue in front of Ohio citizens for a vote. But unlike past attempts at legalization in other states, which were mostly drafted by social justice activists and paid for by liberal billionaires like George Soros, this one would be written specifically to enrich the people who financed the campaign: a political action committee that Gould and his business partner, Ohio political strategist Ian James, called ResponsibleOhio.
The proposed constitutional amendment would restrict all commercial growth and extraction of weed to 10 specific farms — farms that are owned and operated by the investors bankrolling the effort to pass the initiative. That means the entire legal marijuana industry in Ohio would be controlled by a group of wealthy businesspeople, or what those opposed to the initiative are calling a monopoly, an oligopoly, or a cartel. The rest of the state would be able to apply for one of the 1,150 licenses for marijuana retail stores and testing labs, but all of the shops would need to buy their pot from a group that currently confers over conference call once a week.
"It's like if Thomas Jefferson and George Washington wrote into the Constitution that they were the only ones allowed to grow cotton," Ohio State Auditor Dave Yost told BuzzFeed News. "The whole thing is un-American."
In the next few days, the Ohio secretary of state will announce whether the controversial initiative has gathered enough signatures to make the November ballot.
Although a few other states with medical marijuana have severely restricted the number of cultivation and processing licenses available in order to limit the overall availability of the drug, no state has passed a legalization initiative that so wholly places control of the supply in the hands of the people who paid for the legalization effort.
Over the course of the past year, the ResponsibleOhio campaign has roiled the state's political establishment and left the nation's marijuana activists, entrepreneurs, and enthusiasts utterly divided.
"The nice thing is that they could help pay for all of the good things about ending marijuana prohibition in America, like reducing arrests," said Drug Policy Alliance Executive Director Ethan Nadelmann, who has helped harness major donors to pass several marijuana ballot initiatives. "But at the same time, I don't think that the self-interest of groups like ResponsibleOhio will create optimal public policy. And we just don't have the resources to compete with for-profit investors."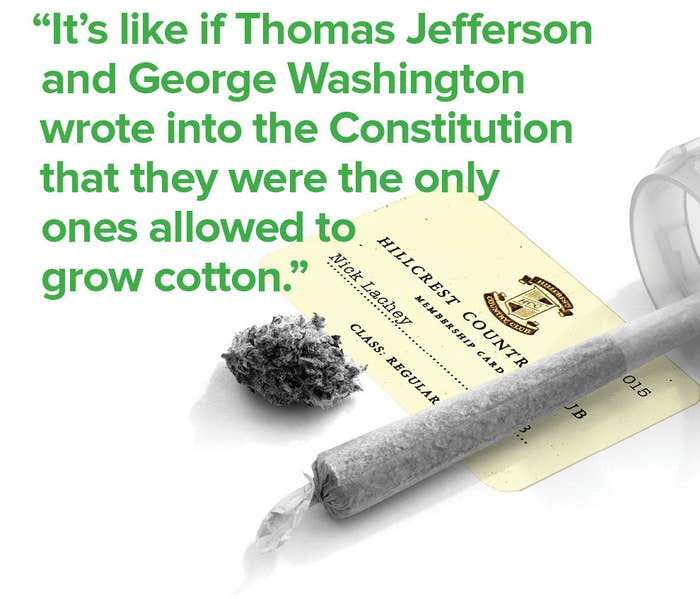 Pot culture has long revered the outlaw growers who take great risks to supply the black and gray markets that dominate everywhere but Colorado, Washington, and Oregon. Many people assumed that legalization would offer a clear pathway for criminals, eccentrics, and aspiring moguls alike to participate in a legitimate weed economy — not benefit already wealthy business executives in suits. Media reports touting success stories from the "green rush" in Colorado and Washington often feature the kind of scrappy small businesses that Americans love to get behind.
And yet the people who will profit the most if ResponsibleOhio's initiative passes aren't all that different from the people who are paying lawyers and consultants to help them gobble up the expensive, restrictive licenses necessary to grow, process, and sell medical marijuana all across the country. If and when recreational marijuana becomes legal in states where it is available with a doctor's recommendation, the people who already have licenses will have an enormous head start. More and more, it's becoming apparent that the people who will profit most off of legal marijuana are going to look less like the third-generation backwoods farmers in Northern California or your average neighborhood pot dealer and more like Lachey: white, rich, and male, with no criminal record and no experience whatsoever in the cannabis industry.
"Clearly, marijuana legalization is coming," read the investor prospectus that Gould and James showed Lachey in Gould's office last year. "Our goal with this business opportunity is to uniquely position Principal Funders for a growth market in Ohio where annual sales are expected to exceed $1 billion dollars."
Three months after his first meeting with James and Gould, the former 98 Degrees frontman said he was in, along with Rucker, retired NBA legend Oscar Robertson, two descendants of William Howard Taft, and at least a dozen other millionaires looking to become billionaires.
Now stoners and activists are debating which future might be worse: a
continuation of total prohibition, or an oligopoly of rich people controlling the legal marijuana market. After all, ResponsibleOhio amended the initiative this spring to allow individuals to grow up to four plants for personal consumption after getting a $50 license. But on the other hand, selling even a gram of what you've grown to a friend would still be a felony, and the thought of ceding control over the commercial production of weed to a small group of investors makes most people queasy.
The president of the Ohio chapter of NORML (National Organization for the Reform of Marijuana Laws) was recently voted out of power after supporting ResponsibleOhio and aggressively trying to convince the rest of his board of directors to do the same. Russ Belville, the host of a popular cannabis-themed radio show, has gotten a lot of hate on Twitter for publicly supporting the initiative.
"Just because they have a bad business plan doesn't mean it's a good idea to let marijuana prohibition continue ruining lives," he said. "I have activist friends in the national organizations that privately support ResponsibleOhio but are afraid to admit it publicly. That's how divisive this has become."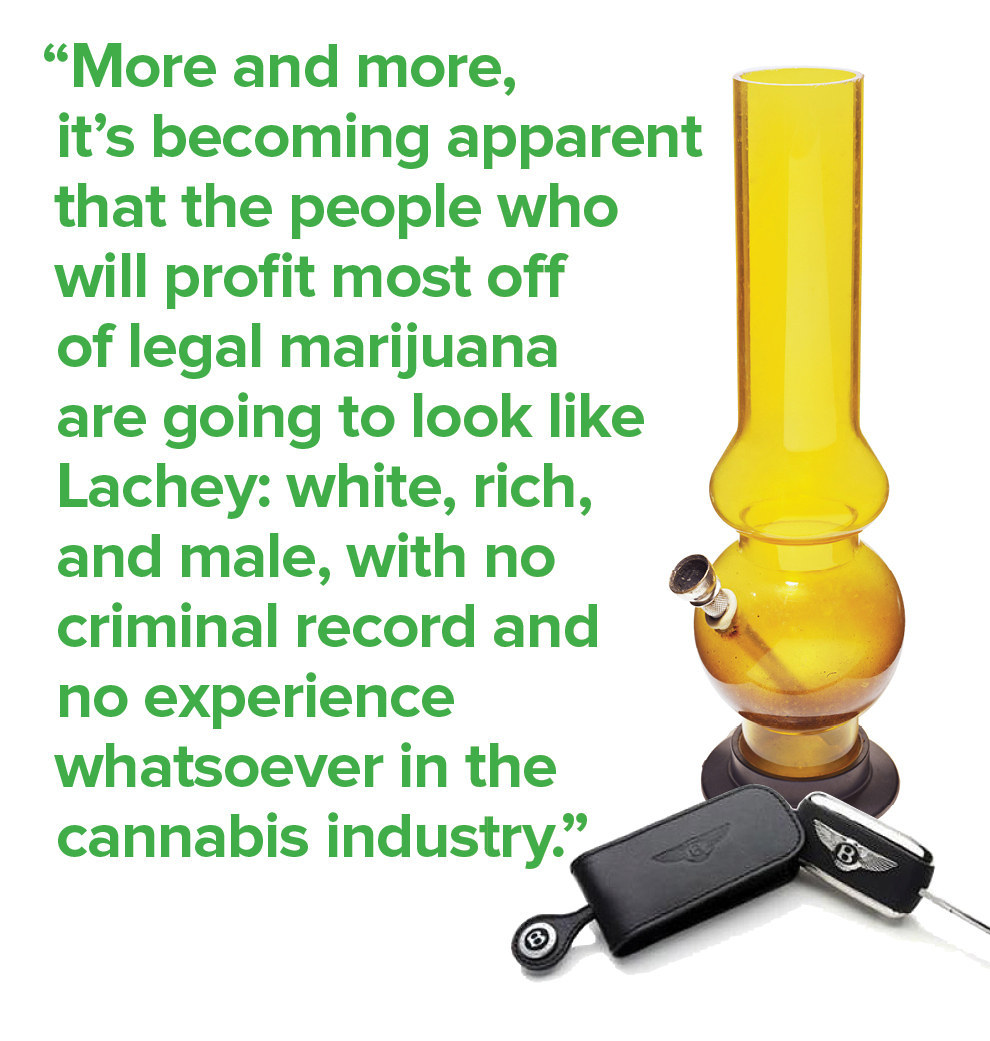 Lachey, through his publicist, said he did not want to comment beyond his initial press release on why he chose to invest in ResponsibleOhio, so BuzzFeed News responded to an invitation sent to dozens of journalists to do a Bud Light–sponsored hot yoga class with Lachey and his brother, Drew. This Potemkin village of exercise classes turned out to feature not the deep-breathing, meditative flow of typical yoga but rather a series of pantomimed poses performed haltingly for the cameras on Bud Light yoga mats with Bud Light sweat towels.
Lachey, who has transformed himself in the past decade and a half from teen heartthrob to reality show host, read his lines from a paper on the floor and maintained a plastic smile throughout. Like most 8 a.m. yoga classes, this one ended with the cracking open of a few Bud Lights from a cooler. After everyone had showered, Lachey told BuzzFeed News that he didn't think ResponsibleOhio was solely meant to help rich people get richer.
"There's a multitude of reasons why I think it's the right thing for the state. It's economic, it's social. There's a multitude of reasons," he said, unwilling to elaborate further. "You need to look at things from a very responsible standpoint, and that's why the bill is called ResponsibleOhio, because we are doing this in a responsible way."
Intentionally or not, Lachey hit on a key selling point behind the campaign. James, the political consultant who organized ResponsibleOhio, cites a January 2015 study from the RAND Corporation as justification for why having fewer pot farms would be better for public health. The report, "Considering Marijuana Legalization," was commissioned by the government of Vermont and did in fact suggest that a government-owned monopoly or a structured oligopoly would be easier to regulate than a free market.
"With normal commodities, like apples, economic theory will say that it's better to have a free market. But with a drug that has a tendency to inspire dependence in heavy users, it's better to limit the total amount available to the public, and thereby curb the total number of hours given over to intoxication," said the report's lead co-author, Carnegie Mellon University professor of public policy Jonathan Caulkins. "Of course, we didn't envision a group of crooked and corrupt rich people controlling the market, and what [ResponsibleOhio is doing] doesn't sound much like what we described."
In an ideally structured oligopoly, Caulkins said, the licenses for growing and extracting would be distributed by lottery or application, not written into the law from the start, and an aggressive regulatory body would easily be able to revoke licenses to punish bad behavior. Although ResponsibleOhio's suggested ballot language does provide for the governor to appoint seven people to a marijuana control commission, who will audit the farms annually and potentially revoke licenses, it is not yet clear how effective this body would be in overseeing and penalizing a set of farms guaranteed control of the market under law.
Wary of letting cannabis sales or prescriptions get out of hand, several other states have also been experimenting with the structured oligopoly model for their medical marijuana programs. Hundreds of applicants sometimes compete for 20 licenses. The most extreme example, New York, chose a mere five companies last week to provide medical marijuana concentrates for the entire state.Those five companies applied for licenses after the law was passed and will serve a much smaller medical market than the farms written into the ResponsibleOhio initiative, but the same type of people are being handed the reins to the industry: those who have at least a million lying around to get started.
But Beau Kilmer, the co-director of RAND's Drug Policy Research Center and another co-author on the "Considering Marijuana Legalization" report, said laws that try to limit the amount of marijuana available on the market may be misguided.
"We have no idea what will actually happen if marijuana becomes legal everywhere," he said. "It's very possible that some heavy users of alcohol or opioid painkillers could switch to marijuana, which would be a net win for public health, because those drugs create far more social problems than pot."
In Ohio, very few political officials believe that the oligopoly would benefit the public. Last week, Secretary of State Jon Husted appointed a special investigator to review potential instances of fraud in the signatures ResponsibleOhio submitted to his office to get on the ballot. And in the middle of June, nearly half the state's House of Representatives co-sponsored a competing ballot initiative, which would "prohibit an initiated constitutional amendment that would grant a monopoly, oligopoly, or cartel." Within two weeks, both the House and the Senate had passed the resolution with an overwhelming majority, guaranteeing its place on the ballot this November.
"That was quite the display of bipartisanship, considering Ohio is so politically divided that if one party endorsed apple pie, the other would rush to come out against it," State Auditor Yost told BuzzFeed News.
Nobody's quite sure what would happen if both initiatives passed, but opponents of ResponsibleOhio hope it would be enough to mount a legal challenge and delay implementation.
Sri Kavuru, who runs a group looking to pass a legalization initiative in 2016 that would allow anyone to get into the market, told BuzzFeed News that he doesn't think it will even come to a battle in the courts, predicting that support for ResponsibleOhio will begin to tumble next month once more voters tune in and get educated.
"Ian James convinced a bunch of his friends to write big checks by dangling the Pablo Escobar fantasy in front of them," Kavuru told BuzzFeed News. "But these are not cannabis people. I doubt any of them have ever even smoked marijuana before."
Another local legalization activist organization, the Ohio Rights Group, filed a complaint with the Ohio Elections Commission in April 2015, saying that Ian James had agreed in 2012 to help advise them on gathering signatures for a failed 2014 medical marijuana initiative but during the same time period began meeting with potential investors for ResponsibleOhio. The Ohio Elections Commission ruled that the issue was beyond its jurisdiction, and James points out that the Ohio Rights Group never paid him for his services.
"Winning costs money. No one else who has tried to legalize marijuana in Ohio has had the resources that we have. None have even come close," James told BuzzFeed News. "We are going to transform this industry from tie-dye to suit and tie."
He is confident that the initiative will pass and is already envisioning what life will be like.
"Will Nick Lachey fly back to Ohio to work on his farm every weekend, tilling the soil himself?" James said. "I doubt it, but wouldn't that be something."