Marley Natural Wants To Be Weed's First Luxury Brand
The line of marijuana products named for the famous Jamaican singer wants to be the "classy" celebrity weed brand. But will weed smokers want to pay the extra cost?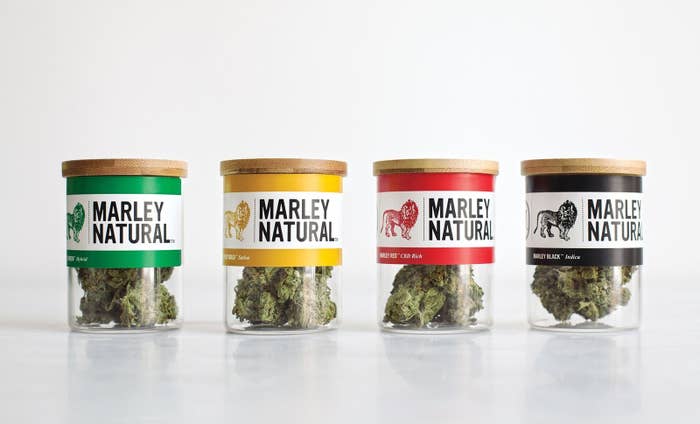 The people behind Marley Natural weed are banking on the fact that you associate the late reggae legend with ganja. But they don't like what you think about next: old burnouts, tacky merchandise, and college kids skipping class to get high. Which puts them in the bizarre position of launching a global brand that cashes in on a stoner stereotype while simultaneously rejecting it — and thereby potentially insulting some of cannabis's most devoted consumers.
"A lot of people see [Bob Marley] as, like, black-light poster in a dorm room," said Marley Natural's creative director, David Merten. "That vibe is what I really want to get away from. We're gonna keep it classy."
Marley Natural may be aimed at a market that doesn't quite exist yet. Despite being named for a man who grew up in abject poverty, Marley Natural is an immaculately designed lifestyle brand, an attempt to sell weed as an aspirational but everyday product like Beats by Dre headphones or the iPhone. (About $150,000 of the proceeds this year, according to Marley Natural, will be sent back to aid "economic empowerment and environmental stability" in Jamaica.) The question of whether Marley Natural will succeed is really a question of whether a pot brand needs to pay attention to the type of people who buy the most pot.
For now, Marley Natural pot is only being sold in three of Los Angeles's most gourmet dispensaries, where the clientele skews a little older and wealthier. But once Marley Natural herb and vape pens expand to more shops and more legal states, later this year, they'll find out whether the $20 price difference between an eighth of Marley Natural nugs and a similar sun-grown eighth in less fancy packaging is a deal breaker for many customers.
This latest entrant in the crowded celebrity pot brand wars made its debut over the weekend at a mansion in the Hollywood Hills, with a party designed to project mainstream luxury, paid for in part by the millions that PayPal co-founder Peter Thiel invested last year in Marley Natural's parent company, Privateer Holdings. Mercedes vans ferried guests to the party from a lot on the Sunset Strip. Actors and musicians drank Red Stripe and lit pre-rolled joints by a long fountain, gazing out over the lights of Los Angeles.
"I saw Rose McGowan, Jhené Aiko, Lake Bell, and like a thousand Marleys," one partygoer remarked. The real number of Marley family members on hand was closer to 10. But the atmosphere was more BoJack Horseman than laid-back Rasta: sleek people in leather walking around a house full of wood paneling and clean lines. Photographs of Jamaicans and Jamaican weed were everywhere, Jamaican food was served, and a handful of musicians in head wraps played the drums near the party's entrance, but for now all of Marley Natural is grown in Northern California.
In the gifting suite, where white men gently explained the four types of Marley Natural cannabis ("Do you know about cannabis? Indica is like a red wine"), the product that disappeared fastest was the vape pen low in THC and high in the analgesic compound cannabidiol (CBD): discreet, odorless, and not at all psychoactive. In other words, the most popular product at an expensive launch party for a line of bougie marijuana products was something that doesn't get you high.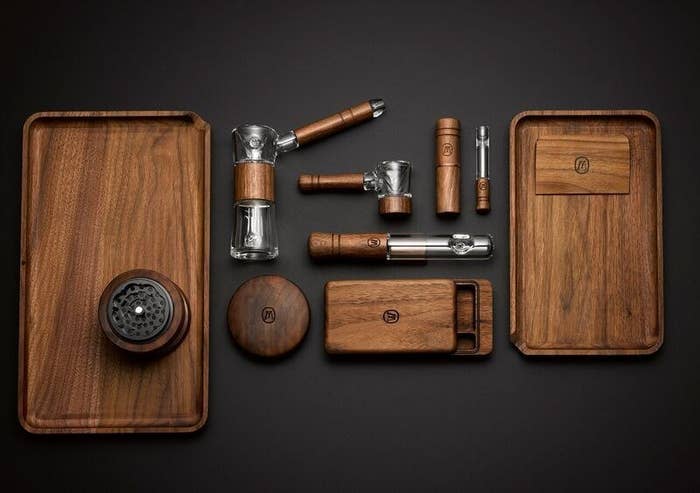 The committed stoners of Southern California were at an entirely different weed-themed event this weekend: High Times' SoCal Medical Cannabis Cup, an enormous festival held about an hour outside of L.A.
Wiz Khalifa performed on Friday, and on Saturday, Method Man and Redman took the stage around the same time Stephen Marley was playing at the Marley Natural party. Everyone mentioned in the previous sentence has a pot brand, but only Marley Natural neglected to participate in the sales and promotion bonanza of the High Times event. One of the main draws for local pot enthusiasts was the plentiful free hits of hash oil — or "dabs" — a concentrated form of marijuana that has come to dominate the California market in the past few years. The Marley Natural team doesn't want anything to do with dabs, because they think dabbing is "sketchy."
So perhaps it was a good thing that there was no giant Marley Natural booth at the High Times event, as there wasn't much love for Marley Natural out among the old guard of farmers and potheads who idealize the counterculture and speak in foreboding tones about the coming of Big Pot. Some criticized the Marleys for letting Silicon Valley appropriate empty aesthetic references to Jamaican culture. Others questioned whether the man who sang "them belly full (but we hungry)" would have put his name to a brand selling overpriced weed.
Zack Hutson, Privateer's PR director, preferred to compare Marley Natural's pricing points to that time his former employer, Starbucks, suddenly persuaded everyone that $5 was a normal amount to spend on coffee. Hutson also said that Marley Natural is not the Big Pot boogeyman that everyone is worried about, because they don't use giant warehouses to grow their product. He and the 20 or so other people who work full time on the brand took great umbrage when an article about folk singer Willie Nelson in New York magazine last October implied that Privateer is an evil moneymaking overlord while portraying Nelson and the the private equity firm putting out his upcoming cannabis line as populist crusaders.
"They talked all about how they're working with local farmers. So are we! And they acted like we're not," Hutson said. "There's this hysteria out there."
At the very least, as several farmers and aficionados attested to BuzzFeed News, the Marley Natural pot itself is good for sun-grown weed. (Pot grown indoors is more expensive and considered by some to be higher quality.)
But at the end of the day, cost matters. Even Zuri Marley, the singer's stylish granddaughter and a junior at NYU, told BuzzFeed News she prefers weed in Jamaica because marijuana in the U.S. is so expensive.
"I really do not believe in paying as much as you have to pay here," she said.