Thirty-eight thousand people normally don't just disappear. So when 25-year-old Shane Fairbrother signed in to Instagram one evening last week and discovered that his company's account, @themedtainer, had been suspended — and his loyal tens of thousands of followers were gone — he was more than a little annoyed.
"I can understand kicking off certain people that aren't following guidelines or posting things that cast the [cannabis] industry in a bad light, but we've always been aboveboard," Fairbrother said.
Dramatic differences in laws on medical and recreational marijuana from state to state have left Silicon Valley struggling to consistently enforce rules about images and videos of weed-related activities across platforms featuring user-generated content. The companies fear they could be held legally liable for users who break the law. Federal law bars selling drug paraphernalia, but there is an exemption for "any person authorized by local, State, or Federal law to manufacture, possess, or distribute such items."
In the past few months, Instagram has deleted dozens of cannabis-related accounts. In a similar move, Apple's App Store began aggressively policing recreational marijuana content this past fall. With a flick of a switch, a digital marijuana business can lose access to its entire customer base. Not just cannabis dispensaries, hash oil extractors, and edible makers, but any individual who posts a lot about weed or business that sells marijuana-related products, like Fairbrother's Medtainer.
The Medtainer is an odor-proof, childproof, medical-grade container with a built-in grinder. Initially intended to help grind pills for geriatric or pediatric patients, the Medtainer found its true home in the cannabis world, as many smokers prefer to grind their weed before packing a bowl or rolling a joint in order to create more burnable surface area.
Since taking over the company with his father in 2012, Fairbrother has put out limited-edition Medtainers in collaborations with Ty Dolla Sign, Redman, Slightly Stoopid, and High Times. Last year, the company went public, and the stock currently has a market cap of over $45 million. Even Snoop Dogg has been seen using one.
If you're a ganjapreneur like Fairbrother, Instagram is where you come to promote new product lines, to shout out (and tag) your friends and colleagues, to show that you're about that life, and to repost cartoons and memes that will make your stoned and scrolling audience chuckle and, hopefully, associate your growing small business with being giddy and high.
The social media storefront also confers an air of legitimacy in an otherwise shaky industry. In Instagram's never-ending stream of images, all accounts appear equal, and any black market business can become a safe-looking brand. But that fluidity goes both ways. A publicly traded company might appear, to untrained eyes, to be violating the terms of service.
When Fairbrother saw that his account had been terminated, he started filing multiple appeals a day, but Instagram never responded. Instead, he was left alone with his questions. Shouldn't there be some kind of more formal review board for shutting down accounts? Were his appeals even reaching a human being? Had competitors or haters flagged the account repeatedly until it got turned off?
And most importantly, how is it possible that one little tech company in Northern California got to decide willy-nilly whether his business is legal?
In a state like Arizona with harsh antimarijuana laws, a photograph of someone smoking weed documents a possession felony involving a $150,000 fine and up to 18 months in jail. But in the 23 states that have legalized some form of medical or recreational marijuana, that same photo could depict an AIDS patient getting some legal and much-needed relief.
"If I could, like, shake the general counsels of these companies and say, 'Exercise a little due diligence here,' I would," says Seattle pot business lawyer Hilary Bricken. The Facebook page for Bricken's Canna Law Blog, where she examines issues of marijuana policy, has been repeatedly blocked or censored. "I can see why they're being overly cautious, as the liability lies in [an account] aiding or advertising what may amount to a drug deal, but the issue is that they're over-policing and getting into eliminating protected political speech."
Still, according to Ira Rothken, a prominent technology lawyer and advocate for consumer rights online, tech companies are smart to play it as safe as possible when it comes to approving content that violates federal law. After all, the man who allegedly started and ran the Silk Road, which explicitly promoted itself as an online black market, is currently on trial for, among other things, creating a forum where users could buy and sell illegal drugs.
"It's certainly within the realm of possibility that the Department of Justice will pick and choose [to prosecute] a more obvious case where online service providers were involved in the marketing or sale of marijuana," Rothken said. "I think it's quite possible people could be carted off to jail, for aiding and abetting or accomplice liability in a federal drug-related case."
In 2011, when Google executives faced potential incarceration for allowing Canadian pharmaceutical companies to advertise illegal prescription drugs via AdWords to consumers in the U.S., the company chose to settle with the Department of Justice for $500 million.
But while advertising or promoting the sale of cannabis is explicitly banned by every major tech company, meaning discount codes and prices are supposed to be off limits for dispensary accounts, the images and text posted by many of the accounts being shut down are often not commercial.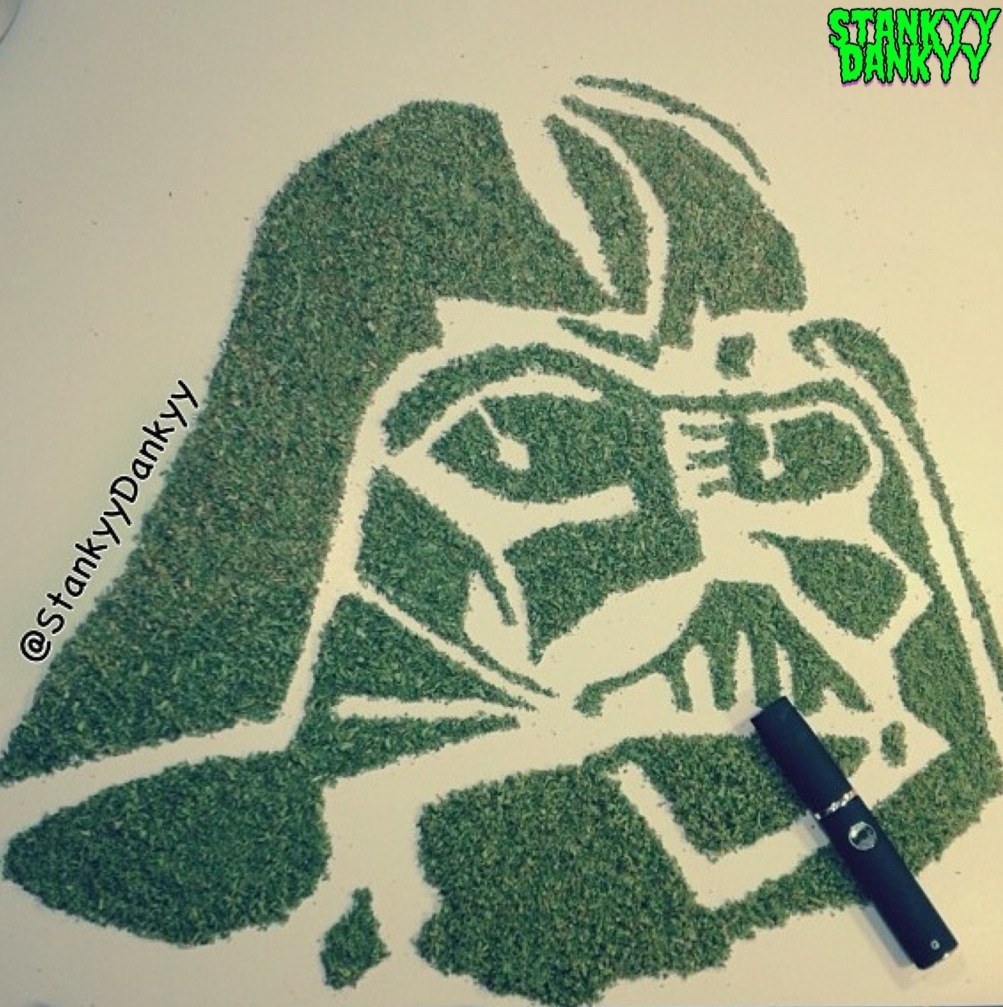 When policing the 60 million photos uploaded to their platform every day, Instagram says they only review inappropriate behavior on accounts reported by other users, so it is impossible for the company to stop everyone who uploads photos of themselves breaking the law. Posting photos of yourself doing something that is illegal in much of the United States — possessing marijuana for recreational use — can end up feeling like driving over the speed limit: Nearly everyone does it, but only a select few get pulled over and fined.
Apple, on the other hand, individually reviews each app (and subsequent update) before it makes it to the App Store, and so has communicated to developers a slightly firmer policy on what flies and what doesn't. Apple claims the most important factor when determining which apps can stay in its App Store is whether the features in the app promote only medical, not recreational, use.
Instagram, at least in theory, is OK with people who enjoy recreational weed, as long as they don't try to use the platform to sell it. However, content moderators paid to stem the never-ending tide of grotesque and sexual photos posted to Instagram each day continue to remove marijuana-related accounts that don't cross that line. Cannabis-oriented pages at Instagram's parent company, Facebook, have also been deactivated, but most people who start marijuana businesses or engage with weed-related social media seem to prefer Instagram.
The company's obscure moderation process and bendable terms of use guidelines — which warn, "If you violate the letter or spirit of these Terms of Use, or otherwise create risk or possible legal exposure for Instagram, we can stop providing all or part of the Service to you" — have confounded the cannabis world for years.
In the past few months, marijuana-related account deactivations have become more frequent and, according to weed businesses and fanboys, more arbitrary. When BuzzFeed News asked Instagram about five specific feeds that had been shut down, the company claimed to have made a few mistakes and quickly reinstated three of the five accounts, including @themedtainer.
For the man who runs @StankyyDankyy, a Denver-based cannabis lifestyle brand and one of the reinstated accounts, one of the most frustrating parts about abruptly losing access to his 142,000 followers was recognizing how broad Instagram's terms of service are, and how little he can do to change that.
"Accounts that have posted nudity, bought spam followers, used spam bots to comment, tried to sell drugs via Instagram, and/or bullied/harassed others have been able to survive this fiasco," he wrote in an email. "After reading the terms and conditions plenty of times, I'm convinced that every single Instagram user is and/or has broken them … Instagram needs to reevaluate and update their terms and conditions to better fit their average users activity or else they will join Xanga and MySpace in the social media network graveyard."
A spokesperson from Instagram declined to explain why specific accounts had not been reactivated, saying only that the number of times an account has been reported does not affect whether it gets shut down and writing in an email: "Instagram's guidelines do not allow the promotion of the sale of illegal content. Once something is reported to us our teams review it, will remove it if it violations [sic] those policies, and in some cases we will disable the account."
This is part of the reason why Isaac Dietrich and a few friends decided a few years ago to start an app called MassRoots, a marijuana-themed image-sharing social network.
"Instagram is a cesspool of illegal activity, because there aren't good guidelines," Dietrich said. "They don't have the time or the specialization for cannabis-related policies, so they take this bat and just whack everybody down. I think that's further evidence for the need for a cannabis-specific social app."
From July 2013 to November 2014, stoners were free to download MassRoots and share weed-related content, such as short videos of a friend blowing smoke rings, pictures of a perfectly rolled blunt drizzled with hash oil, or shots of some dank nugs fresh from the dispensary.
Then, on Election Day, just as Oregon, Alaska, and Washington, D.C., were legalizing recreational weed, Dietrich got a call from Apple that MassRoots would be kicked out of the App Store. He and his team spent six weeks trying to introduce new restrictions and find some middle ground with Apple's new standards, but Dietrich said its rules were ultimately nonsensical.
"You can't negotiate with Apple," he said. (Google Play still carries the app.)
Although Apple declined to comment on the record about marijuana apps, Dietrich provided BuzzFeed News with a recording he made a few months ago of a conversation between himself and an App Store employee named Richard.
In the recording, Dietrich can be heard asking why his app has been kicked out, and Richard explains, "It's all about the social networking aspect of it. So medical marijuana applications and dispensary information is fine, but not the social aspect."
When Dietrich asked which rules in the App Store's developer guidelines specifically apply in this situation, Richard pointed to clause 22.1, which states that apps need to follow the local laws where they are used. (This is why certain poker apps can only be downloaded in states where online gambling is legal.)
Dietrich offered to restrict MassRoots access to the states where medical or recreational marijuana is legal, to no avail.
"It's your obligation to understanding the conflict in all local laws," Richard responded. "That's the appropriate guideline and it has been for quite some time for this type of application."
Apple has long been criticized by developers and industry observers as capricious when it comes to which apps it allows to stay and which it bans. New Yorkers, for example, can download the Airbnb app, even though the short-term home rental app is illegal there. And Las Vegas residents and visitors can download Uber, even though Nevada courts kicked out the popular ride-sharing app.
Other developers confirmed to BuzzFeed News that any app that promotes the recreational use of marijuana, even in states where it is legal, is not allowed.
Weedmaps, which is sort of like Yelp for pot shops, was told back in October that they would be booted from the App Store if they didn't remove, among other things, all Colorado and Washington recreational dispensaries from their listings and the words "community" and "social network" from their app's description. According to the app's lead developer, Casey Eastman, Apple even told them to get rid of their utterly benign 4:20 alarm clock feature, decrying it as an inherently "social" aspect of the app.
Eastman said he gets particularly irritated when he sees that Weedmaps' biggest competitor, Leaf.ly, is still able to offer coupons, link to menus with pricing, and include recreational dispensaries in its listings. Leaf.ly's parent company, Privateer Holdings, recently received several million dollars in investment from Peter Thiel's Founders Fund. (Leaf.ly did not respond to a request for comment.)
Considering only 23 states have legalized medical or recreational marijuana in some form, Dietrich and Eastman are particularly confused about why Apple allows users in the other 27 to download medical marijuana apps. For example, potheads in Louisiana, where multiple cannabis possession convictions can lead to a life sentence, are free to use Leaf.ly to learn that a type of bud called Silverback Gorilla apparently helps with sexual arousal.
"Apple has the image of a progressive company that's ahead of these issues, when in reality they're one of the most prohibitionist companies out there," Dietrich said. "The federal government has decided not to intervene with patients and businesses operating legally under state law. Apple has taken the exact opposite approach."