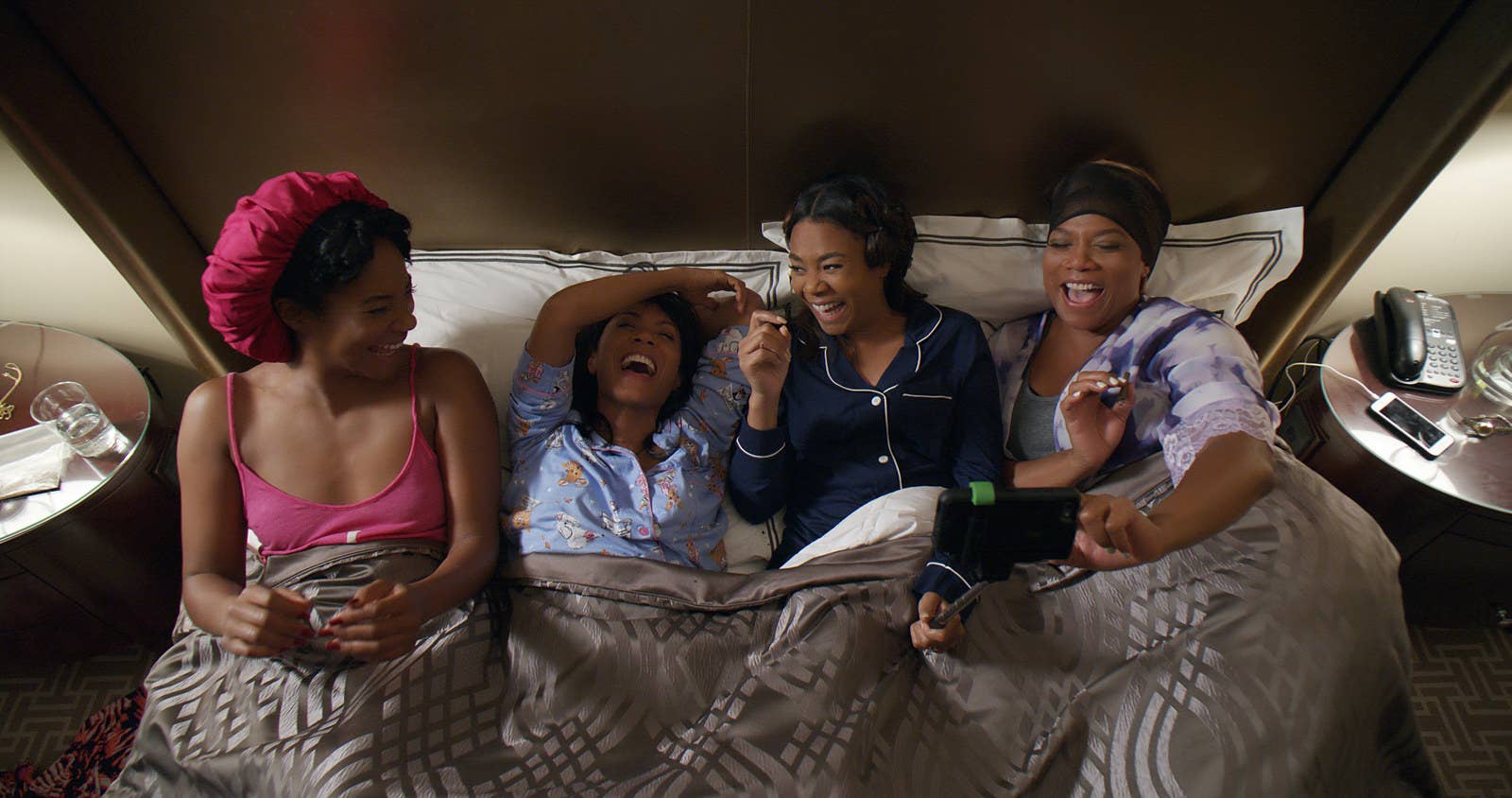 Girls Trip is a funny, filthy comedy that has given the world both a mini Set It Off reunion, and the year's best fruit-assisted blow-job joke. The movie has made over $42 million in its first week in theaters, the biggest box office opening in director Malcolm D. Lee's career. It's also the latest reminder of the power of black female-driven stories and black female audiences — a lesson Hollywood's been taught many, many times before, but has retained about as well as Leonard in Memento. Girls Trip isn't just a financial success. It's managed to be a hit in a summer in which other heavily promoted, star-laden, R-rated comedies have floundered.
There's something else Girls Trip offers that shouldn't be discounted at a moment in which decade-spanning friendships have tended to be treated like burdens. Written by Kenya Barris and Tracy Oliver, Girls Trip is about longtime pals who still actually like each other, which comes as a relief after having to endure some more self-lacerating recent frenemy ensembles. Like, say, Friends From College, the Netflix Original series that premiered a week before Girls Trip, and that also centers on the sometimes bawdy adventures of a group of fortysomethings, in this case ones who met as undergrads at Harvard.
Friends From College was created by Forgetting Sarah Marshall filmmaker Nicholas Stoller and his wife Francesca Delbanco, and features a bunch of likable performers, among them Keegan-Michael Key as author Ethan, Cobie Smulders as his lawyer wife Lisa, and Nat Faxon as trust-funder Nick. The show itself, however, is a conspicuously sour experience about characters who seem to secretly loathe one another, but who stay close because it's a way of holding onto the past — maintaining outgrown friendships like clothes that no longer fit, but cannot be thrown away.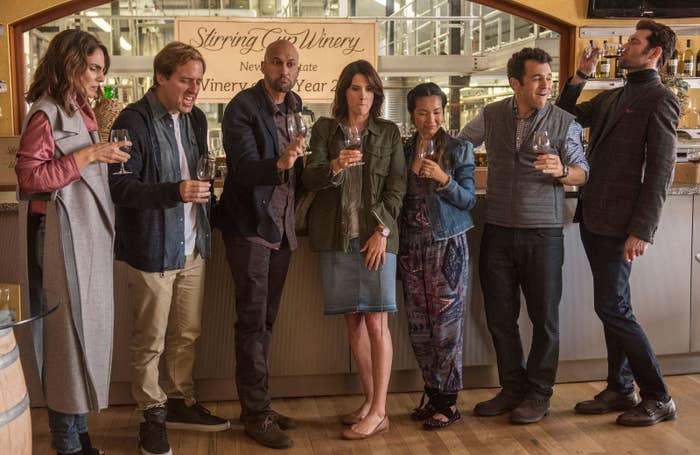 Then there are the characters of Rough Night, a movie from earlier this summer that's being compared to Girls Trip for reasons merited (it, too, is about a bunch of female college friends who reunite for a getaway) and not (they kill someone and spend most of the movie trying to cover it up). The pals in Lucia Aniello's directorial debut — aspiring state senator Jess (Scarlett Johansson), kindergarten teacher Alice (Jillian Bell), activist Frankie (Ilana Glazer), and socialite and soon-to-be divorcé Blair (Zoë Kravitz) — are over a decade younger than the ones in Friends From College and Girls Trip, but are already sick of each other.
Well, except for Pippa (Kate McKinnon), a stray Australian who Jess befriended on a semester abroad — a stranger to the friend group that the territorial Alice immediately treats as a threat. When they're brought together for a bachelorette party in Miami ahead of Jess's wedding, their initial intimacy is forced. It takes booze, coke, and involuntary manslaughter to really break the ice between the four women who no longer have much in common beyond their dorm-room days.
Few people count on holding onto every friend they make in their teens and early twenties, no matter how many bong rip–fueled proclamations of "forever" are made at the time. A reality of friendship is that people grow at different paces, they drift apart, and sometimes they lose touch, periodically or for good. But what Friends From College and Rough Night end up suggesting in their acts of self-laceration is that grown-up friendships are immature, that there's little room for them in a real adult life, which ought to be consumed by work and romance and family.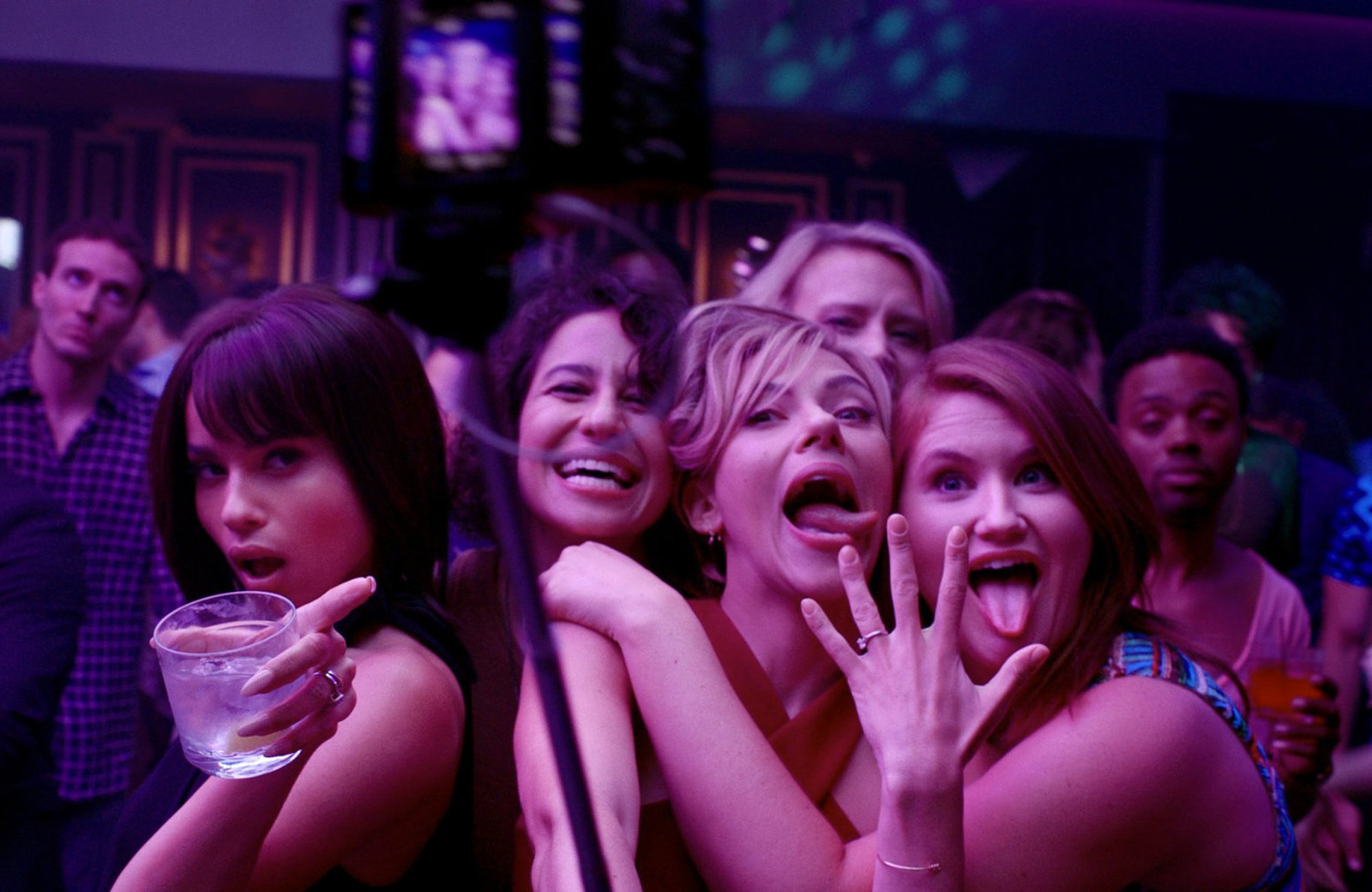 In Rough Night, Alice's attempts to stay close to her bestie Jess are presented as intrusive and a bit sad — the acts of a single woman with an indifferent career and time on her hands, someone who's trying to cling to a friend who no longer really has space for her. The two women do eventually have it out and manage their "aw" moment of reconciliation, but the movie itself never seems to settle on whether it's laughing with Alice or at her.
In Friends From College, the dysfunctional closeness of the main group is a symbol and a symptom of the ways in which the characters keep one foot in the past, unwilling to fully commit to the lives they've established since those days of infinite promise. There are two non-Harvard significant others, Max's (Fred Savage) boyfriend Dr. Felix Forzenheim (Billy Eichner), and Sam's (Annie Parisse) wealthy husband John (Greg Germann), who stand on the outside of the friend group looking in with thinly disguised impatience or skeptical amusement, expressing what the series takes for granted — that these people are holding each other back with entanglements that are portrayed as bad habits.

The women of Girls Trip — self-help luminary Ryan (Regina Hall), journalist Sasha (Queen Latifah), nurse and single mom Lisa (Jada Pinkett Smith), and office worker Dina (Tiffany Haddish) — were an inseparable crew in college, too. The Flossy Posse, complete with matching necklaces, were a dance floor–conquering Florida A&M foursome who got tugged apart in the years following school by the demands of their respective adult lives.
When they reunite for the first time in five years, at Essence Fest in New Orleans, their raunchy adventures eventually give way to an airing of grievances about wrongs that were done and resentments that have cropped up. But their reconciliations are deeply sincere, if occasionally rushed (why did Sasha have to shamedly kill off her site?!), an affirmation of the value of these relationships. There's nothing embarrassing about the Posse in Girls Trip, which depicts the friendships these characters have sustained not as vestigial remnants, but as a guiding force toward being true to oneself.
Girls Trip, Friends From College, and Rough Night take different approaches to grown-up comedy — one's straightforward and a touch sentimental, one's dark, and one's half drama. But there's a sense of liberation to Girls Trip that Friends From College and Rough Night can't come close to, and it has nothing to do with its take on the genre. Girls Trip is genuinely fond of its main ladies and invested in their successes, while Friends From College and Rough Night struggle to calibrate how apologetic they should be for their own characters' privilege.
Friends From College is a series that's not as dire as the reviews might make it seem, but which does come across as maddeningly undecided as to how much it wants viewers to dislike its incestuous, self-rationalizing collection of Ivy Leaguers. Rough Night, too, comes across as a savage satire of (mostly) white-girl privilege that was then reworked into something more like Bridesmaids — that its characters literally get away with murder isn't the problem so much as the fact that the movie also lets them off the hook for so much else.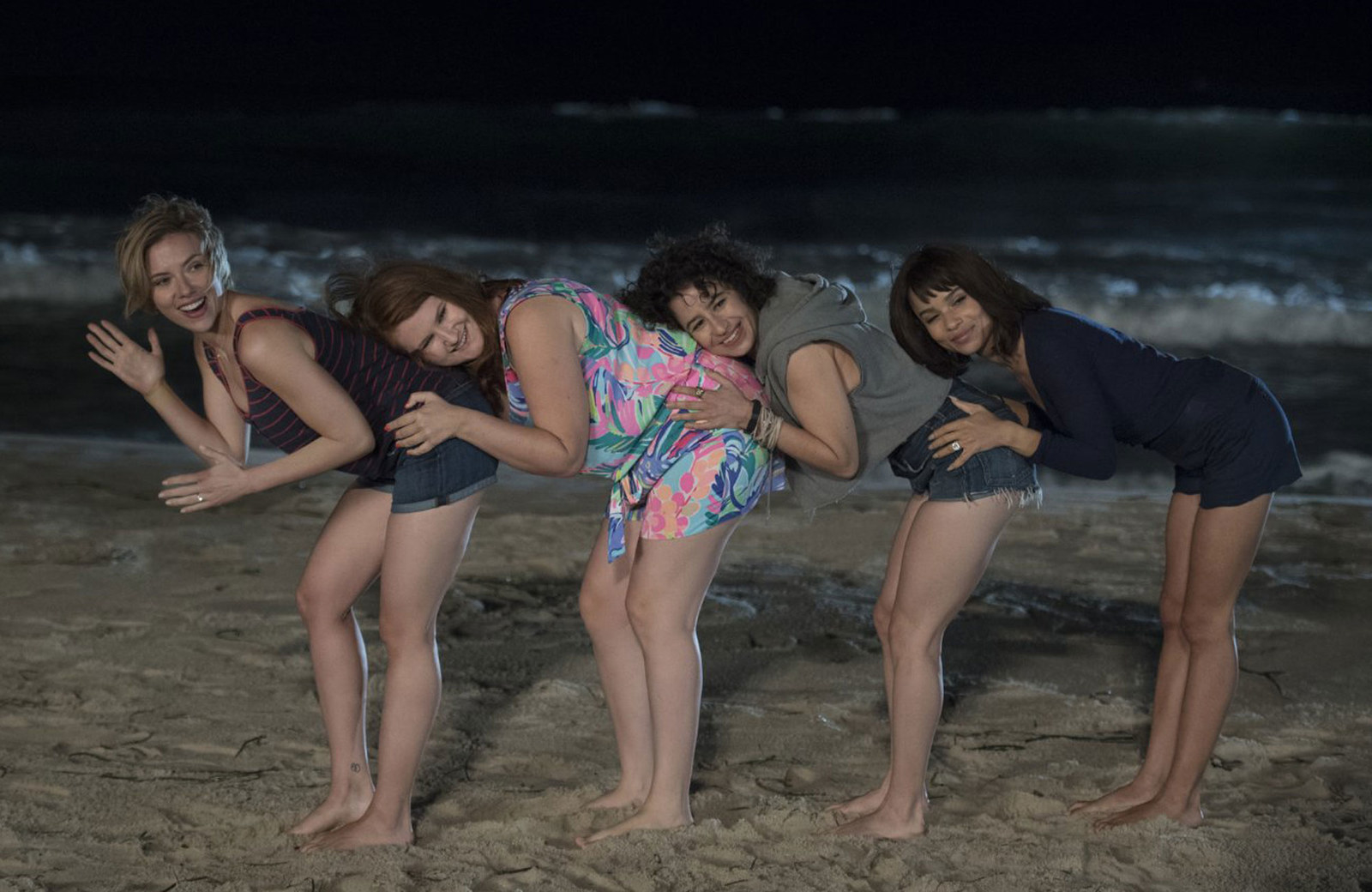 It's not as if status, a maybe inextricable part of a story about college, isn't a part of Girls Trip too. Sasha hides how broke she is while keeping the tags on her clothes so that she can return them, and Ryan pretends to believe her husband Stewart (Mike Colter) when he says he's no longer cheating on her so that they can maintain their image as a perfect power couple. But the image management its characters do is a lot more loaded, shaped by an awareness of respectability politics while not buying into them. That's especially true for Ryan, who feels she's had to make painful personal compromises in order to achieve mainstream success and look like the "right" kind of black celebrity to land a business deal with white-led conglomerate.
All of which makes the climax of the movie bold in a way that underscores a certain conservatism of the views of adulthood in Friends From College and Rough Night. Ryan doesn't choose her friendships over her marriage, but she allows her friendships to guide her back to her truth. She lets go of the need to pretend to have a traditionally perfect life, and lets herself believe in the resonance of her life as it is — not as part of a have-it-all illusion, but as something messy and real. Her final voiceover, in which she describes her relationships with the Posse as a through line in a life in which romantic relationships and career circumstances can change, isn't just moving — it's meaningful. Theirs are friendships you actually want to root for — and what a relief that is.