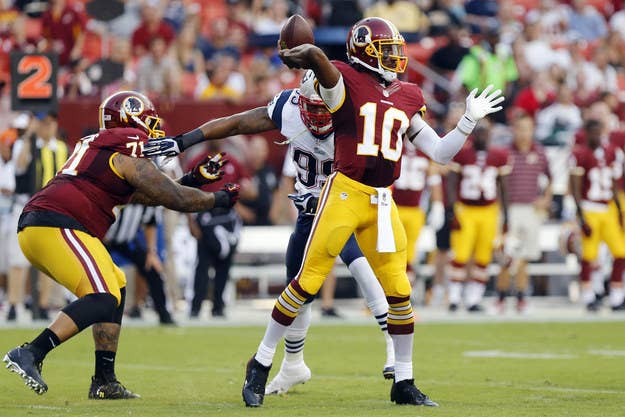 In a piece published Friday afternoon, the Washington Post editorial board said that it would no longer use the word "redskins" when referring to the Washington, D.C., NFL team. The Post first wrote in 1992 that the team name "is really pretty offensive," but on Friday it wrote that "the matter seems clearer to us now than ever," continuing:
While we wait for the National Football League to catch up with thoughtful opinion and common decency, we have decided that, except when it is essential for clarity or effect, we will no longer use the slur ourselves. That's the standard we apply to all offensive vocabulary, and the team name unquestionably offends not only many Native Americans but many other Americans, too.
The Post staffers said that they were inspired by recently retired referee Mike Carey, who requested in 2006 to not referee Washington Redskins games because he found the name offensive. He did not publicly announce it until earlier this week.
"As Mr. Carey noted, every time the R-word is used, something disrespectful is happening," the Post staff wrote. "We hope Mr. Snyder and the NFL will acknowledge that truth sooner rather than later. In the meantime, we'll do our best not to contribute to the disrespect."
Washington Post news stories will continue to use the word.