This 6-Month-Old Dog Was Found Under Rubble 9 Days After The Illinois Tornados
A young pitbull that was trapped under a pile of rubble for more than a week has been reunited with his owner.
A 6-month-old puppy and his owner have been reunited after he was lost in rubble for nine days after tornados ripped through Illinois on Nov. 17, the Associated Press reports.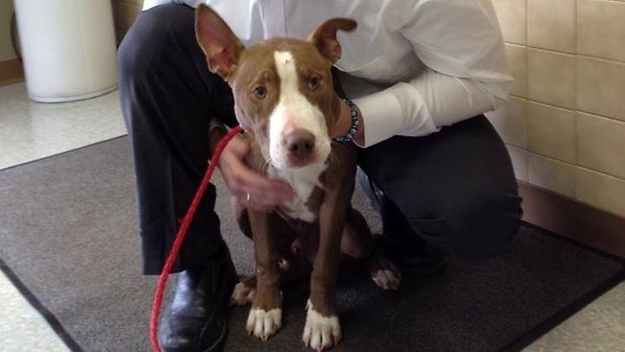 After the tornados destroyed Jacob Montgomery's apartment in Washington, Ill., he says he combed through the debris multiple times, but could not find his dog, Dexter.
Nine days later, Montgomery's neighbor was looking for his missing cat with the group Rescuing Animals in Need when he spotted Dexter partially buried in debris where the apartment building once stood. The neighbor sent Montgomery a Facebook message.
"He said, 'I've got your dog right here,'" Montgomery said. "As soon as Dexter saw me, his tail started going."
Montgomery has worked as a military police officer with the Illinois Army National Guard for more than five years. While he is trained to respond to emergencies, he says he had never before been the victim of such a disaster.
The veterinarian who nursed Dexter back to health said that he is malnourished, but suffers no major injuries.
"The vet said he has no real injuries — just a few scrapes and cuts," said Montgomery, who got Dexter as a puppy to keep him company when he moved. "He was malnourished, but he's going to be fine."
"All I had in my apartment is gone, but my dog was all I really had to worry about," he said.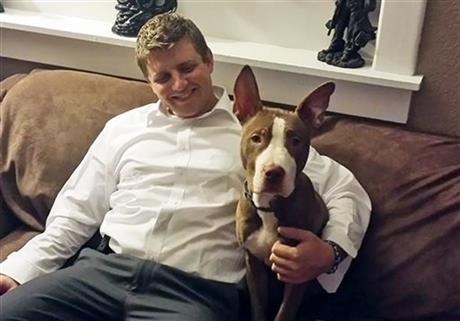 Yay, Jacob and Dexter!