Syria Hands Over Last Of Declared Chemical Weapons
The last of Syria's 1,300-ton stockpile of chemical weapons, including mustard gas and raw materials for making sarin nerve gas, have been loaded onto Danish and Norwegian ships off the coast of Latakia, Syria, the Associated Press reports.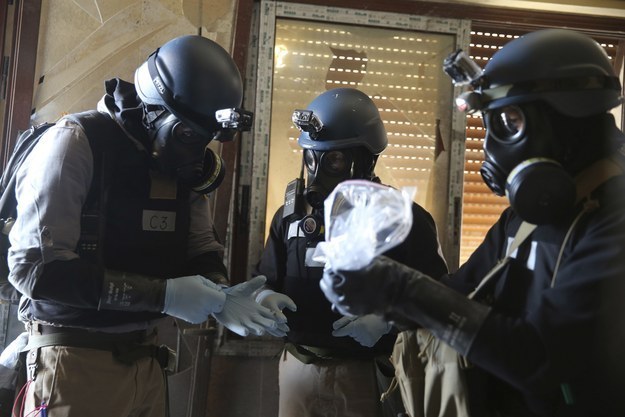 The last of the chemical weapons Syria admits to holding have been handed over to Western governments for destruction.
On Monday, the organization responsible for overseeing the elimination of Syria's chemical weapons told the Associated Press that the final 8% of the country's 1,300-ton stockpile of weapons — which included mustard gas and raw materials for creating sarin nerve gas — were loaded onto Danish and Norwegian ships in the Syrian port of Latakia.
Ahmet Uzumcu, the director of the Organization for the Prohibition of Chemical Weapons, said at a press conference at the The Hague that it is possible that Syria did not declare all of its arsenal.
"I can't say that Syria doesn't have any chemical weapons anymore," he said, noting that Syria's declared weapons was close to the estimates made by security analysts and external experts.
Last fall, Syria's government agreed to give up its chemical weapons after the U.S. threatened missile strikes in retaliation for a deadly chemical attack in a suburb of Damascus that reportedly killed about 1,200 people.
Uzumcu said that Syria's cooperation has been "satisfactory."
An OPCW mission last month found evidence that chlorine gas may have also been used in fights between rebels and Assad's regime, but an attack on the investigation prevented the organization from studying the site of the attack. Chlorine is not recognized as a chemical weapon, but using any toxic material as a weapon is considered illegal under international law.
The final weapons that shipped out Monday are now being transported to a second ship, the U.S.-owned MV Cape Ray, which has facilities equipped for destroying toxic material.