Steubenville Teen Convicted Of Rape Released From Juvenile Detention After Serving Less Than A Year
With nine months in a juvenile detention facility under his belt, convicted Steubenville High School rapist Ma'Lik Richmond walks free.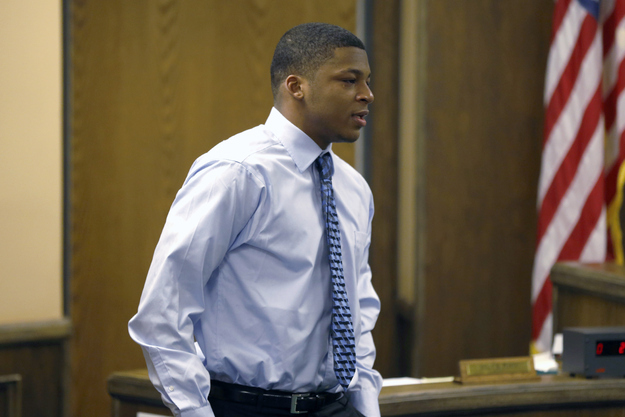 Sixteen-year-old Ma'Lik Richmond has been released after serving nine months in a juvenile detention center in Ohio, his lawyer confirmed to WTRF.
In March, Judge Thomas Lipps found Richmond and Trent Mays guilty of raping a 16-year-old girl in August, 2012 after pictures and video of the incident circulated online. Richmond was sentenced on one count of rape, and received a minimum of one year in juvenile detention. He began serving his time on April 1, but has been released early.
The former Steubenville football player must also register as a sex offender every six months for the next 20 years with the caveat that his name will not be listed on publicly accessible websites. WTRF reports that he can request to remove the sex offender classification "based on his rehabilitation."
Richmond's attorney, Walter Madison, released a statement on Sunday that makes no mention of the victim or her family but claims that his client is a "better and stronger person."
Ma'Lik Richmond recently completed his designated time at the Cuyahoga Hills Juvenile Detention Facility. The past sixteen months have been extremely challenging for Ma'Lik and his extended family. At sixteen years old, Ma'Lik and his family endured hardness beyond imagine for any adult yet alone child. He has persevered the hardness and made the most of yet another unfortunate set of circumstances in his life. As with each other obstacle, Ma'Lik has met it squarely, lifted his chin, and set his shoulders; he is braced for the balance of his life. While away, Ma'Lik has reflected, learned, matured, and grown in many ways. He is a better, stronger person and looks forward to school, life, and spending time with family. At this point, Ma'Lik wants most to be a high school teenager. In conjunction with his release, Ma'Lik, his family, and guardians ask that the media respect their privacy in this matter, as we all need to heal and move on with our lives. We will have you know that Ma'Lik will be taking all the time necessary to focus on his academic and personal goals. We ask for your support and prayers as we move forward, Thank you.
Robert Fitzsimmons, the victim's attorney, released this statement in response on behalf of his client:
Although everyone hopes convicted criminals are rehabilitated, it is disheartening that this convicted rapist's press release does not make a single reference to the victim and her family - whom he and his co-defendant scarred for life. One would expect to see the defendant publicly apologize for all the pain he caused rather than make statements about himself. Rape is about victims, not defendants. Obviously, the people writing his press release have yet to learn this important lesson.