Updated — Tuesday, April 15, 12:15 p.m. ET: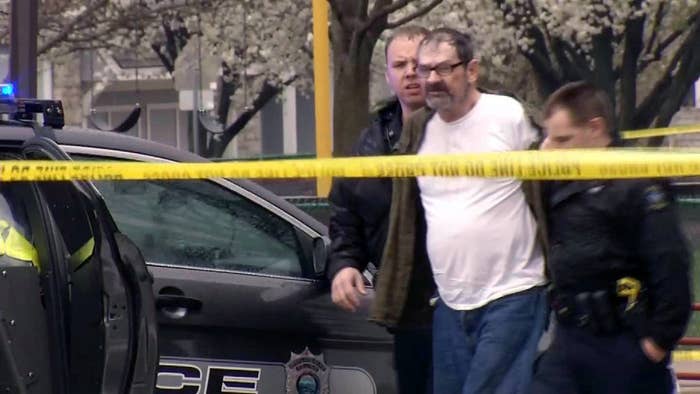 Frazier Glenn Miller, the man who allegedly opened fire and killed three outside at two Jewish facilities in Kansas, was charged with one count of capital murder and a count of premeditated first-degree murder.
His bond is set at $10 million. Miller, who was a prominent white supremacist in the 1980s, may be eligible for the death penalty under the charges. He will appear in court at 1:30 p.m. on Tuesday, ABC News reports.
A man opened fire outside a Jewish Community Center and a retirement community in a suburb of Kansas City, Kan., on Sunday, killing three people.
A spokesperson for the Overland Park Police Department in Kansas confirmed to BuzzFeed that there were three fatalities. The first shooting was reported to the police around 1 p.m., a spokesperson for the Overland Park Fire Department said.
"There was a shotgun that was involved," Overland Park Police Chief John Douglass said in a press conference Sunday night. "We are exploring the possibility that a handgun was involved in the shooting at the two persons that he missed, and we are looking at the possibility of an assault rifle."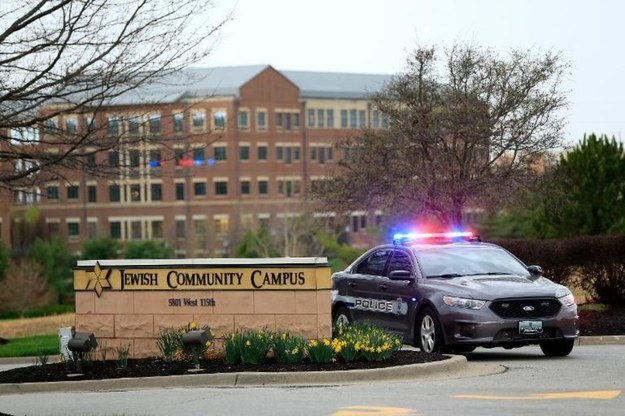 In the parking lot behind the Jewish Community Center at 5800 W. 115th St. shots were fired and two men were killed. Shots were reported minutes later at Village Shalom, the assisted living facility located nearby, where one elderly women was killed.
Two other people were shot at but were not hurt.
According to KCTV, reporter Bonyen Lee said the suspect appeared to yell "Heil Hitler" as he was being led away in handcuffs by police.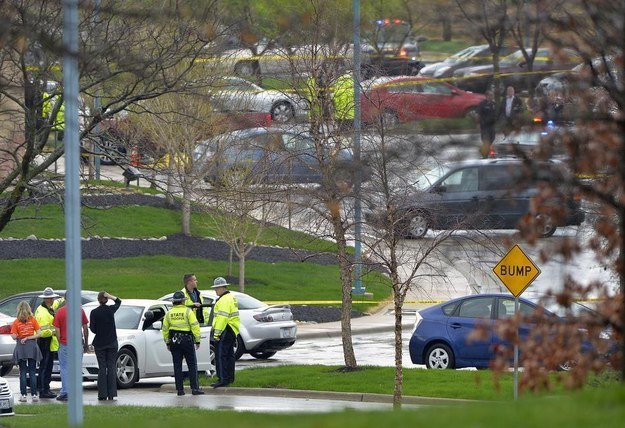 Lee confirmed to BuzzFeed that she heard the suspect "shout something about Hitler." The police department told BuzzFeed that it did not know if the incident would be classified as a hate crime, but said the investigation would continue for months.
Passover, a major Jewish holiday, begins Monday evening.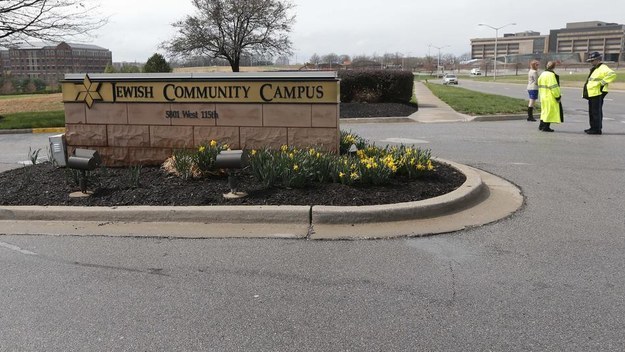 Frazier Glenn Cross, 73, of Aurora, Mo., was booked into Johnson County jail on a preliminary charge of first-degree murder after the attacks, police said.
Authorities arrested the suspect at a nearby elementary school, Overland Park Police Chief John Douglass told reporters.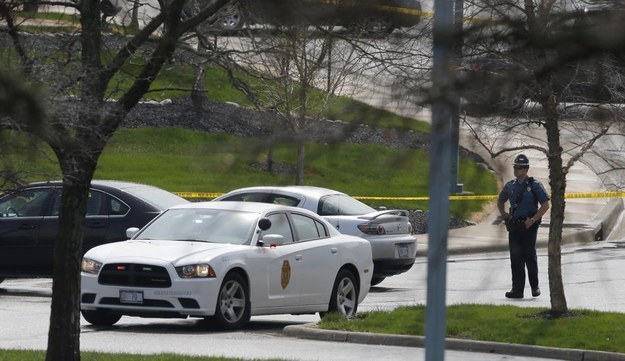 Although the suspect was booked under the last name Cross, he is probably better known as Frazier Glenn Miller.
The Southern Poverty Law Center and NBC News reported that Miller is a white supremacist and was once a "grand dragon" of the Carolina Knights of the Ku Klux Klan.
Among the three people killed in the shootings were a 14-year-old Eagle Scout and his grandfather, according to family members.
The two were shot outside the town's Jewish Community Center. One died at the scene and the other died after being taken to a hospital.
The male victims were identified as William Lewis Corporon and Reat Griffin Underwood:
"It is with deep sadness that we confirm the tragic loss of Dr. William Lewis Corporon and Reat Griffin Underwood (Losen) who died as a result of the injuries they sustained in today's shooting at the Jewish Community Center. Dr. Corporon was Reat's Grandfather, whom he loved very much," said a statement signed "Will Corporon, Son and Uncle."
Corporon had taken his grandson to audition for KC Superstars, which was being held at the center's theater.
The two were members of the United Methodist Church of the Resurrection in Leawood.
The Jewish Community Center of Greater Kansas City posted condolences on Facebook:
Our hearts go out to the families who have suffered loss on this tragic day. Our heartfelt gratitude as well to all those in Kansas City and around the world who have expressed sympathy, concern and support.
Mayors Against Illegal Guns and Moms Demand Action for Gun Sense in America released the following statement by Rev. Michelle Reed, a member of the Kansas chapter:
Kansans are still reeling from the breaking news that, on the eve of Passover, a gunman has killed at least three people at the JCC and Village Shalom – our thoughts and prayers are with them and their loved ones," said Reverend Reed. "We don't know all of the details yet, but we know that events like this remind us how none of us is immune– gun violence knows no boundaries of religion, race, class or age. We won't wait until our families or communities are affected by gun violence. We demand – right now – to be safe from gun violence in our places of worship, in our community centers, and wherever we may go. It's time for our political leaders to take immediate action to end this public health epidemic.
The Jewish Federations of North America (JFNA) released a statement by chair of the Board of Trustees Michael Siegal:
We at the Jewish Federations stand in solidarity with the Jewish community in Kansas City following today's horrific events, and our sympathies are with the families of the victims. No community should have to face a moment such as this one, and we pledge to do whatever is necessary to help the people of Kansas City through this terrible time. Today, on the eve of Pesach, we are left to contemplate how we must continue our work building a world in which all people are free to live their lives without the threat of terror.
Statement by President Obama:
This afternoon we heard reports of a horrific shooting in Overland Park, Kansas. Michelle and I offer our thoughts and prayers to the families and friends who lost a loved one and everyone affected by this tragedy. I have asked my team to stay in close touch with our federal, state and local partners and provide the necessary resources to support the ongoing investigation. While we do not know all of the details surrounding today's shooting, the initial reports are heartbreaking. I want to offer my condolences to all the families trying to make sense of this difficult situation and pledge the full support from the federal government as we heal and cope during this trying time.
The Anti-Defamation League (ADL) released a statement by Karen Aroesty, the St. Louis regional director, calling the shootings "an unspeakable and heinous act of violence":
The attacks on the Jewish community centers in Overland Park are a cowardly, unspeakable and heinous act of violence. While it is too early to label these shootings as a hate crime, the fact that two Jewish institutions were targeted by the same individual just prior to the start of the Passover holiday is deeply troubling and certainly gives us pause. We have reached out to local, state and federal law enforcement and stand willing and able to offer guidance and assistance to the community if this incident turns out to have been motivated by anti-Semitism.
U.S. Attorney General Eric Holder released the following statement Monday:
I was horrified to learn of this weekend's tragic shootings outside Kansas City. These senseless acts of violence are all the more heartbreaking as they were perpetrated on the eve of the solemn occasion of Passover.

Justice Department prosecutors will work with their state and local counterparts to provide all available support and to determine whether the federal hate crimes statute is implicated in this case.

No matter what, we will do everything in our power to ensure justice is served in this case on behalf of the victims and their families. Our thoughts and prayers go out to all those affected by these heinous acts."

The Southern Poverty Law Center said it sued Mr. Miller in the 1980s for intimidating African-Americans.