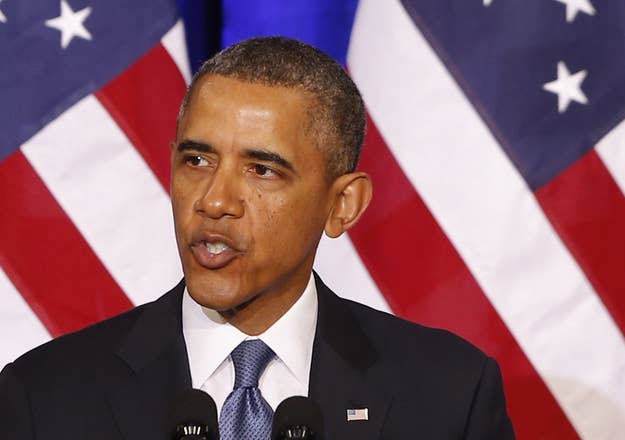 Updated — Jan. 22, 4:00 p.m. ET:
The White House announced an initiative to combat sexual assault on college campuses on Wednesday, bringing to light an issue that affects thousands of young people each year but is rarely addressed in politics.
In a press conference on Wednesday afternoon, Obama pled for the nation to make a fundamental shift in attitudes towards issues of sexual assault, which he called "an affront on our basic decency and humanity." He also signed a presidential memorandum creating a task force to protect students from sexual assault, and unveiled a new report, "Rape and Sexual Assault: A Renewed Call to Action."
The report states that "no one in America is more at risk of being raped or assaulted than college women." Illuminating the danger of promulgating rape culture, the study states that 1 in 5 women have been sexually assaulted at college, yet only 12% of students report the attacks.
"The president is committed to solving this problem, not just as president of the United States, but as a father of two girls," Obama senior adviser Valerie Jarrett, chair of the Council on Women and Girls, told the Associated Press.
College officials will be called upon to draft recommendations to prevent and respond appropriately to reports of assault, including increased public awareness of each school's track record. Obama plans to hold schools accountable to federal agencies if they don't confront the problem.
"When a young woman drops out of school after being attacked, that's not just a loss for her. It's a loss for our country," Obama said Wednesday.
"This is not an abstract issue. It affects us all," he added. "I want every man in America to feel some strong peer pressure about how they're supposed to behave and treat women. That starts before they get to college."
With plans to hold college and universities responsible for addressing sexual assault problems internally, Obama said he expected to see significant progress in the year ahead. He ended the conference directly addressing the victims of rape and assault:
"To everybody who's ever been assaulted, you are not alone," Obama said. "We have your back. I have your back."
A memo released by the White House detailed the task force's responsibilities in the next 90 days:
(i) providing examples of instructions, policies, and protocols for institutions, including: rape and sexual assault policies; prevention programs; crisis intervention and advocacy services; complaint and grievance procedures; investigation protocols; adjudicatory procedures; disciplinary sanctions; and training and orientation modules for students, staff, and faculty;
(ii) measuring the success of prevention and response efforts at institutions, whether through compliance with individual policies or through broader assessments of campus climate, attitudes and safety, and providing the public with this information;
(iii) maximizing the Federal Government's effectiveness in combatting campus rape and sexual assault by, among other measures, making its enforcement activities transparent and accessible to students and prospective students nationwide; and
(iv) promoting greater coordination and consistency among the agencies and offices that enforce the Federal laws addressing campus rape and sexual assault and support improved campus responses to sexual violence.
Scott Berkowitz, president and founder of the Rape, Abuse and Incest National Network, told BuzzFeed he was pleased with the announcement of the task force and its tight 90-day timeline, "rather than this turning into a two-year committee report."
"The value of this report is to sort of set the baseline — it's a pretty good evaluation of where the country is now on this issue," Berkowitz said. "It accurately points out that one of our biggest remaining problems is that the criminal justice system still isn't handling sexual violence the way it should be.
"Rapists tend to be serial criminals, and they find out early on that they can commit this crime with impunity. Until we change the dynamics, and get more survivors to want to report to police ... we're going to leave rapists on the street."
Tracie Vitchers, a spokeswoman for Students Active For Ending Rape (SAFER) was thrilled to hear about the initiative, but stressed that in order to be effective, the task force should include input from college students or recent college graduates.
Vitchers also hopes that Obama speaks out for LGBT and male survivors of rape.
"It's great to focus on women, but male sexual assault survivors are even less likely to report it," she told BuzzFeed.
"Students have been working incredibly hard to hold their universities accountable," said Vitchers. "And this is a really important step forward."