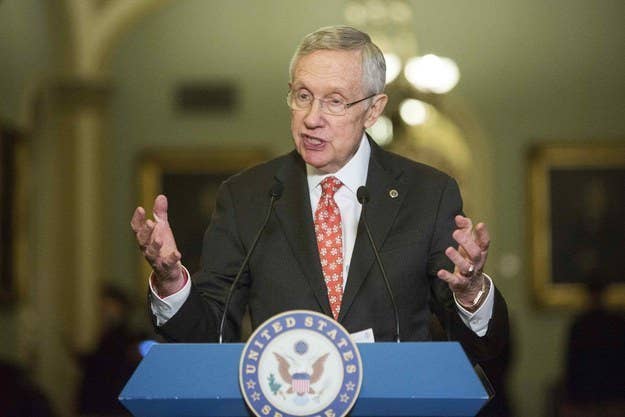 Senate Democratic leader Harry Reid is recovering in a Las Vegas hospital after he fell and injured himself while exercising, according to a statement issued by his office on Friday.
Doctors expect the 75-year-old senator to make a "full recovery."
"A piece of equipment Senator Reid was using to exercise broke, causing him to fall and break a number of ribs and bones in his face," according to the statement.
"Senator Reid will return to Washington this weekend and be in the office Tuesday as the Senate prepares to reconvene."
Representatives for Reid did not immediately return BuzzFeed News' request for comment. A spokesperson for the senator, Adam Jentleson, told the Associated Press that an elastic exercise band snapped and hit Reid the face, leading him to fall over. During the tumble, he hit a piece of exercise equipment, breaking several bones near his right eye, and breaking several ribs.
He is recovering in the University Medical Center in Las Vegas, where he will receive further testing. He's expected to be released on Friday afternoon or night.
This isn't the senator's first trip to the hospital for broken ribs. In Oct. 2012, Reid was involved in a chain-reaction car crash, and suffered rib and hip contusions.
White House spokesman Eric Schultz said President Obama called Reid from his vacation in Hawaii and wished the senator a "full and speedy recovery."
"The president was glad to hear the leader is doing well, and will be back in Washington this weekend," said Schultz.