Friends Of Boston Bomber Plead Not Guilty To Obstruction Of Justice
In an arraignment on Tuesday afternoon, Dias Kadyrbayev and Azamat Tazhayakov pleaded not guilty on obstruction of justice charges.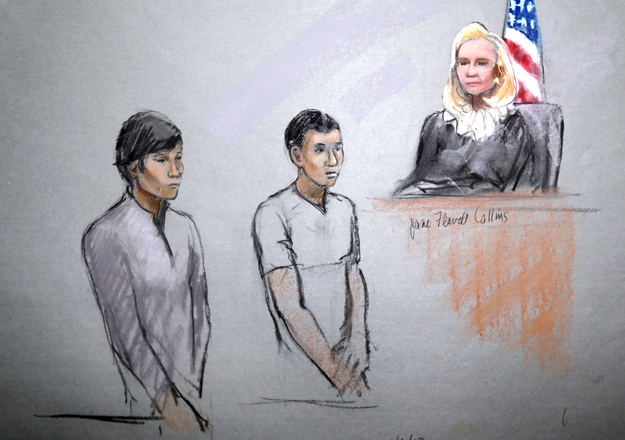 BOSTON — At an arraignment held in Boston at 2 p.m. on Tuesday, Dias Kadyrbayev and Azamat Tazhayakov pleaded not guilty before Magistrate Judge Marianne Bowler.
The two college friends of Boston Marathon bombing suspect Dzhokhar Tsarnaev were indicted Thursday, Aug. 8, on obstruction of justice charges. Both men are accused of disposing of evidence from Dzhokhar Tsarnaev's dorm room on April 18. A laptop, thumb drive, fireworks, and a jar of Vaseline are among the items the men allegedly removed. The two 19-year-olds have been detained since they were initially charged with conspiracy in May.
Lawyers for the suspects claim they have done nothing wrong.
Arkady Burk, the lawyer for Tazhayakov, told BuzzFeed, "My client never touched the backpack or the computer. This is an 18- or 19-year-old boy, distraught, scared, who was at the wrong place at the wrong time."
Kadyrbayev's lawyer, Robert Stahl, told CBS this morning that both men were unaware their friend was involved in the bombing.
"In this horrific act where people were injured and killed, labeled as terrorism, the government is not willing to look at the facts in a clear and balanced fashion," said Stahl.
If convicted, Kadyrbayev and Tazhayakov face up to 20 years in prison on the obstruction of justice charge, plus five years in prison on a conspiracy count.
The arraignment lasted about 10 minutes. After both men pleaded not guilty, the government announced there will be approximately 15 to 20 witnesses during a two-week trial.