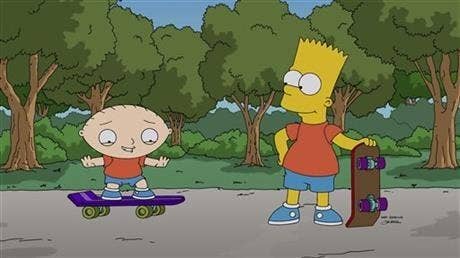 On Wednesday, a spokesman for the Fox Entertainment network told BuzzFeed News it has no comment on the rape joke in its long-awaited crossover episode of The Simpsons and Family Guy. The episode — including the quip that has already garnered much criticism — is set to air on Sunday night.
The line can be heard in a scene between Bart Simpson and Family Guy's Stewie, in which Stewie prank-calls Moe's tavern. Instead of making a harmless joke in line with Bart's sense of humor, he says: "Your sister's being raped," and hangs up. Bart gives him what appears to be a disapproving look.
Seth MacFarlane did not immediately return BuzzFeed News' request for comment, but the comedian is no stranger to criticism. His song "We Saw Your Boobs" at the 2013 Oscars was widely regarded as misogynistic, as were many other jokes he made while hosting the award show.
Several past episodes of Family Guy have come under target for misogynistic humor, including an episode that aired in November, 2013, with jokes about pedophilia, rape, and violence against women that caused the Parents Television Council (PTC) advocacy group to file an indecency enforcement with the FCC.
The president of the PTC, Tim Winter, told the Associated Press that he wrote to Seth MacFarlane, Fox, and Simpsons creator Matt Groening in August to request the rape joke be removed from the Sept. 28 episode, but received no response.
"I was blown out of my shoes when I saw the scene with the rape joke in it," Winter said. "It really troubled me." When rape is a punchline, argued Winter, "it becomes less outrageous in real life."
Other advocacy groups don't find the joke offensive.
"I think the show is making it clear that rape is not funny by how they are positioning the joke," Katherine Hull Fliflet, a spokeswoman for the Rape, Abuse, and Incest National Network (RAINN) told AP.
"It's my hope that would be the viewers' take-away."
The episode under fire, titled "The Simpsons Guy", is the season premiere of the 13th season of Family Guy, and will air as an hour-long crossover with The Simpsons on Sept. 28.