Dozens Arrested For Being Gay Or Advocating For LGBT Rights In Nigeria
Yesterday one of the world's harshest bills against same-sex relationships was signed into law in Nigeria, and 38 people have already been arrested for being gay.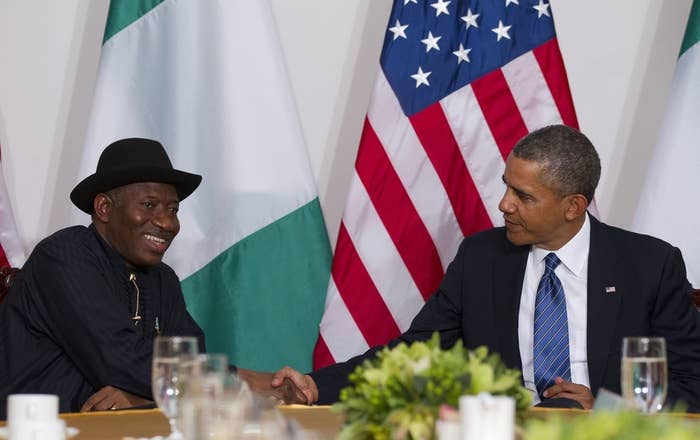 One day after a strict anti-LGBT bill — dubbed the "Jail the Gays" law — was signed into law in Nigeria, police have arrested dozens of gay men, The Associated Press reports.
Police allegedly based the arrests on a list of 168 suspects purportedly obtained through torture.
The Same Sex Marriage Prohibition Act, signed by Nigerian President Goodluck Jonathan yesterday, is the world's broadest law crackdown on LGBT rights. It criminalizes people and groups who support "the registration, operation and sustenance of gay clubs, societies and organizations, processions or meetings in Nigeria." Those convicted could be jailed for 10 years; people found to have same-sex relationships could receive 14 years in jail.
Not only does the bill encourage the persecution of LGBT people and the organizations that support them, but it will also threaten programs that help fight HIV/AIDS within the Nigerian community, according to Dorothy Aken'Ova, executive director of Nigeria's International Center for Reproductive Health and Sexual Rights.
"People were beginning to come out to get help for HIV and AIDS," Aken'Ova told BuzzFeed. "But now there will be apprehension. Members of the gay community won't be able to receive medical aid safely."
According to UNAIDS, approximately 3.4 million people in Nigeria suffer from HIV, making it the second-largest HIV epidemic worldwide. In 2010, statistics estimated national HIV prevalence at 4%, compared with 17% among gay men.
While homosexuality has been persecuted for years in Nigeria, the crackdown on gay men began around Christmas, Aken'Ova told BuzzFeed. In Nigeria's northern Nauchi state, police captured four gay men in December and tortured them until they named others, Aken'Ova said. The police then created a list of 168 "wanted" gay men, 38 of whom were already arrested before the law was officially signed by the president.
The bill was passed by Nigeria's national assembly in May, and by Congress in December, but the president delayed signing until Jan. 7. Sodomy was already punishable by jail under existing Nigerian federal law. According to AP, one AIDS counselor said the 38 arrests were sparked by a rumor that the United States paid $20 million to activists who worked to promote same-sex marriage in Nigeria, a highly religious and conservative nation.
Now that the law has been signed by President Goodluck Jonathan, many in the country and around the world fear more torture, arrests, and stronger punishment for gay Nigerians and gay-rights organizations. Staff members at Nigeria's International Center for Reproductive Health and Sexual Rights are scared for their own safety.
"We had a meeting this morning and decided that we will continue to work, develop strategies to keep everybody safe," said Aken'Ova. "And so far, so good."
Members of the Human Rights Watch also expressed fear about working in Nigeria. Monica Tabengwa, an Africa LGBT Researcher for Human Rights Watch currently stationed in Kenya, told BuzzFeed that anybody working on gay rights issues in Nigeria risks persecution.
"We have somebody working on the ground in Nigeria, but not specifically on LGBT issues," said Tabengwa.
"Everything will be affected in a very serious way — especially with such severe punishments — people will go into hiding."
While the recent arrests have only targeted gay men, lesbians and transgender people are also at risk.
"Eventually the gay women will be affected by the law, but as of now there haven't been any women attacked or arrested," Aken'Ova told BuzzFeed. "But that does not mean the arrests will not take place."
Many public officials have already denounced the law, including Secretary of State John Kerry, the U.S. ambassador to the United Nations, and the U.N human rights chief.
In a statement released on Tuesday, Navi Pillay, the U.N. High Commissioner for Human Rights, called the law "draconian," saying it "violates a wide range of human rights."
She continued:
It purports to ban same-sex marriage ceremonies but in reality does much more. It turns anyone who takes part in, witnesses or helps organize a same sex marriage into a criminal. It punishes people for displaying any affection in public towards someone of the same sex. And in banning gay organizations it puts at risk the vital work of human rights defenders who speak up for the rights of lesbian, gay, bisexual, transgender (LGBT) and intersex people.

Rarely have I seen a piece of legislation that in so few paragraphs directly violates so many basic, universal human rights... Rights to privacy and non-discrimination, rights to freedom of expression, association and assembly, rights to freedom from arbitrary arrest and detention: this law undermines all of them. In addition, the law risks reinforcing existing prejudices towards members of the LGBT community, and may provoke an upsurge in violence and discrimination.
Those fighting for human rights in Nigeria face their challenges one step at a time. The next goal is to provide legal services to those arrested for being gay, but several organizations simply cannot afford to help.
"We [Human Right Watch] don't have funds for legal assistance," Tabengwa said. "But we might be involved in other ways, and providing contacts to people who need services."
Aken'Ova faces a similar challenge.
"Right now we don't even have funding for legal services, so we are communicating to the community that we need help," she said. "We're telling people, 'This is the time to help and this is how to help us.'"