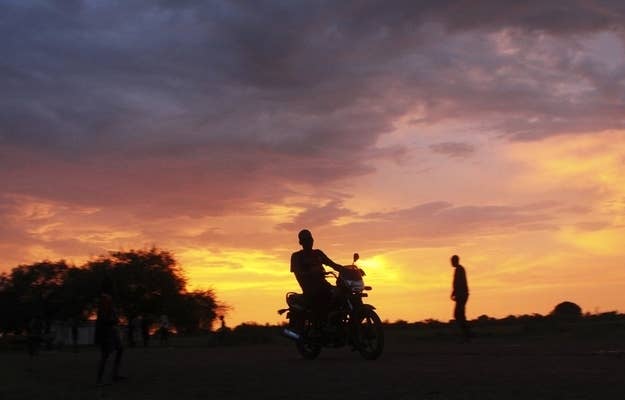 A recent Sky News survey reveals the harrowing attitudes some South African men hold towards rape. Some claim women "want to get raped," while others say they don't feel bad because "she was good to sleep with."
The study is unscientific, but recent official reports on rape and assault also offer horrific insights. Last week international researchers found that one in four men in some parts of Asia admitted to raping a woman, and one-third of women worldwide have been victims of domestic or sexual assault.
Sky News asked 38 men if they had raped a woman; 28 said they had, and explained why and how. It's difficult to read just one side of the story -- especially the rapists. Like last year's Reddit thread in which rapists explained themselves, there are risks of rape apologists or commenters telling rapists "it's not their fault." But that doesn't mean the answers should be dismissed all together.
As of March 2013, South Africa had the highest rate of violence against women in the world. The answers provided by these men, many of which echo victim-blaming attitudes so frequently heard in the United States, illustrate the ubiquity of rape culture and show how often rapists go unpunished in South Africa.
Here are a few responses:
One raped because he thought he was ugly, and he knew the woman he wanted to sleep with would say no.
Q: How did it happen?
A: I always wanted the woman but because (I) am ugly and I knew that if I (tried) to (proposition) her she (would refuse) … unless I have a lot of money to buy her. I knew where she lived and traced her movements and how many people she lived with in her shack, but I found out that her boyfriend only came (back at) month ends. I went to her place Friday night and it was raining so it helped me attack her well as no one else could hear me. I used a bolt cutter to gain entry, wielding a butcher knife. I told her not to scream until I leave her place.

Q: Did she open a (police) case?
A: I don't know because I never got arrested for the rape.
Another man says he raped because he "needed sex."
Q: How did it happen?
A: The woman always asked me for (a) cool drink or money for transport. I did give her (these things) many times. When I needed her to sleep with me she always came up with excuses. (In) January this year I met her on the street when I was coming from the nearby shop holding plastic (bags) with groceries. I decided to invite her to my place, she came over and when I needed sex she said, 'not today, next time'. I didn't buy the story. I overpowered and raped her.

Q: Have you served time for the rape?
A: I (awaited) trial for six months. My brother bought the docket from the (prosecuting authorities) for R5000 (£321) and the case was (thrown out).
This respondent doesn't feel bad because "she is a nice woman to have (slept) with even though (it was) against her will."

Q: How did it happen?
A: We watched (a) game of soccer together at my place at night while her parents had gone out. I bought some ciders. I knew she liked them, and we drunk together. In the middle of the game I (raped her).

Q: Did she open a case against you?
A: No!

Q: Why not?
A: I think she just got scared of her parents and avoided the embarrassment.

Q: Have you apologised to her to see if she had animosity towards you after the rape?
A: I tried but she didn't want to talk to me.

Q: How do you feel that you did such a thing to your neighbour?
A: I feel great because she is a nice woman to have (slept) with even though (it was) against her will.
Similarly, this respondent says he doesn't feel bad because he "supporter her" and so he deserved something from her in exchange.
Q: How did it happen?
A: My ex-girlfriend's sister lived with us in the same shack and when (I was) off her sister would be at work, so we watched TV together. I asked and promised to buy her expensive shoes if she slept with me. She refused and I forced myself on her and told her that if she talked about it I would chase both her (and) her sister, so she kept quiet.

Q: How do you feel whenever you see her after you did this?
A: I feel nothing bad about it.

Q: Why not?
A: I supported her at my place and I deserved to ask for a favour too.

Q: Do you call it rape?
A: No.

Q: But you forced yourself on her?
A: Yes.
Lastly, this man, who has raped five times, believes women want to get raped.
Q: How did it happen?
A: Fridays we went out to chill and drink some beers … after hours me and my friend we saw a young good-looking woman who was drunk on the street, we took her to our place and (raped) her in our shack for an hour. This became a habit and every Friday we made sure that we hung on at the tavern to pick up girls who were drinking after hours.

Q: How many times have you raped a woman?
A: Five times.

Q: Have you ever been arrested for any rape?
A: Once.

Q: Did you serve time for it?
A: Yes.

Q: How long?
A: Six years.

Q: Do you think it's the right thing to do?
A: Why do women go to taverns in mini-skirts?

Q: What do you think they want?
A: To be raped.
You can read all of the answers here.