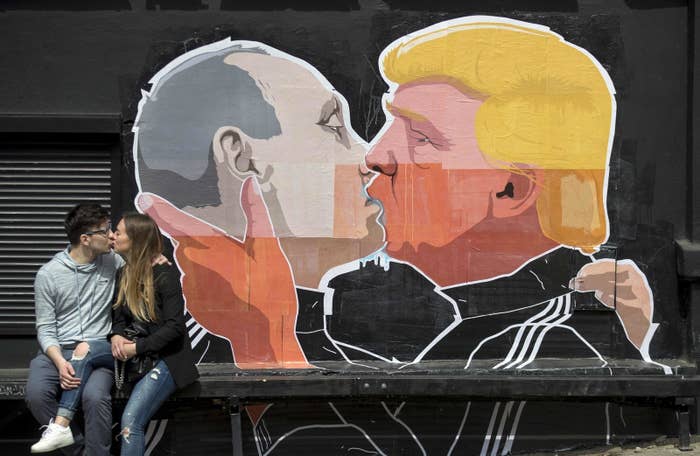 WASHINGTON — President-elect Donald Trump could be forced to make hard decisions on Russia within the first weeks of his presidency, thanks to a congressionally-proposed crackdown on Vladimir Putin's spies and diplomats.
In its annual intelligence authorization bill, lawmakers this year proposed several crackdowns on Russia policy, including tightening travel restrictions on Russian diplomats in the US, and renewed focus on Moscow's use of cyberattacks, propaganda and other influence measures to manipulate policies stateside.
The legislation — and its required follow-through — will put Trump in a complicated position. The Kremlin, US intelligence officials say, waged its most aggressive active measures campaign ever in an effort to undermine the recent US presidential election, and the CIA has said that effort was built specifically to elect Trump to the White House, a conclusion that the FBI and Director of National Intelligence now agree with.
Trump has unequivocally denied those intelligence community claims, despite presenting no evidence to the contrary and having bucked several of his own intelligence briefings. Despite all this, in his first months in office, Trump will likely have to oversee a group dedicated to dismantling the very Russian influence measures US intelligence officials say he benefitted from — or reject a critical authorization bill that sets law for the nation's spy agencies.
Along with the establishment of the active measures group — modeled after a group of the same name that empowered US spy-catchers to chase suspected Soviet spies at the height of the Cold War — the bill also requires the FBI to investigate any Russian diplomats' plans to travel outside a 50-mile radius from their posting to ensure the diplomats have followed travel notification rules, which they frequently try to buck, a US intelligence official told BuzzFeed News when the provision was first proposed. Typically, intelligence officers are given cover as diplomatic officials, underscoring congressional concerns.
The Kremlin has made no secret of its distaste for the new mandates in the intelligence bill. After BuzzFeed News first reported on the provision in June, the Russian Foreign Ministry threatened to retaliate against US diplomats in country.
Behind closed doors, the Obama White House and the State Department fought the inclusion of the provision in the intelligence bill, US officials tell BuzzFeed News, due to concern over how the Russians would react. The State Department specifically offered to be more vigilant on travel policies, one US official said, and were concerned that legislating the policy would be seen as too aggressive.
The intelligence authorization bill is traditionally passed in the fall, but lawmakers in the Senate declined to vote on the measure before leaving for the holiday recess. There were quibbles with certain parts of the legislation, officials told BuzzFeed, but the Russia provisions are expected to stay intact in the bill's final version.
Lawmakers are expected to pick it up again when they return in January. They could pass it before Trump takes office, and if they do, the Russian provision is expected to stay — Obama has not threatened to veto it, and lawmakers on both sides of the aisle support it. Even if Trump doesn't have to personally sign the bill into law, he would have to abide by its follow-through and enforcement.
That Russia waged an unprecedented campaign to interfere in and influence the US election is widely believed in Washington's national security apparatus, including by Republicans, despite their president-elect's dismissal. The question of why the Russians interfered — and why they reportedly wanted to swing the election for Trump — has become a political hot potato. Intelligence officials are concerned that the issue is becoming so polarized that it will be difficult to present a full, objective accounting of Russia's unprecedented influence campaign.
US intelligence agencies have concluded that Russian-backed cyberspies hacked into the emails of the Hillary Clinton's presidential campaign chairman and the Democratic National Committee, files that were later published by WikiLeaks and resulted in extensive media coverage. How much those leaks might have influenced American voters remains unclear.
On the campaign trail, Trump praised Russian President Vladimir Putin and has tapped Rex Tillerson, an Exxon Mobil CEO in favor of lifting economic sanctions on Russia, to be secretary of state.
Senate Intelligence Committee chairman Richard Burr, in a lengthy statement Friday, said his panel would investigate Russian efforts to manipulate the election, and threatened to use subpoenas to compel Obama and Trump Administration officials to answer congressional inquiries.
Neither the Trump campaign nor the Obama White House responded to requests for comment Friday. The State Department declined to comment, citing pending legislation.