The CIA's Director Went In Hard Against WikiLeaks — Unlike His Boss
Mike Pompeo has kept a low profile since taking office. In his first public remarks, he aligned himself with his agency's staff over the White House and slammed WikiLeaks.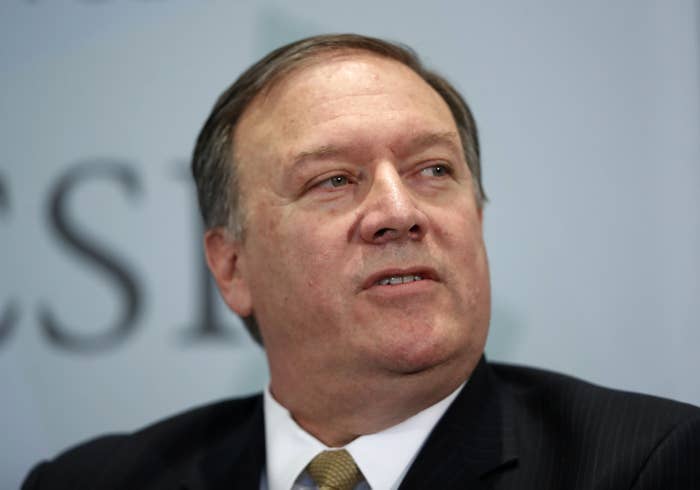 WASHINGTON — CIA Director Mike Pompeo made his first public appearance as the agency's spy leader Thursday, issuing a blistering indictment of the website Wikileaks, Russia, and its wide-ranging operation to influence the US election — criticisms that signaled a clear divide between Langley and the White House.
"We at CIA find the celebration of entities like WikiLeaks to be both perplexing and deeply troubling," Pompeo told a packed room at the Center for Strategic and International Studies, a foreign-policy think-tank in downtown DC.
President Donald Trump, Pompeo's boss, famously praised Wikileaks in 2016 for publishing the emails of his then-Democratic rival, Hillary Clinton, and publicly encouraged Russia to release more of her hacked emails.
Despite that, the relationship between the intelligence community and the White House, Pompeo said, is "fantastic."
A former congressman from Kansas who briefly served on the House Intelligence Committee before being nominated by Trump to lead the nation's top spy agency, Pompeo has almost entirely withdrawn from the public spotlight since taking over the helm at the CIA. He made clear Thursday afternoon that his penchant for biting, opinionated criticism in Congress was not going to change just because he now worked across the river in Virginia.
In a wide-ranging conversation, Pompeo spoke on everything from Russia to North Korea to cybersecurity. But his harshest comments were reserved for people like former NSA contractor Edward Snowden, who in 2014 passed top-secret information on domestic US surveillance efforts to journalists, and sites like Wikileaks.
To an overflowing crowd, Pompeo practically spat blistering criticisms of US intelligence community leakers like Snowden and former intelligence officer Chelsea Manning. He also took aim at Wikileaks' controversial head, Julian Assange, calling him a "narcissist."
He unequivocally condemned Wikileaks' publishing of thousands of stolen Democratic National Committee emails during the 2016 presidential campaign, which according to the SUS intelligence community, were provided to the website by Russian-government backed hackers as part of an effort to influence the US election.
"Wikileaks walks like a hostile intelligence service and talks like a hostile intelligence service," Pompeo said, adding the website is "often abetted by state actors like Russia."
"This man knows nothing of America and ideals," Pompeo said of Assange. "They champion nothing but their own celebrity."
Pompeo was not as hostile to Wikileaks in his days as a congressman — from his now-defunct Twitter, he reportedly tweeted Wikileaks documents as recently as last year.
He also called The New York Times and The Washington Post — on which Trump has hurled a wide range of insults over the last year — "legitimate news organizations."
The wide-ranging public remarks created noticeable breathing room between Pompeo's CIA and the White House, whose current occupants came into office openly criticizing and questioning the intelligence community of which Pompeo is now a part.
"It's fantastic," Pompeo said, as the room chuckled. "No, don't laugh, I mean that."
Pompeo said he often gives Trump his presidential daily briefing — a wide-ranging morning meeting where Trump receives the top intelligence billings of the day — and that the White House is "voracious consumers of the product we develop."
"They ask really hard questions," he said.
How closely the spy agency's leader aligns him or herself with its White House bosses is one of the proverbial challenges and defining question of any CIA director's career. Pompeo, particularly in his January confirmation hearing, sought to actively distance himself from Trump's criticisms of the workforce — something that appeared to sit well with the intelligence community.