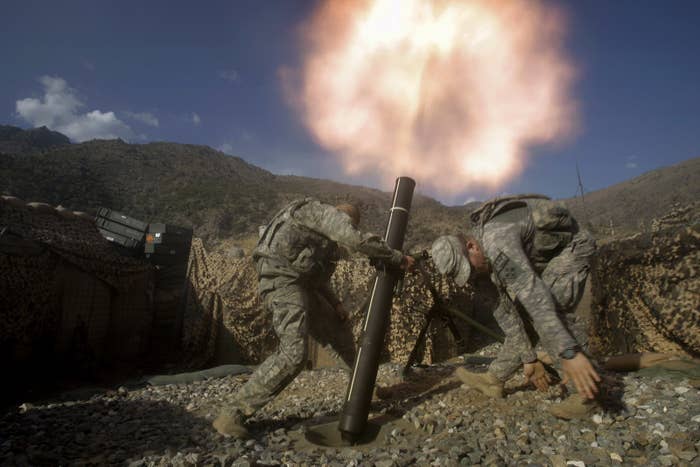 WASHINGTON — An IED killed a US service member in Afghanistan on Tuesday while the soldier participating in an operation targeting ISIS, defense officials said.
It was one of the few official admissions from Pentagon that US troops are not only fighting the Taliban, members of the Haqqani Network, and al-Qaeda insurgents, but also fighters linked to ISIS in Afghanistan, where nearly 10,000 US soldiers remain.
"On behalf of all US Forces Afghanistan, we are heartbroken by this loss and we extend our deepest sympathies to the families and friends of the service member," Gen. John Nicholson, commander of US forces in Afghanistan, said in a statement released by Operation Resolute Support, the official name of the ongoing NATO mission in Afghanistan, on Tuesday.
The soldier, whom the Pentagon did not name pending notification of their family, was on patrol in the eastern Nangarhar province when his patrol hit an IED while out on a mission against a group that calls itself the Islamic State, Khorasan Province. It was not clear whether it was the group in Khorasan that had planted the IED, or if it was planted by another hostile group in the region.
That the US military is going after ISIS affiliates in Afghanistan is not necessarily groundbreaking, though it's the first US casualty in the war against the group to occur outside Iraq or Syria.

The incident put new pressure on the Pentagon, which has insisted — despite the deaths of several US service members — that US troops are no longer in combat in the region, whether in Afghanistan or fighting the Islamic State in various theaters. Asked whether the US soldier died in combat Tuesday, the Pentagon would not clearly say.
"This was a combat situation, clearly," Pentagon press secretary Peter Cook said Tuesday during a briefing with reporters. "This was a service member who faced risk alongside Afghan partners."
In a country with several extremist groups and militants of all stripes operating, the Islamic State's presence in Afghanistan and Pakistan has, up until the last six months, been relatively small in a saturated market. Its one stronghold has been in Khorasan, where the group has recently succeeded in carrying out a string of attacks throughout the country, including a July suicide attack at a peaceful protest in Kabul that killed 80 civilians.
"We are still gathering details on exactly what happened," Cook said on Tuesday. "Our operations against [The Islamic State] in Afghanistan continue….we do not want to let this group be able to take root in Afghanistan like it has in other places."
Correction: An earlier version of this story said this was the first instance in which the Pentagon said US troops were fighting ISIS in Afghanistan. It is not the first time.

CORRECTION
Correction: Tuesday's incident was one of a handful of incidents in which the Pentagon admitted US troops are fighting ISIS in Afghanistan. An earlier version of this story said this was the first instance.