A gunman stormed a Colorado Springs Planned Parenthood clinic Friday, opening fire and killing one police officer and two civilians before he was taken into custody, officials said.

Nine others were injured with gunshot wounds, including five officers. The nine victims transported to hospitals were in "good condition," police spokesperson Lt. Catherine Buckley said Friday evening.
All Planned Parenthood staff were safe and accounted for after the attack, the organization said in a statement.
Here is a timeline of the shooting according to local media reports, police recordings, and official statements from police and Planned Parenthood. (All times are local Mountain Standard Time).
Friday, Nov. 27, 11:38 A.M.
First calls come in about shooting. "We have a second caller now, says she is in the parking lot, someone is shooting," a dispatch officer was heard saying over the police radio recorded by 9News at the scene.
The local fire department tweets at 11:49 a.m. that an active shooter has been reported at the Planned Parenthood clinic at 3480 Centennial Blvd.
11:53 A.M.
Police arrived at the scene and began taking gunfire. "When I tried to get a look at him he fired a round and it blew off the back window of my car," an officer was heard to say over the radio.
12:10 P.M.
At least one victim is taken by stretcher to an ambulance, according to the Colorado Springs Gazette. Three police officers are seen with guns drawn pointing in the vicinity of Planned Parenthood.

12:31 P.M.
Scanner traffic indicated at least two officers were down and another had been taken by ambulance to hospital, the Gazette reported.
1:08 P.M.
Officers reported that a gunman began shooting at them as they entered the building with a BearCat armored vehicle. "I've got one wounded, we are moving back to the bear. Get out of there now," an officer was heard to say at the scene.
2:19 P.M.
Officers reported a sheriff's deputy had been shot in the leg. Over police radio an officer was heard to say the shooter "fired through the window and one of our guys got shot in the leg."
2:25 P.M.
Police catch sight of the shooter. An officer described his location: "He is sitting in a chair, right behind a counter looking up at the ceiling. He's a white male, wearing a trench coat, looks like maybe [he has] a beard."
3:03 P.M.
Penrose Hospital confirmed they were treating six victims of the shootings and Memorial Hospital said they were handling three shooting victims.

4:00 P.M.
Colorado Police Department Lt. Catherine Buckley gave a press conference to waiting media and confirmed the shooting started at the Planned Parenthood building.

"This is still an active scene. We have been in contact with a suspect inside the building and the suspect has fired on our officers inside the building," she said. "There are an unknown amount of casualties at this point. We know that this scene is going to be going on for several hours because there are items that the suspect took with him to the Planned Parenthood building that we need to check out once we stabilize the scene. This is not a stabilized scene right now."
4:52 P.M.
The gunman was taken into custody after police said he surrendered to police. "We have our suspect right now. He is saying he is alone and by himself," an officer was heard to say over the radio.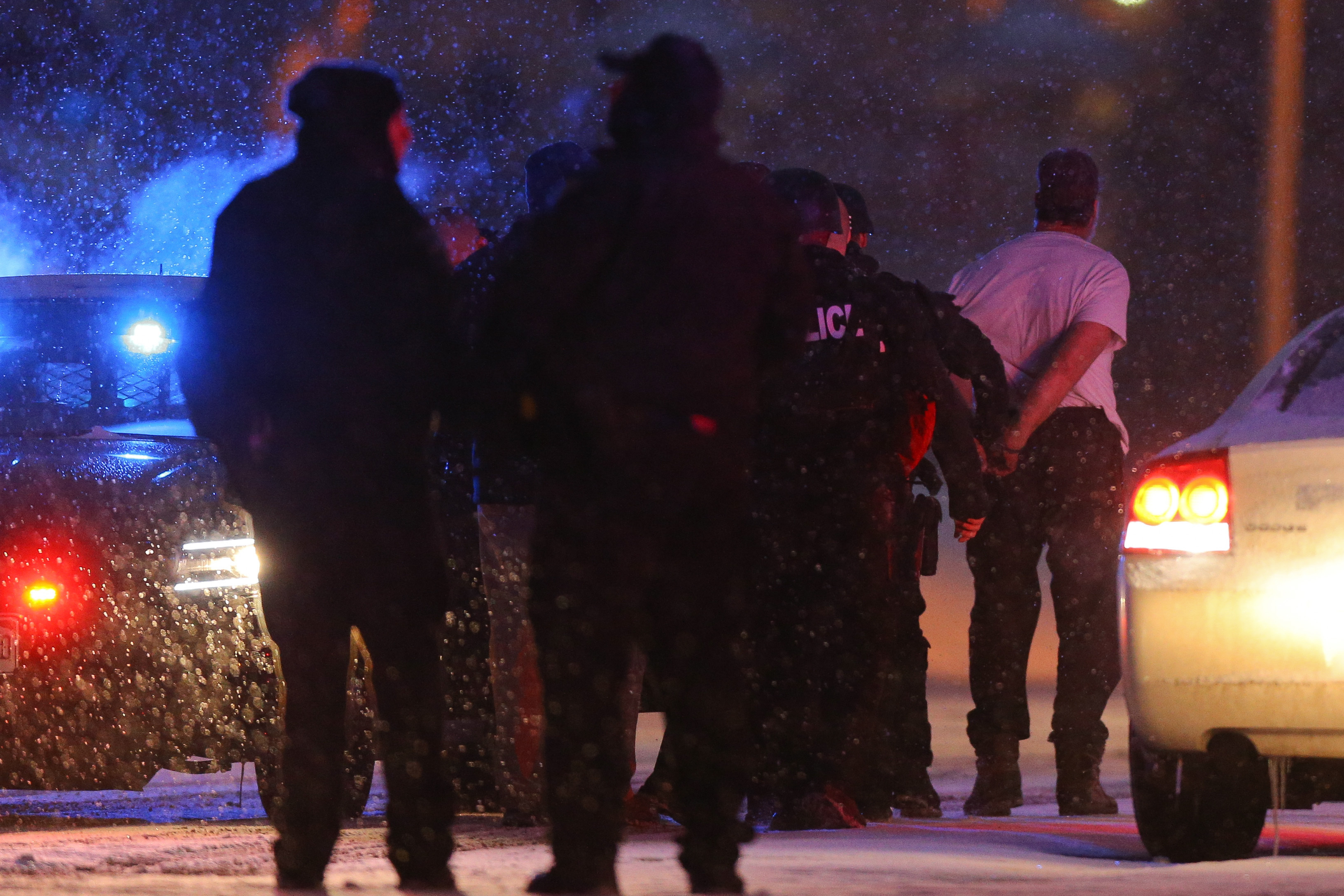 6:45 P.M.
Colorado Springs Fire Chief Chris Riley held a news conference at Penrose Hospital and said he had visited all four officers wounded during the shooting. Three were Colorado Springs Police officers and one was an El Paso County Sheriff's deputy. He said all were awake and talking.
"All of the firefighters and police at the scene are heroes. They laid their lives on the line today to prevent this disaster from getting worse," he said.
"This has been a tragic day. A very, very tragic day," he said.
7:00 P.M.
Colorado Springs Police Chief Peter Carey told reporters that three people had been killed, including one police officer and two civilians.
All nine surviving victims — five police officers and four civilians — were reported to be in "good condition" at area hospitals, Carey said.
"My heart's broken. This is a tough situation for a lot of people in our community," he said.

Mayor Jon Suthers also spoke to the press, saying, "While this was a terrible, terrible tragedy, it could have been much worse but for the action of the first responders especially the police officers involved."
7:37 P.M.
The officer killed was identified as University of Colorado police officer Garrett Swasey, 44, in a statement released by chancellor Pam Shockley Zalabak.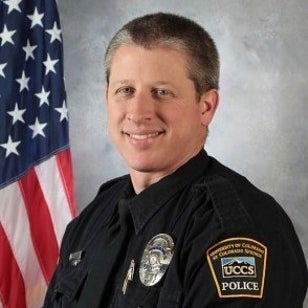 Swasey, who was employed with the university, "responded in support of Colorado Springs Police to the active shooter situation at about 11:50 a.m. Friday. He was killed in the line of duty," Zalabak wrote.

He was a six-year veteran of the school's police force.
8:20 P.M.
National Abortion Federation president and CEO Vicki Saporta released a statement saying they were worried that "unprecedented increase in hate speech and threats against abortion providers," would lead to such attacks.
It offered condolences to the families of those killed in the attack.
The statement read:
"Today, a shooter entered a NAF member Planned Parenthood clinic in Colorado Springs, Colorado, and held clinic staff and patients hostage for several hours. During that time, he exchanged gunfire with law enforcement, reportedly killing three people, and injuring at least nine others.

Our hearts go out to the families of those who were killed and to those who were injured at the scene. We are grateful to law enforcement at all levels who responded to this incident, and to the clinic staff who endured this attack and took quick action to ensure that patients were safe.

Since a series of highly-edited, misleading anti-abortion videos was released in July, we have seen an unprecedented increase in hate speech and threats against abortion providers. We have been quite worried that this increase in threats would lead to a violent attack like we saw today.

This clinic is part of the Planned Parenthood Rocky Mountains affiliate, which was featured in one of the highly-edited smear videos released this summer. Since that video, the affiliate has seen an increase in protesters and death threats against one of their doctors.

Although anti-abortion groups may condemn this type of violence when it happens, the way that they target and demonize providers contributes to a culture where some feel it is justifiable to murder doctors simply because they provide women with the abortion care they need. Since 1977, there have been 8 murders, 17 attempted murders, 42 bombings, 186 arsons, and thousands of incidents of criminal activities. The last abortion provider was murdered in 2009 when NAF member Dr. George Tiller was assassinated in his church in Wichita, Kansas."
9:03 P.M.
Unnamed police sources told several local media outlets the shooter was Robert Lewis Dear from North Carolina but no other details were made available.
9:59 P.M.
Planned Parenthood released this statement on their Twitter account:
Saturday, Nov. 28, 6 A.M.
Police confirmed the suspect in the shooting is Robert L Dear, 47, from North Carolina.
7:04 A.M.
Police also confirmed the items brought to the scene by the suspect had been secured and no longer posed a threat.