Before Syria's revolution turned into a full-blown civil war, the city of Homs, the third-largest in the country, was known for its agricultural produce and the nation's largest oil refinery. Five years since the war began, the city lies in ruins.
In the early days of the revolution in 2011, Syrian President Bashar al-Assad's army attacked Homs, shelling neighborhoods and cutting off residents from food, medicines, electricity, and water. Those able to leave fled to other parts of the country or left Syria entirely to become refugees. In early 2014, those who remained in the old part of Homs, including hundreds of rebels, were evacuated as part of an agreement between the government and rebel forces.
The siege left the city destroyed and its civilians devastated; rough estimates put the number of dead and wounded in the thousands.
Since the beginning of 2016, Assad's forces have shifted their attention to rebel-held Aleppo, where, backed by intensive Russian airstrikes and foreign militia fighters, they are cutting off crucial supply lines.
Over the past year, more than 15,000 Syrians are estimated to have returned to Homs, and, with help from the International Committee of the Red Cross (ICRC) and Syrian Arab Red Crescent, they are attempting to rebuild their lives. BuzzFeed News, with the assistance of the ICRC, spoke to some Syrians who chose to return home. These are their stories:
Hamza, 43, café owner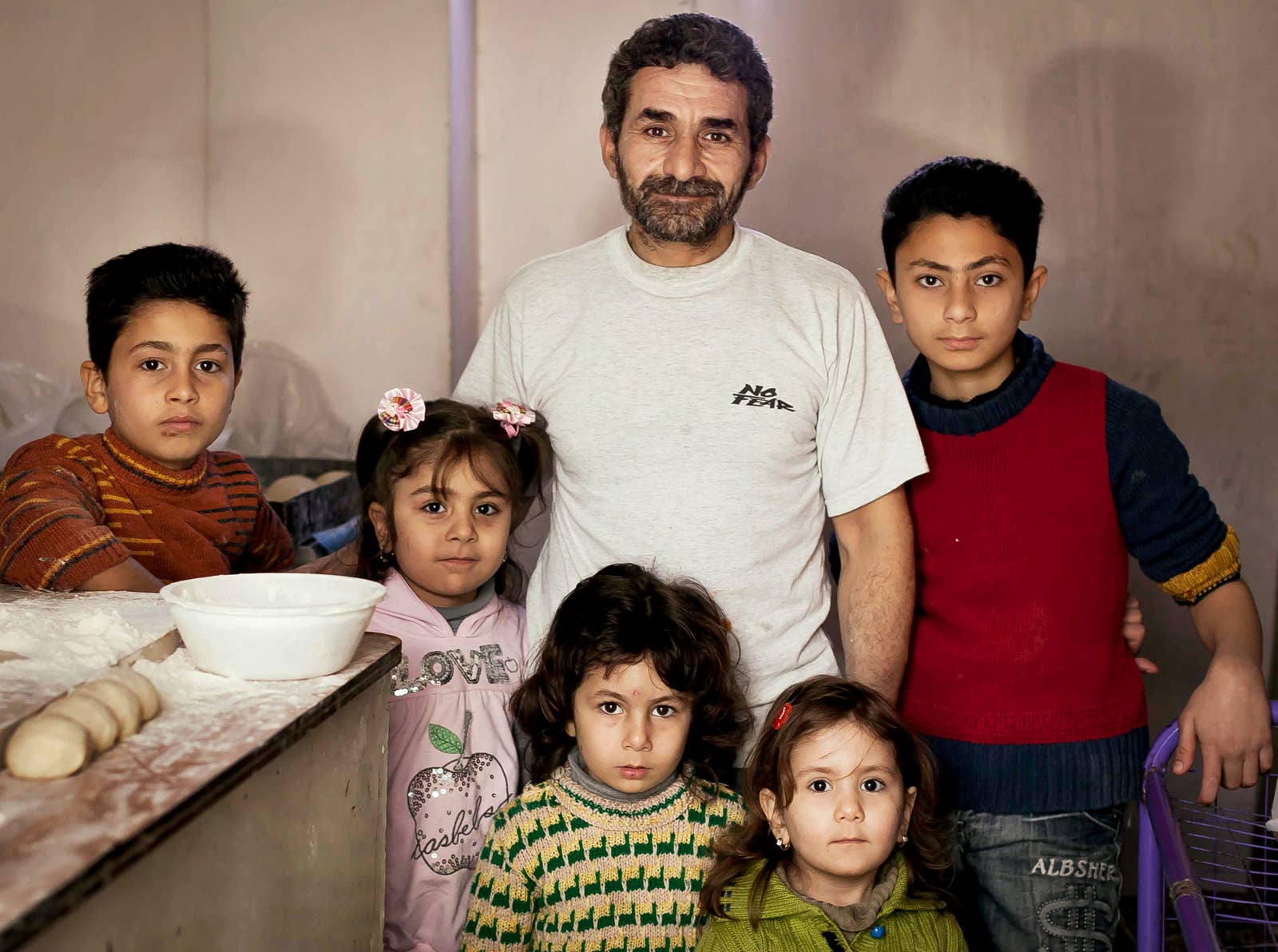 Hamza owned a small snack shop in the older part of Homs for 25 years where he employed four other Syrians. His owned a small car and had five children, all of whom went to a local school. After the fighting started, his shop was destroyed, so he left with his family in search of safety.

"Everywhere we moved, the fighting followed," Hamza said. "We moved houses four times. These were really dark days for us. It was unsettling. In one moment our lives we had before disappeared. I had no job and no house. Children left school, their friends, their neighborhoods. But we managed to adapt because we had each other."

"My old house is where my heart stayed all this time. That's why I decided to return. When we finally decided to return to Homs, I felt like I was flying. At first I was shocked by the overwhelming destruction around me — everything I knew was in tatters. But I was happy because this is home."

Rima, 30, seamstress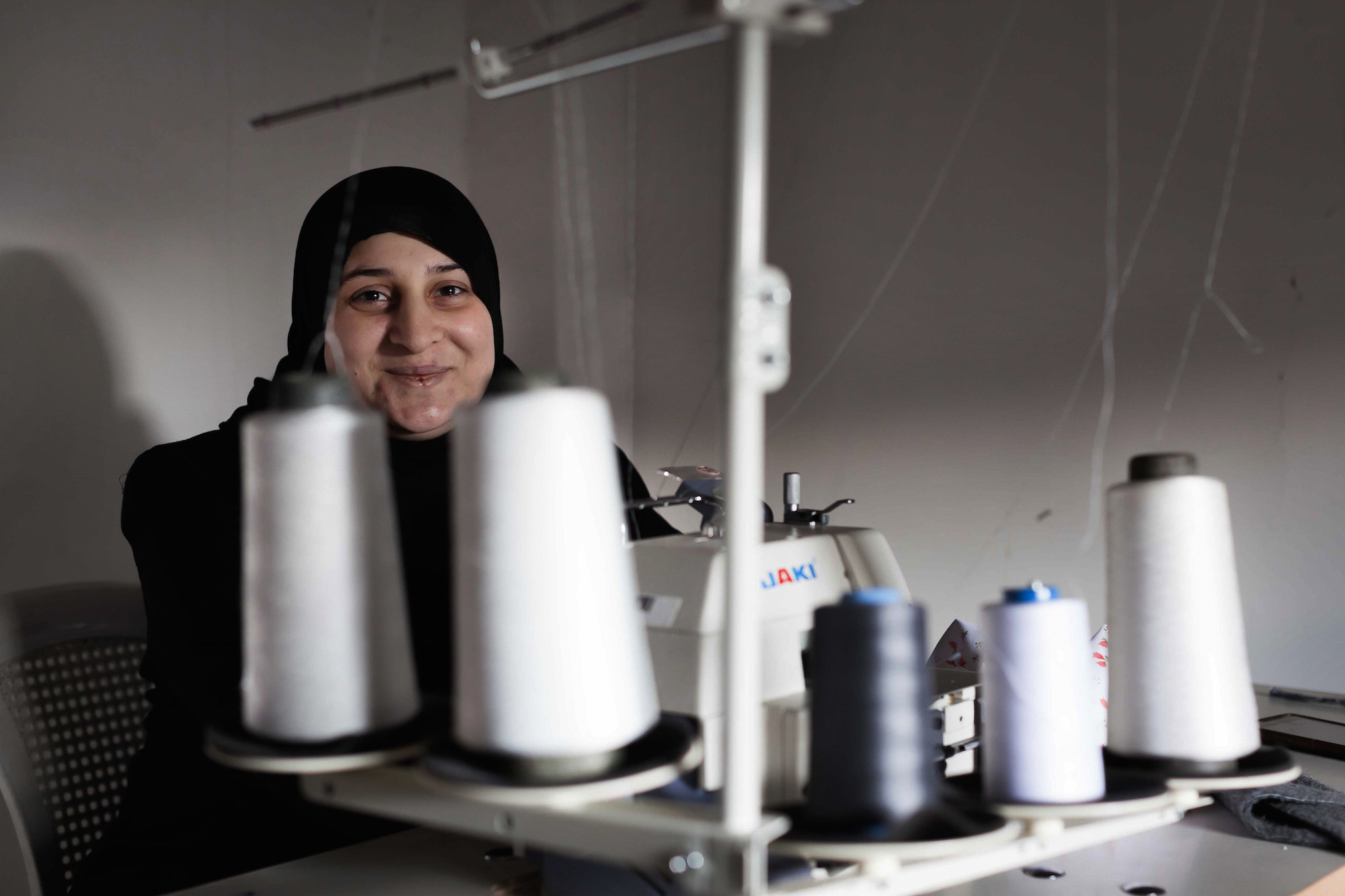 Before the war, Rima stayed at home to care for her children while her husband went to work as a merchant. To escape the war the family moved to Damascus, but once the violence ended in Homs Rima chose to return to the city with her children. Her husband stayed behind to work in Damascus and send money to the family.
Although living apart from her husband was difficult, Rima and her children were happy in Homs — but then word arrived that her husband had died suddenly of a heart attack. "Our entire world came crashing down again," she said. "It felt like my entire life ended."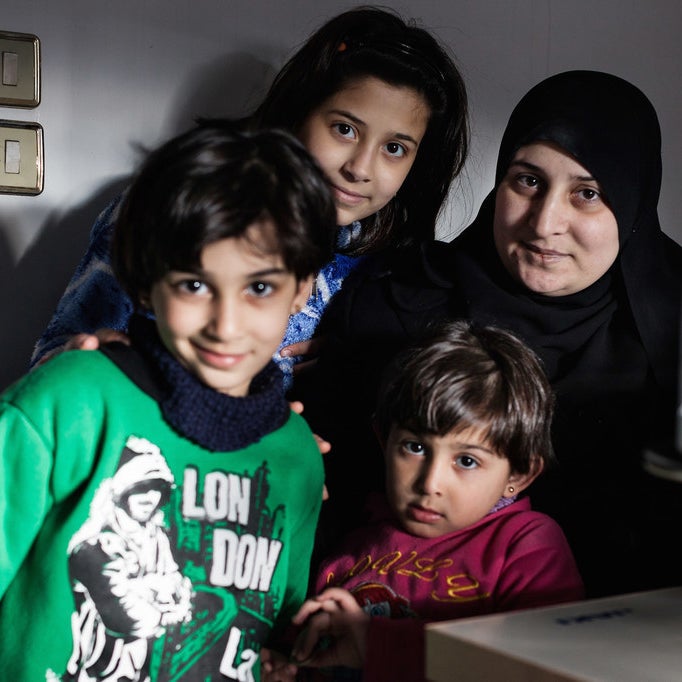 Picking up from the little training she had received as a seamstress before marriage, she set up her own shop. "I suddenly found myself in the middle of new battleground, forced to fight for myself and my children to find some money to live with dignity," Rima said.
"I've never thought of leaving Syria. I knew it would be too difficult to find a new life outside Syria, especially with children. I felt I needed to do something, to resume my interrupted life, to find some stability. Before, we lived a normal life. I didn't have to work, because my husband was taking care of us. Now I work to provide for the family."
Issa, 40, tailor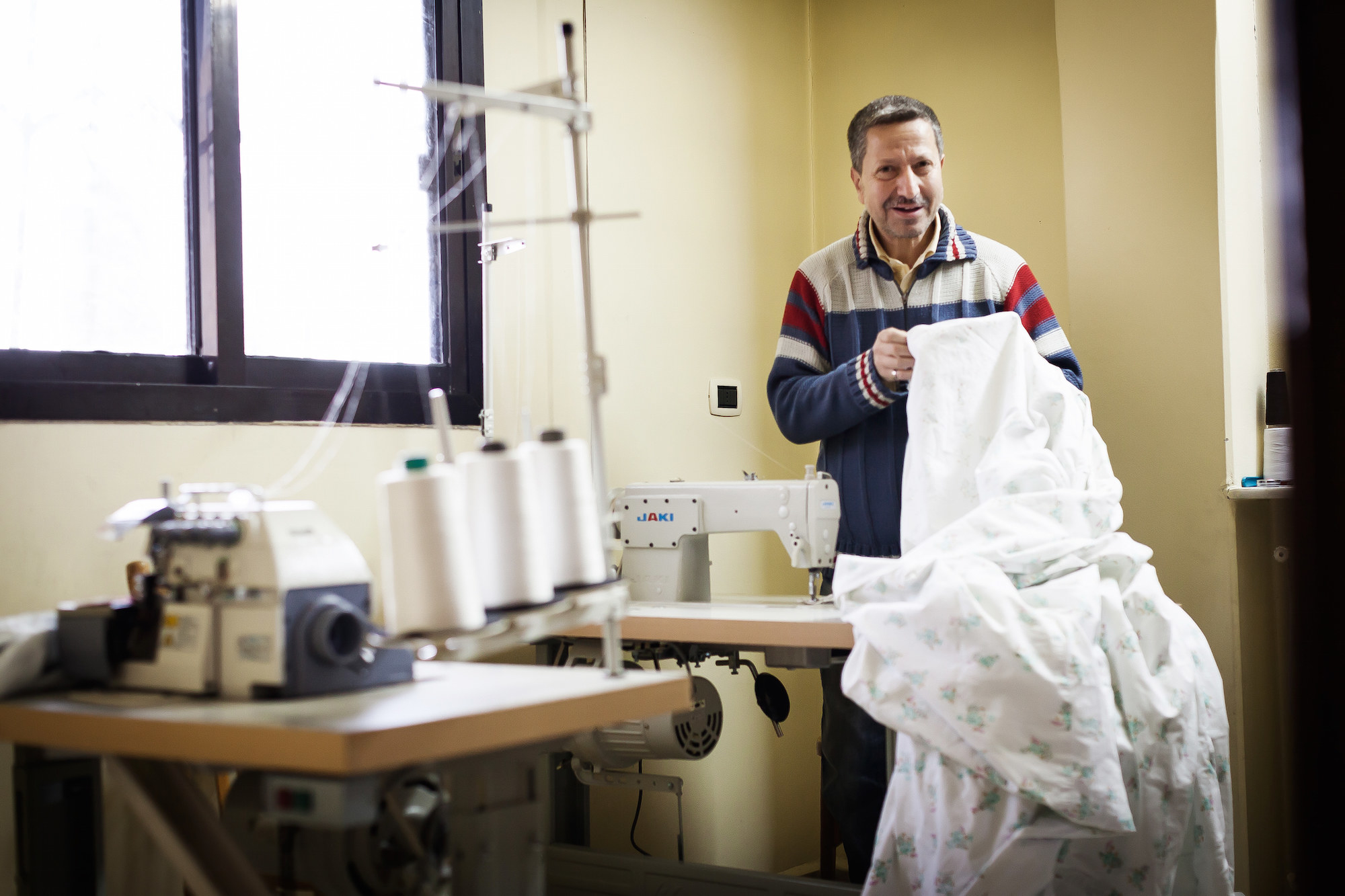 In Homs, Issa made a comfortable living at a tailor. His three children attended school and he was proud of the modest home the family lived in. When the fighting began, his youngest son, George, became distressed from constant airstrikes and bombardment. Their family home was burned and badly damaged and Issa and his children were forced to flee in the clothes they were wearing.
"Life during fighting was unbelievable, difficult, abstract ... I felt like we were watching a movie," Issa said. "We just wanted to escape from the horror."
When Issa returned home, he saw that his house was completely destroyed. "But it is still cheaper here than elsewhere," he said. "I wish I could leave the country for my children's safety but I would never be able to afford it."

Amer, 33, cake shop owner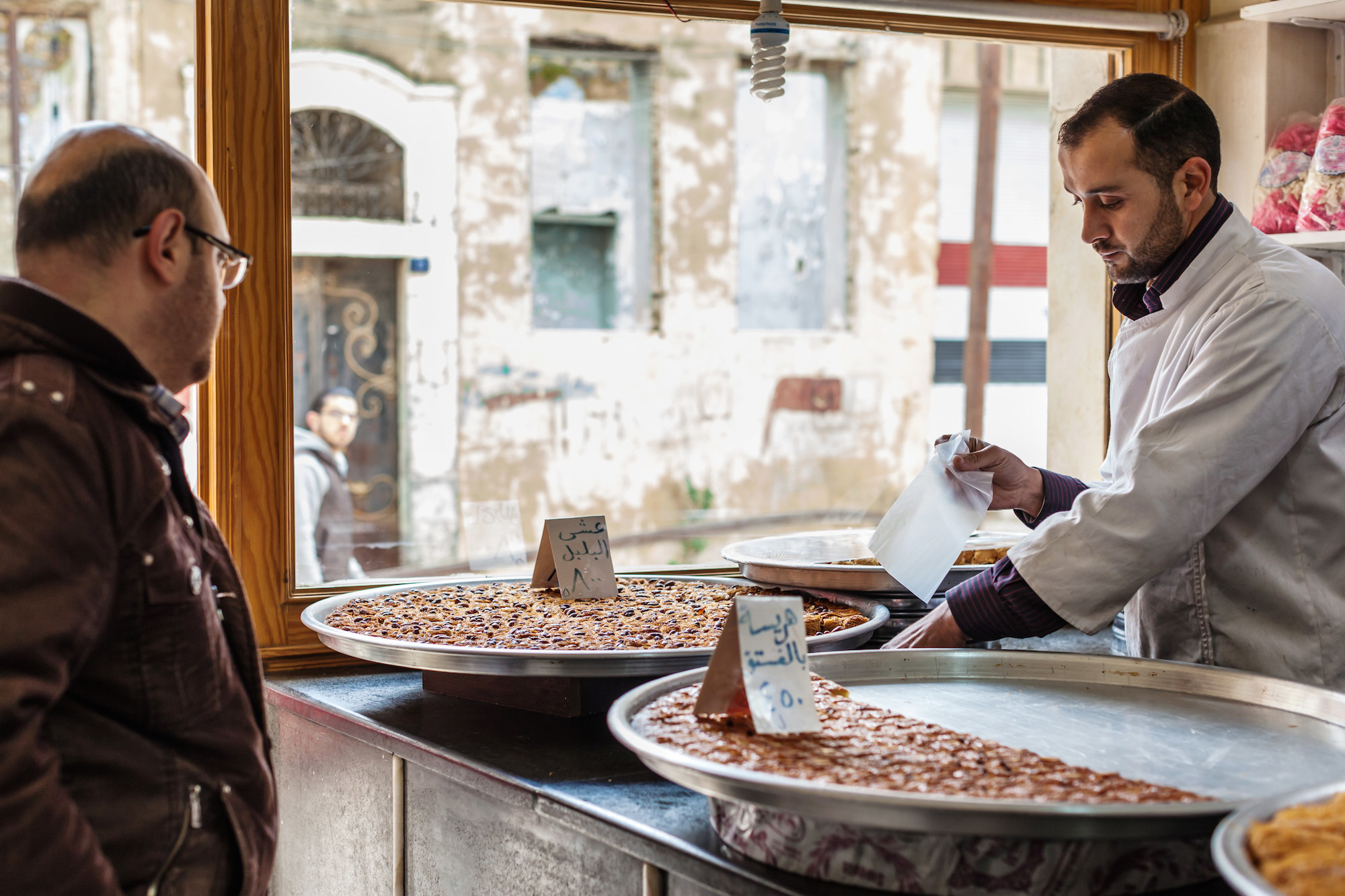 Before they fled the city, Amer and his family ran the only cake shop in the neighborhood, which was opened by his father when he was young. Amer said leaving the city after the war began was one of the most difficult decisions of his life. "But leaving was the only way to protect my children," he said.

Now Amer has returned and partnered with his cousin to restart his business. "It's like you died and then came back to life again," he said. He is teaching his kids the skills and says the most important thing is that they can make a living from what they do. "I wish Syria will become better than it is. We want people to live in love and peace."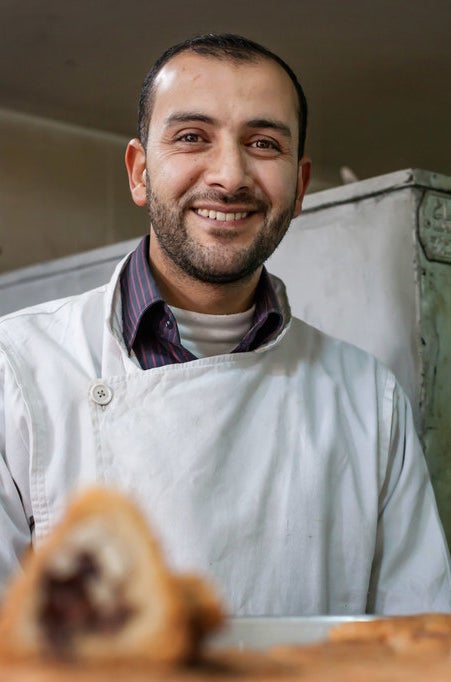 Tamer, 40, bicycle repairman
Tamer, the brother of Amer, repaired bicycles for a living in the older part of Homs. With many fleeing the city, repair work dried up, forcing him to leave the city with his three children.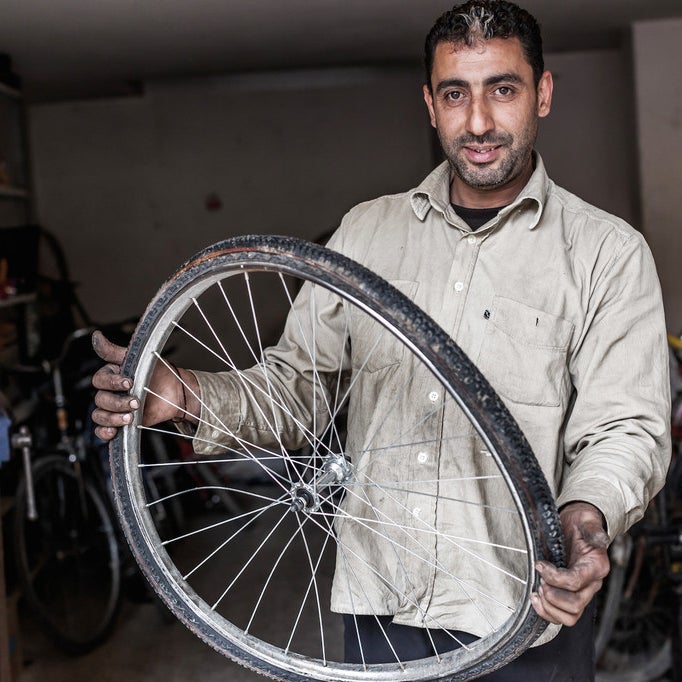 "When the fighting erupted, they were terrified and crying all the time," Tamer said. "I didn't want this life for them. So we left so my little ones could feel safer."
After returning, it felt like he got his soul back, he said. His house was burned down, so he now lives in a rented house with his brother Amer. "I hope that the problems in Syria will be solved soon," he said. "We have had enough problems in our lives."

Imam, 43, hairdresser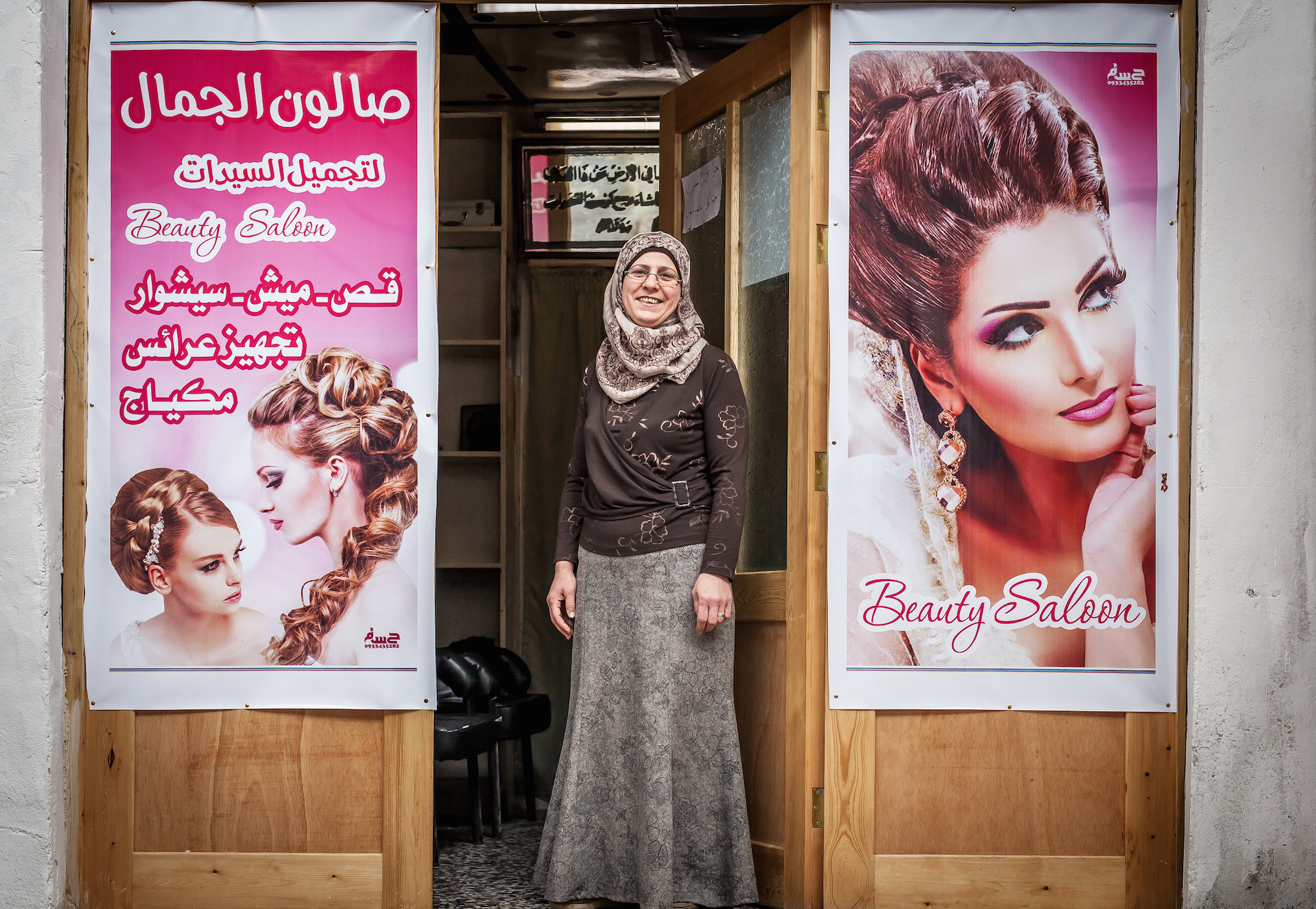 Imam, who ran a popular hairdressing salon, had long been the sole breadwinner for her family. When the war destroyed her home and her salon, she was forced to move to the outskirts of the city with her son and her husband, who was suffering from a chronic illness. Although two of her older children lived abroad in Germany and Lebanon, she never wanted to leave Syria — "Homs is my home," she said.

Imam returned to the Old City area of Homs with her husband and son when the roads reopened. The only house they could afford to rent had no windows and a broken roof and so they renovated it themselves. Then Imam rented another damaged building where she now runs her salon from. "There are only two barber shops in the Old City and now people are slowly starting to know about my shop," she said.
"Home is something special you cultivate inside you. It is not a building, walls, or roof. I cannot leave my home, my life."
Naser, 60, restaurant owner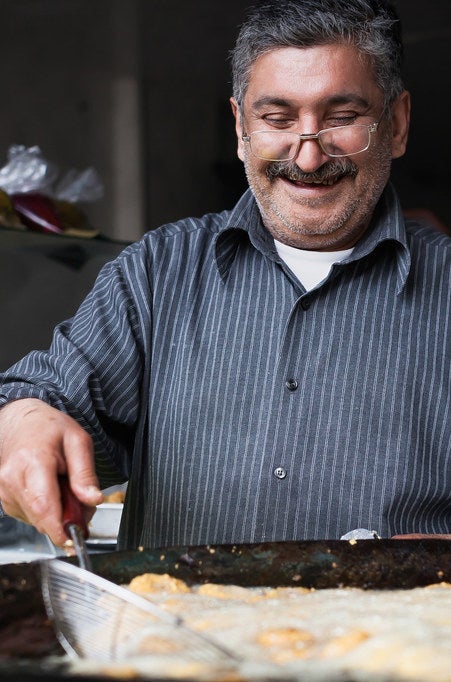 For 40 years Naser and his family ran Falafel Safoor, one of the most popular falafel shops in the older part of Homs. But when fighting erupted, customers stopped visiting and the family eventually decided to leave.
"I am 60 years old and nobody was interested in employing an old man," Naser said. "I had saved some money but it was not enough to survive. So I had to do low-wage jobs to take care of my family. I was devastated."

When the road to the Old City reopened, Naser decided to return home because he could never leave Syria and move abroad. "I never thought of leaving this country. It fed me for so many years, it took care of me. My business is here. My life is here. How could I leave?"
Even though he had left the city, Naser said, he always knew that one day he would return and reopen his shop. "You see, look at me now — I told you so."

CORRECTION
The evacuation of the old city of Homs happened in 2014. An earlier version of this story incorrectly stated it occurred in 2015.