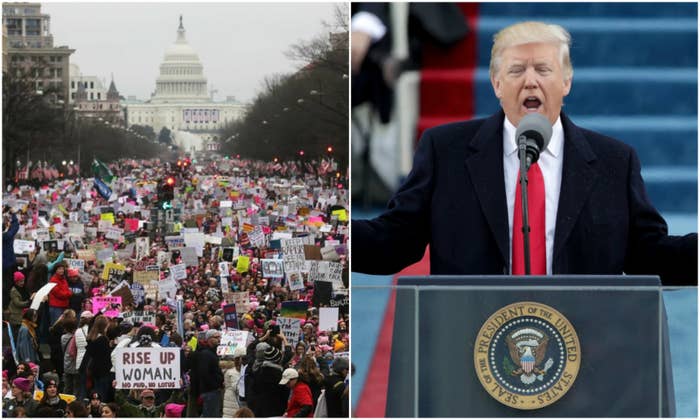 President Donald Trump has commented on yesterday's massive Women's Marches asking, "Why didn't these people vote?"
In a tweet, Trump dismissed the marches and said the presence of big-name celebs like Madonna, Katy Perry, Ariana Grande, and many others "hurt [the] cause badly."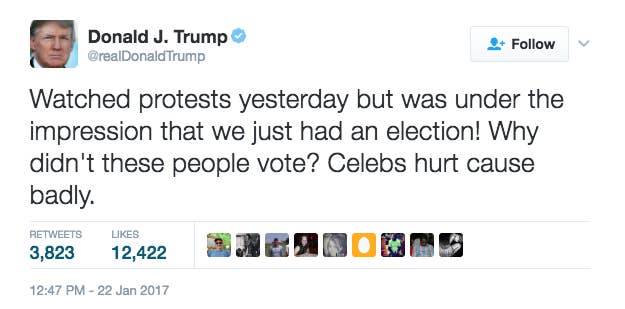 Hillary Clinton won the popular vote in the presidential election by more than 2.8 million votes. Trump won the presidency with 309 electoral votes (270 are needed to win).
The crowd in Washington, DC, for the Women's March was much bigger than the 500,000 expected, DC Homeland Security Director Christopher Geldart told AP. That means it was one of the largest demonstrations in DC history.
The crowds were much larger than those for Trump's inauguration the day before.
Hundreds of large marches were held across the US and the globe in solidarity with the women in Washington.
Shortly after sending his first tweet about the march, Trump followed up with a more measured response.
Speaking to the CIA on Saturday, Trump lied to the intelligence community about the size of the crowd at his inauguration but did not mention the Women's March, which was happening at the same time.
Trump gave misleading figures about the crowd at his ceremony, claiming it "looked honestly like a million and a half people" and said "it went all the way back to the Washington Monument."
Images from President Barack Obama's 2009 inauguration and Trump's show that not to be true.