Man Armed With Guns And Knife Shot And Killed By Police In Walmart Store
Police in East Stroudsburg Borough in Pennsylvania were called to reports of an armed male threatening and pointing a weapon at customers Saturday.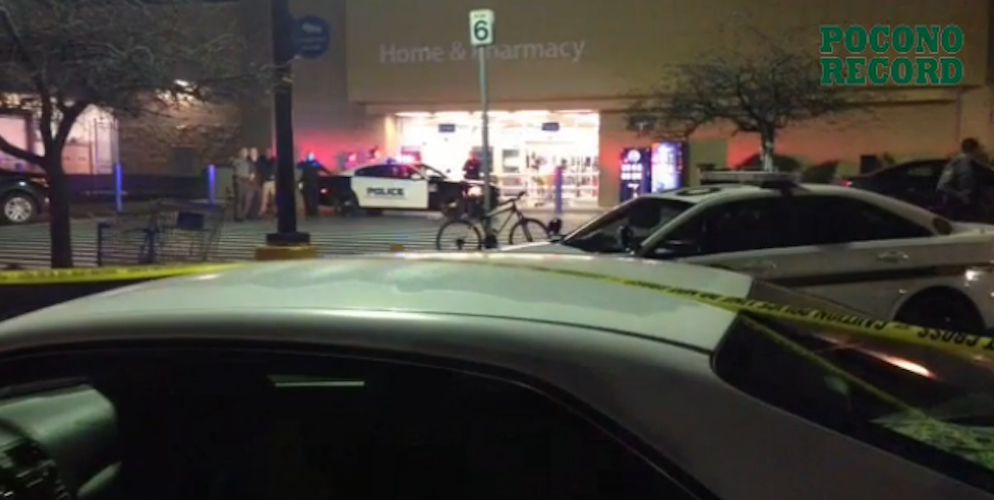 Officers shot and killed a man who threatened customers with guns and a knife at a Walmart store in Monroe County in Pennsylvania Saturday night, police said.
Stroud Area Regional Police confirmed they were called to the super store on Lincoln Avenue in East Stroudsburg Borough to report "of an armed male ... threatening and pointing a weapon at customers" at about 10:11 p.m. local time.
In a statement, police said they arrived at the scene and ordered the man to drop his weapon. He refused to do so and pointed his weapon at the officers.
"The officers fired upon the male striking him in the upper chest area. The male was immediately secured into police custody and officers provided first aid until EMS responded," the statement said.

Witness James Felz told the Pocono Record he heard people shouting and then shots being fired before spotting the armed man.
"He was walking away from us down the aisle holding the gun to his head. He threw a backpack he was carrying to the side," Felz told the Record.
"Then he got to the end of the aisle, he turned right and pointed the gun, like around the corner. I heard a click, like a misfire or a BB gun go off," Felz said.
John Bruno told the Record he saw the man with a handgun in each hand, a bandana covering his face, and a knife hanging off his belt.
"I could have touched him. He was an arm's length away. It was pretty terrifying now that I think about it," Bruno said.

The man was transported to Pocono Medical Center in East Stroudsburg where he was pronounced deceased by Monroe County Coroner Bob Allen.

Police said no customers or police officers were injured as a result of this incident.
Officers said the man's identity would not be released until next of kin had been notified of his death.