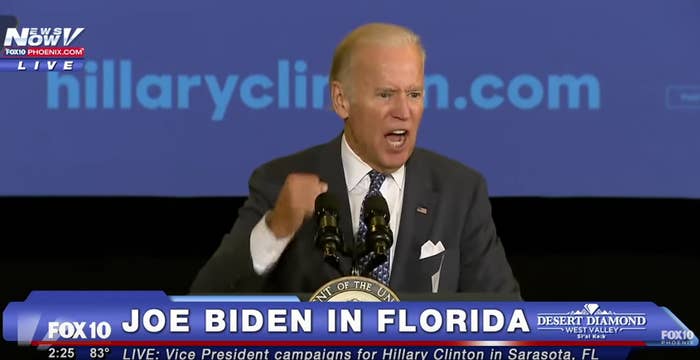 In a passionate and angry speech in Sarasota, Florida, on Monday, Vice President Joe Biden attacked Donald Trump for his comments about veterans.

The Republican presidential candidate suggested to a room full of veterans earlier on Monday that soldiers who return from war suffering from PTSD are not "strong" and "can't handle it."

Biden, on the campaign trail for Hillary Clinton, said Trump was "thoroughly, completely uninformed."
"Where in the hell is he?" Biden said. "In Iraq I was asked to pin a silver medal on a young captain who had pulled someone out of a burning Humvee, risking his life.
"When I went to pin it on him in front of an entire brigade, he stood and looked at me and said, 'Sir, I don't want the medal, I don't want the medal.' Know why? He said, 'He died, he died, Mr Vice President, I don't want the medal.' How many nights does that kid go to sleep seeing that image in his head, dealing with that?"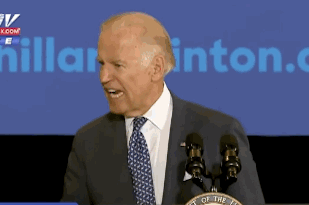 Biden said that every morning he has his staff contact the Defense Department for a daily briefing. He then read from Monday's briefing card:

"US troops who have died in Afghanistan and Iraq: 6,753. Not plus 6,000, not 6,700. Six-thousand, seven-hundred, and fifty-three. Because every one of those warriors left behind an entire family, a community, for us. Every one of them," he said, while pounding his fist on the lectern.
"As the veterans can tell you, over 200,000 are coming home with unseen wounds. Twenty suicides a month. I don't think he [Trump] was trying to be mean, he is just so thoroughly completely uninformed.
"We only have one sacred obligation: to care for those we send to war, and to care for them and their families when they come home."
Biden later reiterated his comments during an interview with CNN's Chris Cuomo and invited Trump to visit the "battlefield" with him in Afghanistan and Iraq.
"How can [Trump] be so out of touch and ask to lead this country?" Biden asked.