Actress Shailene Woodley was arrested yesterday while protesting the Dakota Access Pipeline project in North Dakota.
Woodley's live stream from the protest has been watched more than 3.2 million times since it was posted on Facebook.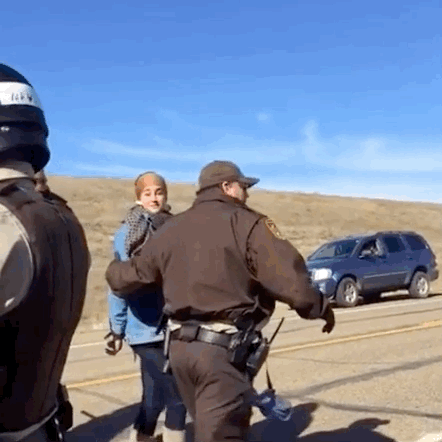 As police handcuff her, Woodley continued to speak to the camera. "I was just walking to my RV so we can go back to camp peacefully and they grabbed me by my jacket and they had giant guns and zip ties and they are not letting me go," she said.
An officer then explained she was being "placed under arrest for criminal trespassing."
"Why am I being arrested and no one else is? I'm being arrested because I was trespassing with everyone else. As soon as you guys asked me to leave I left, I was down there with everyone else. I don't know what is going on. It's because I am well known. It's because I have 40,000 people watching. We were going to our vehicle and they were waiting for me with big guns and a big truck."
Woodley's companions continue to film her as she is led away until another office tells them to "get back, get back."
The Divergent star has not posted on her social media channels since she was arrested.
Morton County Sheriff's Department spokesman Rob Keller says the Woodley was arrested Monday for criminal trespass and engaging in a riot," the Associated Press reported.
Many Hollywood celebrities posted their support for Woodley as news of her arrest was shared.
Monday's protest took place at a construction site about two miles (3.2 km) south of the town of St Anthony.
The pipeline will run 1,168 miles through Iowa, Illinois, and North and South Dakota.
But Native Americans — especially the North Dakota-based Standing Rock Sioux Tribe — along with protesters and environmentalists have been protesting the project for weeks now.