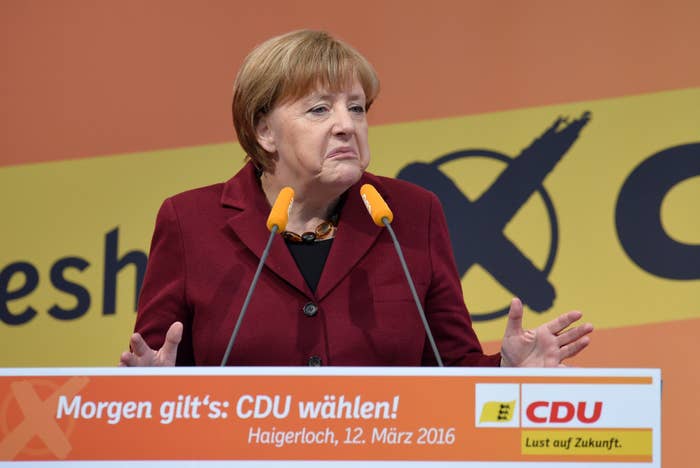 German Chancellor Angela Merkel's Christian Democrats party suffered big defeats in two of three regional elections held over the weekend.
Nationalist anti-immigration party Alternative for Germany (AfD) won big gains in all three states.
Merkel's center-right party lost support in Baden-Wuerttemberg and Rhineland Palatinate but managed to hold on in Saxony-Anhalt.
However, Merkel said Monday the results would not change her plans to address the refugee crisis.
"I am firmly convinced, and that wasn't questioned today, that we need a European solution and that this solution needs time," she said.
In the western state of Baden-Wuerttemberg, support for the Christian Democrats reached a historic low of 27%. In the 2011 elections, they achieved 39% of the vote.
The Green incumbent candidate won in Baden-Wuerttemberg, and the Social Democrat won in neighboring Rhineland-Palatinate. The Christian Democrats had hoped to wrest control of both those seats.

The elections were seen as a test for Merkel's liberal immigration policies. More than a million migrants and refugees entered Germany in 2015, the BBC reported.
The results show there is considerable opposition to Merkel's refugee plans. In Rhineland-Palatinate, the right-wing AfD achieved 24.2% of the vote. An astounding result for a party that only formed three years ago.
The AfD is already represented in five of Germany's 16 regional parliaments and campaigns with such slogans as "Secure the borders" and "Stop the asylum chaos," the BBC reported.

Frauke Petry, who has led the AfD, was triumphant after the vote. "The voters have turned away from the two big parties in considerable droves," she said on the public broadcaster ZDF.

German Vice Chancellor Sigmar Gabriel said on Saturday his government's stance on immigration would not change despite far-right gains.
"There is a clear position that we stand by: humanity and solidarity," he said. "We will not change our position now."
There are now fears the election outcome could put pressure on Merkel just as she is working push through an EU deal with Turkey to reduce the flow of migrants and refugees entering Europe.
EU leaders and Turkey will meet for a second summit on March 17 and 18 to clinch a deal.