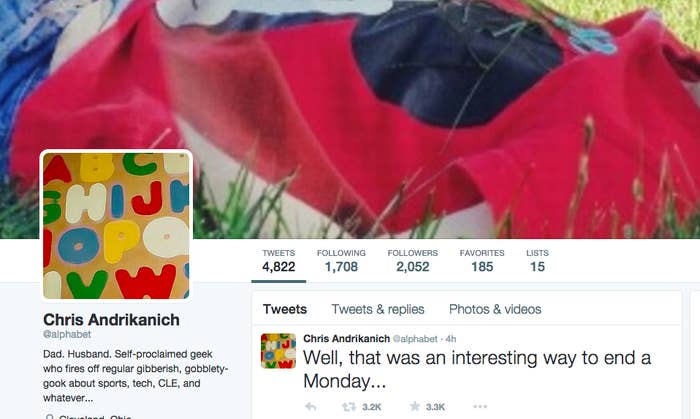 The moment Google announced it was changing its name to "Alphabet" today, Cleveland man Chris Andrikanich was hit with a deluge of notifications.
Andrikanich, whose complex last name earned him the nickname "Alphabet" while a student at Ohio University, registered the @alphabet handle on Twitter in 2007 without any inkling that it might eventually become desirable to one of the most powerful tech companies on the planet. Now, eight years later, his mentions were absolutely blowing up.
"It's crazy. It's nerve-racking. It's entirely unbelievable," Andrikanich said of the experience in an interview with BuzzFeed News. "I'm just going about my day and picking up my daughter and I'm getting contacted by media and tweets are going crazy. It's surreal."
At the time of the announcement, Andrikanich was sitting at work at his job at a small local-interest book publisher when he saw the tweets start pouring in. "They were coming one after another," he said.
At first, he had no idea what happened, but one of the early tweets linked to a story about the Google restructuring, so Andrikanich quickly caught on. Instead of staying glued to the computer screen watching the mentions come in, as any mere mortal might do, Andrikanich left the office to pick up his daughter, but typed out this message before walking out:
The tweet, understandably, went nuts — at the end of Andrikanich's 40-minute drive home, he had 996 mentions and plenty of retweets; now, at press time, it has been retweeted 3,000 times. "I probably should turn them off," he said. "At this point, it would be nice for all the mentions to subside so I could go back to using it."
Andrikanich said Alphabet has not yet contacted him about acquiring the handle, but he said he would listen to offers. "I guess I'd be silly not to." He hasn't gone through all the mentions yet but said, "There's a lot of optimistic people out there on my behalf."
"Optimistic about what?" I asked.
"Everyone keeps saying that I'm going to get rich."