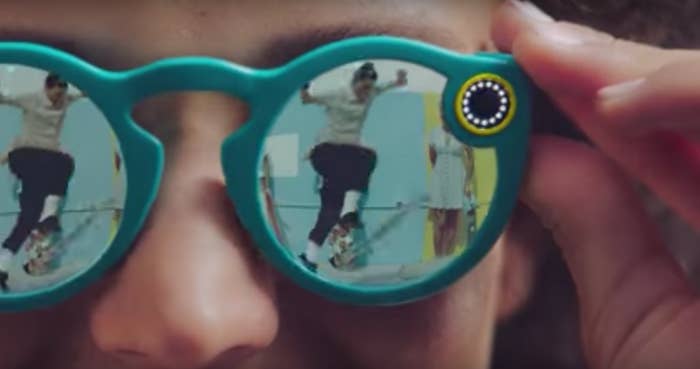 As Snap Inc. heads towards its highly anticipated IPO, new data obtained by BuzzFeed News raises questions about the company's ability to sustain the sort of growth needed to justify its expected $20 to 25 billion valuation.

The emergence of Snapchat clones copying the app's key features — most prominently Instagram's knockoff of its Stories feature — appears to have hurt Snap's growth prospects, according to data from app analytics company App Annie. Though Snapchat is still growing, these clones are hampering growth in key markets like the United States, and potential future markets in Asia.
Snapchat once had a strong lead over Instagram on time-spent-in-app per user on Android devices worldwide. But in spring 2016 — before Instagram even copied Stories — it started to slip. As of December 2016, Instagram has not only surpassed Snapchat, but claimed a lead of 25%. That's a metric worth noting, because Snap is pitching Wall Street on its ability to maximize average revenue per user, according to Bloomberg. If users spend less time inside Snapchat, the ad-supported company stands to make less money per user. As of late last year, Snap was selling major advertisers on the fact that its users spent 25–30 minutes in the app each day.
Snapchat continues to have significant momentum in the US, but here too its time-spent advantage over Instagram is shrinking. In December 2015, before Instagram cloned its popular Stories feature, Snapchat had a 35% lead over Instagram in time spent per user on Android devices in the US, according to App Annie. Instagram debuted its take on Stories in the summer of 2016 and by December, that lead had declined to 20%. A source familiar with the situation said a similar trend is playing out on iOS.
"A large portion of this movement occurred in the second half of 2016 and could have partly been due to the addition of Instagram Stories in August 2016," App Annie told BuzzFeed News.
Meanwhile, Snap's growth prospects in big markets like Asia appear fraught. Like Facebook and Twitter, Snapchat is banned in China. A Snapchat-like app called Snow currently dominates that market and outranks Snap in Japan and South Korea when it comes to monthly active users, according to App Annie data.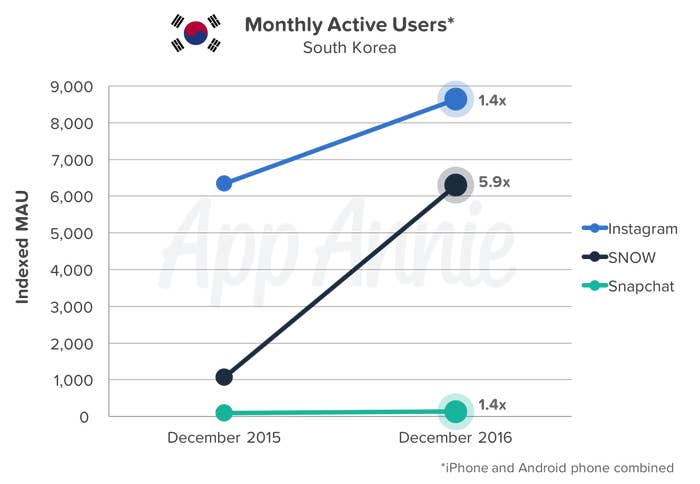 As BuzzFeed News has previously reported, advertisers have been hesitant to dedicate big budgets to Snapchat since its reach and data-targeting capabilities pale in comparison to Facebook's. The rampant cloning of key Snapchat features has only made the prospect of breaking through that barrier more daunting.
"Snapchat's still not taken seriously enough to even be on the level of getting the kind of investment that Instagram is getting," one advertising agency CEO told BuzzFeed News this week. Asked if Instagram's clone would mean advertisers would direct dollars there instead of Snapchat, the executive said "there was never enough money earmarked for Snapchat to move to Instagram."

As Snapchat battles Instagram and its other clones, Snapchat's top influencers and brands are reporting declines in Story views, as noted by TechCrunch. Talent managers and advertising executives told BuzzFeed News they're seeing declines in views of their stories extending from 20% to as high as 50%.
Meanwhile, the overall percentage of internet users watching Snapchat's live stories has declined as well, falling to 12% in November 2016 from 14% in June 2015, according to UBS. "We think growth has stalled and in particular Instagram including similar features has helped keep people from leaving and going to Snapchat," Ben Bajarin, principal analyst at Creative Strategies, told BuzzFeed News.
Snap Inc. declined comment.