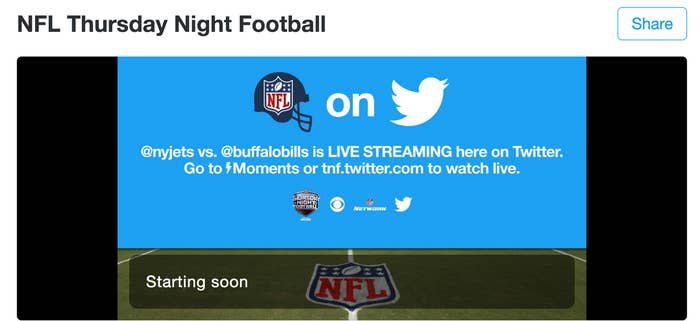 Twitter's rationale for spending $10 million for the rights to stream a package of 10 NFL games this season was simple: it believed airing live sports broadcasts on its platform, where people enthusiastically discuss the games, could help catalyze more of that behavior, and bring in some TV advertising dollars in the process. After streaming its first NFL game last night, the early fan engagement results look like Twitter made a good bet, according to data from the social analytics company SocialFlow.

Use of the Bills' #GoBills emoji-generating hashtag on Twitter increased from 11,039 mentions in Week 1 to 22,216 for last night's Week 2 game, counting game day and the day following, an increase of 101%. The Jets' #JetUp hashtag went from 11,968 mentions to 24,742 in the same time span, a bump of 107%. Because the Thursday night game ended close to midnight eastern time, chatter spilled over into Friday — hence the metrics' two-day time span. SocialFlow has access to Twitter's full firehose, so the numbers are global.
"The Twitter Live Stream of the New York Jets and Buffalo Bills positively and largely contributed to increasing the #GoBills and #JetUp hashtags," Kleida Martiro, sr. analyst at SocialFlow, told BuzzFeed News.

The NFL streams are critical for Twitter, which is currently making a very large bet on premium, live content. Twitter has also struck streaming deals with the NHL and MLB, and is airing original live content from the upstart financial TV network Cheddar, and others. This week, Twitter released a handful of smart TV apps featuring premium live content and curated tweets from its Moments tab, which seems to show that they're prioritizing this feature over its long-ago announced plan to expand Tweet character length, and even its reported goal to develop anti-harassment tools like keyword filtering.

"This may be [management's] last opportunity to reignite growth in users, engagement and monetization," Cantor Fitzgerald analyst Youssef Squali said of Twitter's premium live-streaming efforts in a research note this week. "Failure to do so is likely to embolden shareholders to pressure the board to evaluate alternatives to maximize value, incl. [mergers and acquisitions] and taking the company private."

For the first night at least, the results appeared promising for Twitter.