It didn't take long for Twitter's first big curatorial dilemma to hit. On Wednesday, the day after the company released Moments, a product meant to feature the best content on its platform, someone tweeted a fully nude photo of Justin Bieber. Inevitably, it was embraced, altered, and circulated by the herd of meme makers and joke tellers that make Twitter's product so vibrant and fun.
That Bieber moment seemed ripe for a Moment. Yet it was seemingly forbidden by Twitter's own public "Guidelines and Principles Document," which states: "Avoid creating Moments that may invade privacy." Meanwhile, all manner of media organizations were publishing stories about the pictures, if not the pictures themselves, driving the conversation around them. And there was a lot of conversation. The question for Twitter: Could it build a Moment around an invasion of privacy of wide public interest, without abetting that violation?
Twitter considered it. "@magicandrew and I had a difficult conversation about this today," tweeted Katie Jacobs Stanton, the VP of global media at Twitter, referring to the Bieber situation. @magicandrew is Andrew Fitzgerald, Twitter's director of curation.
Twitter did not end up making the Moment, but the difficulty it encountered while making that call captures the type of tough choices it will face while operating Moments, a feed that's now front and center on its platform, featured between "Notifications" and "Messages." Twitter is really in the editorial business now. It makes an editorial decision each time it decides to make a Moment, and each time it decides to feature, or not feature, a Moment from its media partners. Over 300 million people use Twitter each month, so the company now has a real chance to influence the day's discussion. It is actively deciding which topics will be highlighted, and more important, how those topics will be packaged. That's a huge impact and responsibility.
The first major new product released under CEO Jack Dorsey's latest reign, the long-awaited Moments is intended to address a recurring criticism of Twitter: that it's too confusing to casual users. The product's success will be determined in large part by how the company walks the editorial tightrope it's built for itself. Twitter needs to fill Moments with compelling content, but what people want to see can sometimes be different from what the company is comfortable showing. At times, for instance, Twitter will be forced to decide between the best stories to display on Moments, and the health of its relationship with partners and superstar users.
Twitter declined to comment, instead pointing us to its guidelines page, which says: "We will feature Tweets in Moments and select Moments based on what best serves our audience, and not to benefit advertisers, partners, or Twitter's business interests."
Worth noting: Though the Bieber nude went untouched by Twitter's curation team, it did show up in Twitter's trending list. And while not every trending topic is well-suited for a Moment, the juxtaposition was odd, seemingly showing that Twitter's algorithm has more editorial leeway than its curators.
BuzzFeed, in full disclosure, created a Bieber penis Moment of its own. It was not featured in Twitter's Moments tab. It also didn't include a photo of Bieber's penis.
Twitter's Moments editorial partners, which include BuzzFeed and a number of others, do not have to adhere to Twitter's Moments guidelines. And though those guidelines are considered when Twitter's curators think about featuring a partner Moment, the dynamic presents another difficult challenge for the company.
Thursday, for instance, Twitter decided to feature a Moment curated by Fox News concerning Hillary Clinton's alleged "trust problem." Though Twitter's Moments guidelines argue that "individual moments should be free from bias," this one displayed tweets citing polls claiming Clinton is the least trusted and least honest candidate, along with quotes from people bashing her. There was but a single tweet from Clinton herself.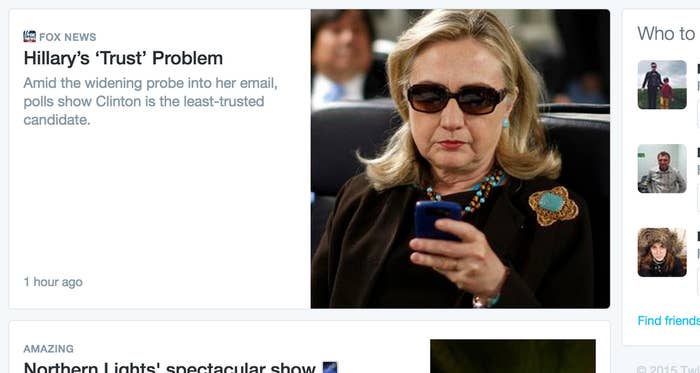 The Moment drew a good deal of criticism: "This Twitter Moment on Clinton & Trust shows the journalistic challenges of the endeavor. Hardly fair or balanced," tweeted former Obama adviser Dan Pfeiffer. "Is this crap the future?" tweeted another user, Eduardo Arcos.
Yet, Twitter's Fitzgerald held it up as an example of how the company wants partners to work with it:
Twitter is explicitly claiming it's not a news organization and, frankly, who gives a shit if it is or isn't. The decisions it makes matter — for the people using the product and for the success of the product itself, from which Twitter expects big things.
Moments is an intriguing product, and a necessary one for Twitter. But it's also fraught with a certain tension that's likely to remain throughout its existence if this week is any preview.