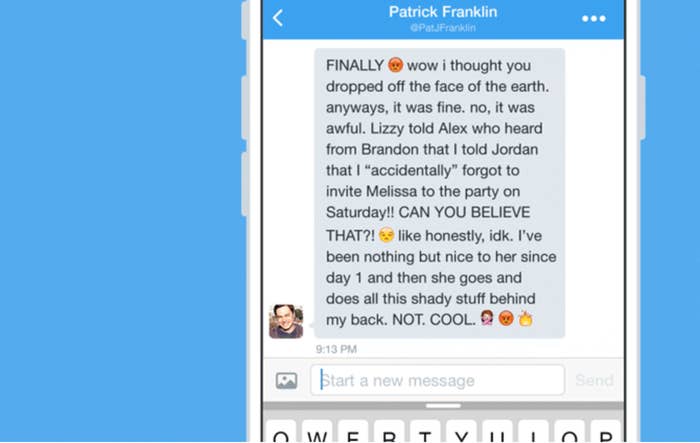 Say goodbye to Twitter's 140-character limit for direct messages.
Starting today, that limit is gone. You can now send Twitter DMs of up to 10,000 characters in length. Don't worry, you can still send incriminating photos via DM and hope they don't accidentally publish to all your followers, if that's what you're into.
Twitter announced the move in June, giving developers a chance to make their products compatible with the platform's new structure before its release.
The expanded character limit is the most recent change to DMs. Earlier this year, Twitter began supporting group conversations within direct messages. And last year, it gave users the option to share tweets via DM.
In an interview, Twitter Product Manager Sachin Agarwal said that tweets often spark conversations and Twitter is seeking to make those conversations in DMs more fun and powerful by lifting the character limit.
Asked if the attention Twitter is paying to DMs means it might eventually introduce a messaging app, Agarwal didn't shut down the idea. "Today I can't talk about anything other than what we're launching right now," he said.